Abstract
Branched-chain amino acids (BCAAs) supply both carbon and nitrogen in pancreatic cancers, and increased levels of BCAAs have been associated with increased risk of pancreatic ductal adenocarcinomas (PDACs). It remains unclear, however, how stromal cells regulate BCAA metabolism in PDAC cells and how mutualistic determinants control BCAA metabolism in the tumour milieu. Here, we show distinct catabolic, oxidative and protein turnover fluxes between cancer-associated fibroblasts (CAFs) and cancer cells, and a marked reliance on branched-chain α-ketoacid (BCKA) in PDAC cells in stroma-rich tumours. We report that cancer-induced stromal reprogramming fuels this BCKA demand. The TGF-β–SMAD5 axis directly targets BCAT1 in CAFs and dictates internalization of the extracellular matrix from the tumour microenvironment to supply amino-acid precursors for BCKA secretion by CAFs. The in vitro results were corroborated with circulating tumour cells (CTCs) and PDAC tissue slices derived from people with PDAC. Our findings reveal therapeutically actionable targets in pancreatic stromal and cancer cells.
Relevant articles
Open Access articles citing this article.
Zhe-Nan Ling

,

Yi-Fan Jiang

…

Jian Wu

Signal Transduction and Targeted Therapy Open Access 13 September 2023

Chen Ai

,

Xiao Sun

…

Jie Li

Journal of Nanobiotechnology Open Access 08 July 2023

Zhiwei Peng

,

Zhiwei Tong

…

Kongwang Hu

Molecular Medicine Open Access 22 May 2023
Access options
Access Nature and 54 other Nature Portfolio journals
Get Nature+, our best-value online-access subscription
$29.99 / 30 days
cancel any time
Subscribe to this journal
Receive 12 digital issues and online access to articles
$119.00 per year
only $9.92 per issue
Rent or buy this article
Prices vary by article type
from$1.95
to$39.95
Prices may be subject to local taxes which are calculated during checkout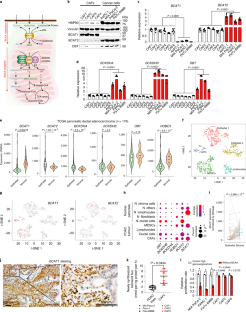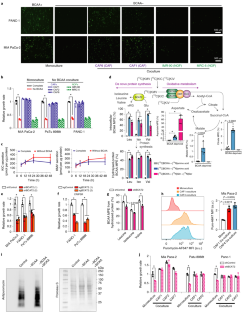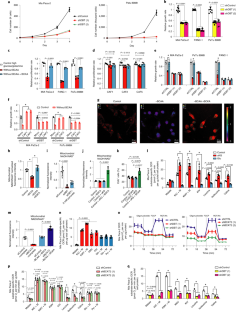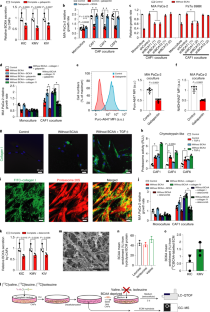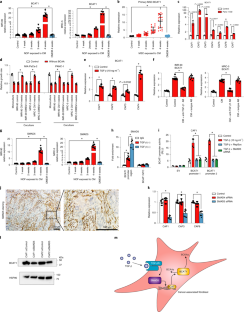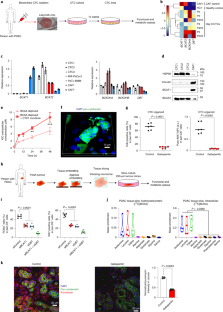 Data availability
The data that support the plots within this paper and other findings of this study are available from the corresponding author upon reasonable request. Source data are provided with this paper.
Code availability
R code used for stromal/epithelial deconvolution, heatmap generation and violin plots and bioinformatics analysis is available from the corresponding author upon request. Source data are provided with this paper.
References
Tonjes, M. et al. BCAT1 promotes cell proliferation through amino acid catabolism in gliomas carrying wild-type IDH1. Nat. Med. 19, 901–908 (2013).

Raffel, S. et al. BCAT1 restricts αKG levels in AML stem cells leading to IDH mut-like DNA hypermethylation. Nature 551, 384 (2017).

Green, C. R. et al. Branched-chain amino acid catabolism fuels adipocyte differentiation and lipogenesis. Nat. Chem. Biol. 12, 15–21 (2016).

Dey, P. et al. Genomic deletion of malic enzyme 2 confers collateral lethality in pancreatic cancer. Nature 542, 119–123 (2017).

Neesse, A. et al. Stromal biology and therapy in pancreatic cancer. Gut 60, 861 (2011).

Schworer, S., Vardhana, S. A. & Thompson, C. B. Cancer metabolism drives a stromal regenerative response. Cell Metab. 29, 576–591 (2019).

Neinast, M. D. et al. Quantitative analysis of the whole-body metabolic fate of branched-chain amino acids. Cell Metab. 29, 417–429 (2019). e414.

Mayers, J. R. et al. Tissue of origin dictates branched-chain amino acid metabolism in mutant Kras-driven cancers. Science 353, 1161–1165 (2016).

Perera, R. M. & Bardeesy, N. Pancreatic cancer metabolism: breaking it down to build it back up. Cancer Discov. 5, 1247–1261 (2015).

Danai, L. V. et al. Altered exocrine function can drive adipose wasting in early pancreatic cancer. Nature 558, 600–604 (2018).

Uhlén, M. et al. Tissue-based map of the human proteome. Science 347, 1260419 (2015).

Pinho, A. V. et al. ROBO2 is a stroma suppressor gene in the pancreas and acts via TGF-β signalling. Nat. Commun. 9, 5083 (2018).

Bailey, P. et al. Genomic analyses identify molecular subtypes of pancreatic cancer. Nature 531, 47–52 (2016).

Janky, R. et al. Prognostic relevance of molecular subtypes and master regulators in pancreatic ductal adenocarcinoma. BMC Cancer 16, 632 (2016).

Stratford, J. K. et al. A six-gene signature predicts survival of patients with localized pancreatic ductal adenocarcinoma. PLoS Med. 7, e1000307 (2010).

Neesse, A., Algul, H., Tuveson, D. A. & Gress, T. M. Stromal biology and therapy in pancreatic cancer: a changing paradigm. Gut 64, 1476–1484 (2015).

Zhao, H. et al. Tumor microenvironment derived exosomes pleiotropically modulate cancer cell metabolism. eLife 5, e10250 (2016).

Bernard, V. et al. Single-cell transcriptomics of pancreatic cancer precursors demonstrates epithelial and microenvironmental heterogeneity as an early event in neoplastic progression. Clin. Cancer Res. 25, 2194–2205 (2019).

Peng, J. et al. Single-cell RNA-seq highlights intra-tumoral heterogeneity and malignant progression in pancreatic ductal adenocarcinoma. Cell Res. 29, 725–738 (2019).

Sousa, C. M. et al. Pancreatic stellate cells support tumour metabolism through autophagic alanine secretion. Nature 536, 479–483 (2016).

Lu, G. et al. Protein phosphatase 2Cm is a critical regulator of branched-chain amino acid catabolism in mice and cultured cells. J. Clin. Invest. 119, 1678–1687 (2009).

Grankvist, N., Lagerborg, K. A., Jain, M. & Nilsson, R. Gabapentin can suppress cell proliferation independent of the cytosolic branched-chain amino acid transferase 1 (BCAT1). Biochemistry 57, 6762–6766 (2018).

Sherman, M. H. et al. Vitamin D receptor-mediated stromal reprogramming suppresses pancreatitis and enhances pancreatic cancer therapy. Cell 159, 80–93 (2014).

Sherman, M. H. et al. Stromal cues regulate the pancreatic cancer epigenome and metabolome. Proc. Natl Acad. Sci. USA 114, 1129–1134 (2017).

Commisso, C. et al. Macropinocytosis of protein is an amino acid supply route in Ras-transformed cells. Nature 497, 633–637 (2013).

Madsen, D. H. et al. The non-phagocytic route of collagen uptake: a distinct degradation pathway. J. Biol. Chem. 286, 26996–27010 (2011).

Jurgensen, H. J. et al. Immune regulation by fibroblasts in tissue injury depends on uPARAP-mediated uptake of collectins. J. Cell Biol. 218, 333–349 (2019).

Mishra, P. J. et al. Carcinoma-associated fibroblast-like differentiation of human mesenchymal stem cells. Cancer Res. 68, 4331–4339 (2008).

Yeung, T. L. et al. TGF-β modulates ovarian cancer invasion by upregulating CAF-derived versican in the tumor microenvironment. Cancer Res. 73, 5016–5028 (2013).

Franco-Barraza, J. et al. Matrix-regulated integrin αvβ5 maintains α5β1-dependent desmoplastic traits prognostic of neoplastic recurrence. eLife https://doi.org/10.7554/eLife.20600 (2017).

Ashworth, T. A case of cancer in which cells similar to those in the tumours were seen in the blood after death. Aust. Med. J. 14, 146–149 (1869).

Allard, W. J. et al. Tumor cells circulate in the peripheral blood of all major carcinomas but not in healthy subjects or patients with nonmalignant diseases. Clin. Cancer Res. 10, 6897–6904 (2004).

Nagrath, S., Jack, R. M., Sahai, V. & Simeone, D. M. Opportunities and challenges for pancreatic circulating tumor cells. Gastroenterology 151, 412–426 (2016).

Lin, E. et al. High-throughput microfluidic labyrinth for the label-free isolation of circulating tumor cells. Cell Syst. 5, 295–304 (2017). e294.

Rivera-Baez, L. et al. Expansion of circulating tumor cells from patients with locally advanced pancreatic cancer enable patient derived xenografts and functional studies for personalized medicine. Cancers (Basel) https://doi.org/10.3390/cancers12041011 (2020).

van Geer, M. A. et al. Ex-vivo evaluation of gene therapy vectors in human pancreatic (cancer) tissue slices. World J. Gastroenterol. 15, 1359–1366 (2009).

Roife, D. et al. Ex vivo testing of patient-derived xenografts mirrors the clinical outcome of patients with pancreatic ductal adenocarcinoma. Clin. Cancer Res. 22, 6021–6030 (2016).

Auciello, F. R. et al. A stromal lysolipid–autotaxin signaling axis promotes pancreatic tumor progression. Cancer Discov. 9, 617–627 (2019).

Kamphorst, J. J. et al. Human pancreatic cancer tumors are nutrient poor and tumor cells actively scavenge extracellular protein. Cancer Res. 75, 544–553 (2015).

Halbrook, C. J. et al. Macrophage-released pyrimidines inhibit gemcitabine therapy in pancreatic cancer. Cell Metab. 29, 1390–1399.e1396 (2019).

Dalin, S. et al. Deoxycytidine release from pancreatic stellate cells promotes gemcitabine resistance. Cancer Res. 79, 5723–5733 (2019).

Li, J. T. et al. BCAT2-mediated BCAA catabolism is critical for development of pancreatic ductal adenocarcinoma. Nat. Cell Biol. 22, 167–174 (2020).

Lee, J. H. et al. Branched-chain amino acids sustain pancreatic cancer growth by regulating lipid metabolism. Exp. Mol. Med. 51, 1–11 (2019).

Ohlund, D. et al. Distinct populations of inflammatory fibroblasts and myofibroblasts in pancreatic cancer. J. Exp. Med. 214, 579–596 (2017).

Biffi, G. et al. IL1-induced JAK–STAT signaling is antagonized by TGF-β to shape CAF heterogeneity in pancreatic ductal adenocarcinoma. Cancer Discov. 9, 282–301 (2019).

Elyada, E. et al. Cross-species single-cell analysis of pancreatic ductal adenocarcinoma reveals antigen-presenting cancer-associated fibroblasts. Cancer Discov. 9, 1102–1123 (2019).

Mishra, R., Haldar, S., Suchanti, S. & Bhowmick, N. A. Epigenetic changes in fibroblasts drive cancer metabolism and differentiation. Endocr. Relat. Cancer 26, R673–R688 (2019).

Bhagat, T. D. et al. Lactate-mediated epigenetic reprogramming regulates formation of human pancreatic cancer-associated fibroblasts. eLife 8, e50663 (2019).

Olivares, O. et al. Collagen-derived proline promotes pancreatic ductal adenocarcinoma cell survival under nutrient limited conditions. Nat. Commun. 8, 16031 (2017).

Sprangers, S., Behrendt, N., Engelholm, L., Cao, Y. & Everts, V. Phagocytosis of collagen fibrils by fibroblasts in vivo Is independent of the uPARAP/Endo180 receptor. J. Cell Biochem 118, 1590–1595 (2017).

Schmidt, E. K., Clavarino, G., Ceppi, M. & Pierre, P. SUnSET, a nonradioactive method to monitor protein synthesis. Nat. Methods 6, 275–277 (2009).

Bilan, D. S. et al. Genetically encoded fluorescent indicator for imaging NAD+/NADH ratio changes in different cellular compartments. Biochim. Biophys. Acta 1840, 951–957 (2014).

Cooper, A. J., Conway, M. & Hutson, S. M. A continuous 96-well plate spectrophotometric assay for branched-chain amino acid aminotransferases. Anal. Biochem. 308, 100–105 (2002).

Boj, S. F. et al. Organoid models of human and mouse ductal pancreatic cancer. Cell 160, 324–338 (2015).

Maurer, C. et al. Experimental microdissection enables functional harmonisation of pancreatic cancer subtypes. Gut 68, 1034–1043 (2019).

Butler, A., Hoffman, P., Smibert, P., Papalexi, E. & Satija, R. Integrating single-cell transcriptomic data across different conditions, technologies, and species. Nat. Biotechnol. 36, 411 (2018).

Pon, A. et al. Pathways with PathWhiz. Nucleic Acids Res. 43, W552–W559 (2015).
Acknowledgements
We thank and are grateful to three anonymous reviewers and editors for their incisive comments and several excellent suggestions. D.N. is supported by grants from NCI R01CA227622, R01CA222251 and R01CA204969. DN is also supported by Rogel Cancer Center grant. J.S. is supported by grant from NCI K08 CA234222. EC is funded by NCI grants R21CA231252 and R01CA232256, Core Grant CA06927. This work was supported in part by grants from NCI R01CA208335 to S.N. Z.Z. and A.A. are supported by the University of Michigan Precision Health Scholars Awards. Flow cytometry experiments were performed in the Flow Cytometry Research Core at the University of Michigan, Biomedical Research Core Facilities (BRCF). Confocal microscopy was performed in the Microscopy and Image-analysis Laboratory (MIL) at the University of Michigan, Biomedical Research Core Facilities (BRCF). Scanning electron microscopy was performed at the Michigan Center for Materials Characterization (MC2) at University of Michigan which is supported by the University of Michigan College of Engineering and NSF grant DMR-0320740.
Ethics declarations
Competing interests
A. Maitra receives royalties from Cosmos Wisdom Biotechnologies for a license related to a biomarker test for pancreatic cancer early detection. V.S. is a consultant at Halozyme, QED, Ipsen and Incyte. V.S. receives funding from Celgene, Bristol-Myers Squibb, Agios, Incyte, Clovis Oncology, Debiopharm Group, FibroGen, Halozyme, MedImmune, Rafael Pharmaceuticals and Ipsen. M.A.M. receives honoraria from AstraZeneca. S.N. is the named inventor on a patent for Microfluidic Labyrinth Technology granted to the University of Michigan. S.N. is a cofounders of Labyrinth Biotech. The funders and the company had no role in the design of the study; in the collection, analyses, or interpretation of data; in the writing of the manuscript; or in the decision to publish the results.
Additional information
Peer review information Primary Handling Editor: Elena Bellafante.
Publisher's note Springer Nature remains neutral with regard to jurisdictional claims in published maps and institutional affiliations.
Supplementary information
Supplementary Figures 1–6
About this article
Cite this article
Zhu, Z., Achreja, A., Meurs, N. et al. Tumour-reprogrammed stromal BCAT1 fuels branched-chain ketoacid dependency in stromal-rich PDAC tumours. Nat Metab 2, 775–792 (2020). https://doi.org/10.1038/s42255-020-0226-5
Received:

Accepted:

Published:

Issue Date:

DOI: https://doi.org/10.1038/s42255-020-0226-5