Abstract
Poor maternal environments, such as under- or overnutrition, can increase the risk for the development of obesity, type 2 diabetes and cardiovascular disease in offspring1,2,3,4,5,6,7,8,9. Recent studies in animal models have shown that maternal exercise before and during pregnancy abolishes the age-related development of impaired glucose metabolism10,11,12,13,14,15, decreased cardiovascular function16 and increased adiposity11,15; however, the underlying mechanisms for maternal exercise to improve offspring's health have not been identified. In the present study, we identify an exercise-induced increase in the oligosaccharide 3′-sialyllactose (3′-SL) in milk in humans and mice, and show that the beneficial effects of maternal exercise on mouse offspring's metabolic health and cardiac function are mediated by 3′-SL. In global 3′-SL knockout mice (3′-SL−/−), maternal exercise training failed to improve offspring metabolic health or cardiac function in mice. There was no beneficial effect of maternal exercise on wild-type offspring who consumed milk from exercise-trained 3′-SL−/− dams, whereas supplementing 3′-SL during lactation to wild-type mice improved metabolic health and cardiac function in offspring during adulthood. Importantly, supplementation of 3′-SL negated the detrimental effects of a high-fat diet on body composition and metabolism. The present study reveals a critical role for the oligosaccharide 3′-SL in milk to mediate the effects of maternal exercise on offspring's health. 3′-SL supplementation is a potential therapeutic approach to combat the development of obesity, type 2 diabetes and cardiovascular disease.
Access options
Subscribe to Nature+
Get immediate online access to the entire Nature family of 50+ journals
Subscribe to Journal
Get full journal access for 1 year
$99.00
only $8.25 per issue
All prices are NET prices.
VAT will be added later in the checkout.
Tax calculation will be finalised during checkout.
Buy article
Get time limited or full article access on ReadCube.
$32.00
All prices are NET prices.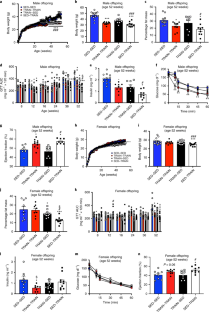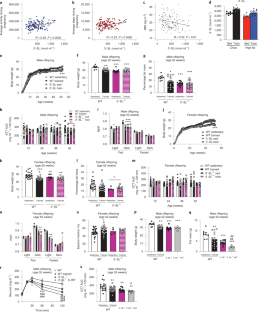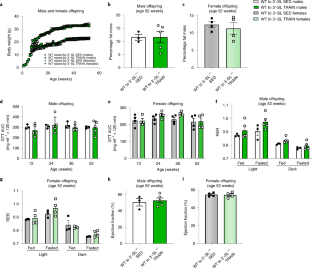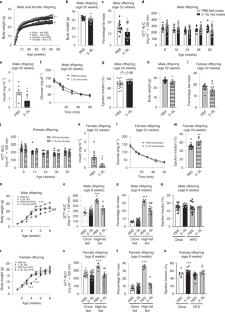 Data availability
The data that support the findings of this study are available from the corresponding author upon reasonable request. Source data are provided with this paper.
References
Isganaitis, E. et al. Accelerated postnatal growth increases lipogenic gene expression and adipocyte size in low-birth weight mice. Diabetes 58, 1192–1200 (2009).

Isganaitis, E. et al. Developmental programming by maternal insulin resistance: hyperinsulinemia, glucose intolerance, and dysregulated lipid metabolism in male offspring of insulin-resistant mice. Diabetes 63, 688–700 (2014).

Woo, M. et al. Early life nutrition modulates muscle stem cell number: implications for muscle mass and repair. Stem Cells Dev. 20, 1763–1769 (2011).

McCurdy, C. E. et al. Maternal high-fat diet triggers lipotoxicity in the fetal livers of nonhuman primates. J. Clin. Invest. 119, 323–335 (2009).

Hales, C. N. et al. Fetal and infant growth and impaired glucose tolerance at age 64. BMJ 303, 1019–1022 (1991).

Phipps, K. et al. Fetal growth and impaired glucose tolerance in men and women. Diabetologia 36, 225–228 (1993).

Barker, D. J. In utero programming of chronic disease. Clin. Sci. 95, 115–128 (1998).

Barker, D. J. In utero programming of cardiovascular disease. Theriogenology 53, 555–574 (2000).

Ravelli, G. P., Stein, Z. A. & Susser, M. W. Obesity in young men after famine exposure in utero and early infancy. N. Engl. J. Med. 295, 349–353 (1976).

Harris, J. E., Baer, L. A. & Stanford, K. I. Maternal exercise improves the metabolic health of adult offspring. Trends Endocrinol. Metab. 29, 164–177 (2018).

Stanford, K. I. et al. Exercise before and during pregnancy prevents the deleterious effects of maternal high-fat feeding on metabolic health of male offspring. Diabetes 64, 427–433 (2015).

Carter, L. G. et al. Perinatal exercise improves glucose homeostasis in adult offspring. Am. J. Physiol. Endocrinol. Metab. 303, E1061–E1068 (2012).

Carter, L. G., Qi, N. R., De Cabo, R. & Pearson, K. J. Maternal exercise improves insulin sensitivity in mature rat offspring. Med. Sci. Sports Exerc. 45, 832–840 (2013).

Laker, R. C. et al. Exercise prevents maternal high-fat diet-induced hypermethylation of the Pgc-1alpha gene and age-dependent metabolic dysfunction in the offspring. Diabetes 63, 1605–1611 (2014).

Stanford, K. I. et al. Maternal exercise improves glucose tolerance in female offspring. Diabetes 66, 2124–2136 (2017).

Beeson, J. H. et al. Maternal exercise intervention in obese pregnancy improves the cardiovascular health of the adult male offspring. Mol. Metab. 16, 35–44 (2018).

Bode, L. Human milk oligosaccharides: every baby needs a sugar mama. Glycobiology 22, 1147–1162 (2012).

Akers, R. M., Bauman, D. E., Capuco, A. V., Goodman, G. T. & Tucker, H. A. Prolactin regulation of milk secretion and biochemical differentiation of mammary epithelial cells in periparturient cows. Endocrinology 109, 23–30 (1981).

Fuhrer, A. et al. Milk sialyllactose influences colitis in mice through selective intestinal bacterial colonization. J. Exp. Med. 207, 2843–2854 (2010).

An, D. et al. Overexpression of TRB3 in muscle alters muscle fiber type and improves exercise capacity in mice. Am. J. Physiol. Regul. Integr. Comp. Physiol. 306, R925–R933 (2014).

McCarty, R. Cross-fostering: elucidating the effects of gene x environment interactions on phenotypic development. Neurosci. Biobehav. Rev. 73, 219–254 (2017).

Manthey, C. F., Autran, C. A., Eckmann, L. & Bode, L. Human milk oligosaccharides protect against enteropathogenic Escherichia coli attachment in vitro and EPEC colonization in suckling mice. J. Pediatr. Gastroenterol. Nutr. 58, 165–168 (2014).

Monaco, M. H. et al. Evaluation of sialyllactose supplementation of a prebiotic-containing formula on growth, intestinal development, and bacterial colonization in the neonatal piglet. Curr. Dev. Nutr. 2, nzy067 (2018).

Thongaram, T., Hoeflinger, J. L., Chow, J. & Miller, M. J. Human milk oligosaccharide consumption by probiotic and human-associated bifidobacteria and lactobacilli. J. Dairy Sci. 100, 7825–7833 (2017).

Lee, D. H. et al. Comparison of the association of predicted fat mass, body mass index, and other obesity indicators with type 2 diabetes risk: two large prospective studies in US men and women. Eur. J. Epidemiol. 33, 1113–1123 (2018).

Stanford, K. I. et al. Paternal exercise improves glucose metabolism in adult offspring. Diabetes 67, 2530–2540 (2018).

Roof, S. R. et al. Obligatory role of neuronal nitric oxide synthase in the heart's antioxidant adaptation with exercise. J. Mol. Cell. Cardiol. 81, 54–61 (2015).

Albarado, D. C. et al. Impaired coordination of nutrient intake and substrate oxidation in melanocortin-4 receptor knockout mice. Endocrinology 145, 243–252 (2004).

Lessard, S. J. et al. Resistance to aerobic exercise training causes metabolic dysfunction and reveals novel exercise-regulated signaling networks. Diabetes 62, 2717–2727 (2013).
Acknowledgements
This work was supported by NIH grants (nos. R01HL138738 to K.I.S. and R01AG060542 to K.I.S. and M.T.Z., and R01-DK101043 to L.J.G.), and the Joslin Diabetes Center DRC (grant no. P30 DK36836). K.M.P. was supported by T32HL134616. The authors thank P. J. Mohler and E. D. Lewandowski for critical discussions.
Ethics declarations
Competing interests
The authors declare no competing interests.
Additional information
Peer review information Primary Handling Editor: Pooja Jha.
Publisher's note Springer Nature remains neutral with regard to jurisdictional claims in published maps and institutional affiliations.
Supplementary information
Supplementary Tables 1–13
About this article
Cite this article
Harris, J.E., Pinckard, K.M., Wright, K.R. et al. Exercise-induced 3′-sialyllactose in breast milk is a critical mediator to improve metabolic health and cardiac function in mouse offspring. Nat Metab 2, 678–687 (2020). https://doi.org/10.1038/s42255-020-0223-8
Received:

Accepted:

Published:

Issue Date:

DOI: https://doi.org/10.1038/s42255-020-0223-8