Abstract
Per capita fructose consumption has increased 100-fold over the last century1. Epidemiological studies suggest that excessive fructose consumption, and especially consumption of sweet drinks, is associated with hyperlipidaemia, non-alcoholic fatty liver disease, obesity and diabetes2,3,4,5,6,7. Fructose metabolism begins with its phosphorylation by the enzyme ketohexokinase (KHK), which exists in two alternatively spliced forms8. The more active isozyme, KHK-C, is expressed most strongly in the liver, but also substantially in the small intestine9,10 where it drives dietary fructose absorption and conversion into other metabolites before fructose reaches the liver11,12,13. It is unclear whether intestinal fructose metabolism prevents or contributes to fructose-induced lipogenesis and liver pathology. Here we show that intestinal fructose catabolism mitigates fructose-induced hepatic lipogenesis. In mice, intestine-specific KHK-C deletion increases dietary fructose transit to the liver and gut microbiota and sensitizes mice to fructose's hyperlipidaemic effects and hepatic steatosis. In contrast, intestine-specific KHK-C overexpression promotes intestinal fructose clearance and decreases fructose-induced lipogenesis. Thus, intestinal fructose clearance capacity controls the rate at which fructose can be safely ingested. Consistent with this, we show that the same amount of fructose is more strongly lipogenic when drunk than eaten, or when administered as a single gavage, as opposed to multiple doses spread over 45 min. Collectively, these data demonstrate that fructose induces lipogenesis when its dietary intake rate exceeds the intestinal clearance capacity. In the modern context of ready food availability, the resulting fructose spillover drives metabolic syndrome. Slower fructose intake, tailored to intestinal capacity, can mitigate these consequences.
Relevant articles
Open Access articles citing this article.
Umur Keles

,

Jin Rong Ow

…

Philipp Kaldis

Cellular and Molecular Life Sciences Open Access 07 December 2022

Teng Huang

,

Jia Song

…

Cong-Yi Wang

Nature Communications Open Access 17 June 2022

Grace Park

,

Sunhee Jung

…

Cholsoon Jang

Experimental & Molecular Medicine Open Access 20 May 2021
Access options
Access Nature and 54 other Nature Portfolio journals
Get Nature+, our best-value online-access subscription
$29.99 per month
cancel any time
Subscribe to this journal
Receive 12 digital issues and online access to articles
$99.00 per year
only $8.25 per issue
Rent or buy this article
Get just this article for as long as you need it
$39.95
Prices may be subject to local taxes which are calculated during checkout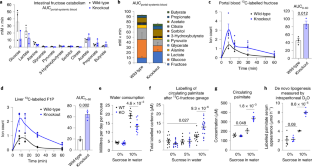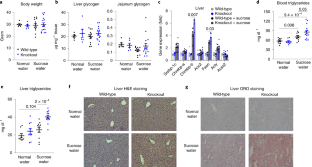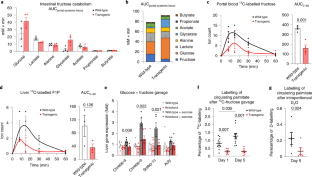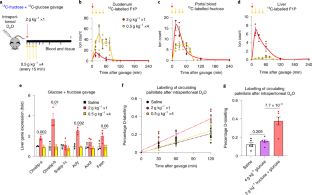 Data availability
The data that support the findings of this study are available from the corresponding author (J.D.R.) upon request. Source data are provided with this paper.
References
Johnson, R. J. et al. Potential role of sugar (fructose) in the epidemic of hypertension, obesity and the metabolic syndrome, diabetes, kidney disease, and cardiovascular disease. Am. J. Clin. Nutr. 86, 899–906 (2007).

Te Morenga, L., Mallard, S. & Mann, J. Dietary sugars and body weight: systematic review and meta-analyses of randomised controlled trials and cohort studies. BMJ 346, e7492 (2012).

Tsilas, C. S. et al. Relation of total sugars, fructose and sucrose with incident type 2 diabetes: a systematic review and meta-analysis of prospective cohort studies. CMAJ 189, E711–E720 (2017).

Chung, M. et al. Fructose, high-fructose corn syrup, sucrose, and nonalcoholic fatty liver disease or indexes of liver health: a systematic review and meta-analysis. Am. J. Clin. Nutr. 100, 833–849 (2014).

Chiu, S. et al. Effect of fructose on markers of non-alcoholic fatty liver disease (NAFLD): a systematic review and meta-analysis of controlled feeding trials. Eur. J. Clin. Nutr. 68, 416–423 (2014).

Zhang, Y. H. et al. Very high fructose intake increases serum LDL-cholesterol and total cholesterol: a meta-analysis of controlled feeding trials. J. Nutr. 143, 1391–1398 (2013).

Sievenpiper, J. L. et al. Effect of fructose on body weight in controlled feeding trials: a systematic review and meta-analysis. Ann. Intern. Med. 156, 291–304 (2012).

Heinz, F., Lamprecht, W. & Kirsch, J. Enzymes of fructose metabolism in human liver. J. Clin. Invest. 47, 1826–1832 (1968).

Patel, C. et al. Effect of dietary fructose on portal and systemic serum fructose levels in rats and in KHK−/− and GLUT5−/− mice. Am. J. Physiol. Gastrointest. Liver Physiol. 309, G779–G790 (2015).

Ishimoto, T. et al. Opposing effects of fructokinase C and A isoforms on fructose-induced metabolic syndrome in mice. Proc. Natl Acad. Sci. USA 109, 4320–4325 (2012).

Patel, C. et al. Fructose-induced increases in expression of intestinal fructolytic and gluconeogenic genes are regulated by GLUT5 and KHK. Am. J. Physiol. Regul. Integr. Comp. Physiol. 309, R499–R509 (2015).

Villegas, L. R. et al. Effects of fructose-containing sweeteners on fructose intestinal, hepatic, and oral bioavailability in dual-catheterized rats. PLoS ONE 13, e0207024 (2018).

Jang, C. et al. The small intestine converts dietary fructose into glucose and organic acids. Cell Metab. 27, 351–361.e3 (2018).

Diggle, C. P. et al. Both isoforms of ketohexokinase are dispensable for normal growth and development. Physiol. Genomics 42A, 235–243 (2010).

Lowry, O. H., Carter, J., Ward, J. B. & Glaser, L. The effect of carbon and nitrogen sources on the level of metabolic intermediates in Escherichia coli. J. Biol. Chem. 246, 6511–6521 (1971).

Zhao, S. et al. Dietary fructose feeds hepatic lipogenesis via microbiota-derived acetate. Nature 579, 586–591 (2020).

Smith, G. I. et al. Insulin resistance drives hepatic de novo lipogenesis in nonalcoholic fatty liver disease. J. Clin. Invest. 130, 1453–1460 (2020).

Kolderup, A. & Svihus, B. Fructose metabolism and relation to atherosclerosis, type 2 diabetes, and obesity. J. Nutr. Metab. 2015, 823081 (2015).

Sun, S. Z. & Empie, M. W. Fructose metabolism in humans: what isotopic tracer studies tell us. Nutr. Metab. (Lond.) 9, 89 (2012).

Hannou, S. A., Haslam, D. E., McKeown, N. M., & Herman, M. A. Fructose metabolism and metabolic disease. J. Clin. Invest. 128, 545–555 (2018).

Softic, S., Cohen, D. E. & Kahn, C. R. Role of dietary fructose and hepatic de novo lipogenesis in fatty liver disease. Dig. Dis. Sci. 61, 1282–1293 (2016).

Mirtschink, P., Jang, C., Arany, Z. & Krek, W. Fructose metabolism, cardiometabolic risk, and the epidemic of coronary artery disease. Eur. Heart J. 39, 2497–2505 (2018).

Lyssiotis, C. A. & Cantley, L. C. Metabolic syndrome: F stands for fructose and fat. Nature 502, 181–182 (2013).

Jegatheesan, P. & De Bandt, J.-P. Fructose and NAFLD: the multifaceted aspects of fructose metabolism. Nutrients 9, 230 (2017).

Caliceti, C., Calabria, D., Roda, A. & Cicero, A. F. G. Fructose intake, serum uric acid, and cardiometabolic disorders: a critical review. Nutrients 9, 395 (2017).

Bray, G. A., Nielsen, S. J. & Popkin, B. M. Consumption of high-fructose corn syrup in beverages may play a role in the epidemic of obesity. Am. J. Clin. Nutr. 79, 537–543 (2004).

Spector, A. A. & Kim, H.-Y. Discovery of essential fatty acids. J. Lipid Res. 56, 11–21 (2015).

Ameer, F., Scandiuzzi, L., Hasnain, S., Kalbacher, H. & Zaidi, N. De novo lipogenesis in health and disease. Metabolism 63, 895–902 (2014).

Duran, M., Beemer, F. A., Bruinvis, L., Ketting, D. & Wadman, S. K. D-glyceric acidemia: an inborn error associated with fructose metabolism. Pediatr. Res. 21, 502–506 (1987).

Cross, N. C. et al. Molecular analysis of aldolase B genes in hereditary fructose intolerance. Lancet 335, 306–309 (1990).

Lanaspa, M. A. et al. Ketohexokinase C blockade ameliorates fructose-induced metabolic dysfunction in fructose-sensitive mice. J. Clin. Invest. 128, 2226–2238 (2018).

Kim, M. et al. Intestinal, but not hepatic, ChREBP is required for fructose tolerance. JCI Insight 2, e96703 (2017).

Kim, M.-S. et al. ChREBP regulates fructose-induced glucose production independently of insulin signaling. J. Clin. Invest. 126, 4372–4386 (2016).

Sundborn, G. et al. Are liquid sugars different from solid sugar in their ability to cause metabolic syndrome? Obesity (Silver Spring) 27, 879–887 (2019).

Wang, J. et al. Associations between added sugar (solid vs. liquid) intakes, diet quality, and adiposity indicators in Canadian children. Appl. Physiol. Nutr. Metab. 40, 835–841 (2015).

Goncalves, M. D. et al. High-fructose corn syrup enhances intestinal tumor growth in mice. Science 363, 1345–1349 (2019).

DiMeglio, D. P. & Mattes, R. D. Liquid versus solid carbohydrate: effects on food intake and body weight. Int. J. Obes. Relat. Metab. Disord. 24, 794–800 (2000).

Togo, J., Hu, S., Li, M., Niu, C. & Speakman, J. R. Impact of dietary sucrose on adiposity and glucose homeostasis in C57BL/6J mice depends on mode of ingestion: liquid or solid. Mol. Metab. 27, 22–32 (2019).

Dreher, M. L. Whole fruits and fruit fiber emerging health effects. Nutrients 10, 1833 (2018).

Hebden, L. et al. Fruit consumption and adiposity status in adults: a systematic review of current evidence. Crit. Rev. Food Sci. Nutr. 57, 2526–2540 (2017).

Guyenet, S. J. Impact of whole, fresh fruit consumption on energy intake and adiposity: a systematic review. Front. Nutr. 6, 66 (2019).

Keast, D. R., O'Neil, C. E. & Jones, J. M. Dried fruit consumption is associated with improved diet quality and reduced obesity in US adults: National Health and Nutrition Examination Survey, 1999–2004. Nutr. Res. 31, 460–467 (2011).

Sharma, S. P., Chung, H. J., Kim, H. J. & Hong, S. T. Paradoxical effects of fruit on obesity. Nutrients 8, 633 (2016).

Zheng, M. et al. Liquid versus solid energy intake in relation to body composition among Australian children. J. Hum. Nutr. Diet. 28, 70–79 (2015).

Wang, J. et al. Consumption of added sugars from liquid but not solid sources predicts impaired glucose homeostasis and insulin resistance among youth at risk of obesity. J. Nutr. 144, 81–86 (2014).

Malik, V. S. & Hu, F. B. Fructose and cardiometabolic health: what the evidence from sugar-sweetened beverages tells us. J. Am. Coll. Cardiol. 66, 1615–1624 (2015).

Zou, Z.-Y., Shen, B. & Fan, J.-G. Systematic review with meta-analysis: epidemiology of nonalcoholic fatty liver disease in patients with inflammatory bowel disease. Inflamm. Bowel Dis. 25, 1764–1772 (2019).

Chao, C.-Y. et al. Co-existence of non-alcoholic fatty liver disease and inflammatory bowel disease: a review article. World J. Gastroenterol. 22, 7727–7734 (2016).

Sourianarayanane, A. et al. Risk factors of non-alcoholic fatty liver disease in patients with inflammatory bowel disease. J. Crohns Colitis 7, e279–e285 (2013).

Miller, C. O. et al. Ketohexokinase knockout mice, a model for essential fructosuria, exhibit altered fructose metabolism and are protected from diet-induced metabolic defects. Am. J. Physiol. Endocrinol. Metab. 315, E386–E393 (2018).

Calle, R., Bergman, A., Somayaji, V., Chidsey, K. & Kazierad, D. PS-110-Ketohexokinase inhibitor PF-06835919 administered for 6 weeks reduces whole liver fat as measured by magnetic resonance imaging-proton density fat fraction in subjects with non-alcoholic fatty liver disease. J. Hepatol. 70, E69–E70 (2019).

Huard, K. et al. Discovery of fragment-derived small molecules for in vivo inhibition of ketohexokinase (KHK). J. Med. Chem. 60, 7835–7849 (2017).

Su, X., Lu, W. & RabinowitzJ. D. Metabolite spectral accuracy on orbitraps. Anal. Chem. 89, 5940–5948 (2017).

Zhang, Z., Chen, L., Liu, L., Su, X. & Rabinowitz, J. D. Chemical basis for deuterium labeling of fat and NADPH. J. Am. Chem. Soc. 139, 14368–14371 (2017).
Acknowledgements
This work was supported by a grant from the DRC Regional Metabolomics Core (no. P30 DK19525 to J.D.R.), National Institutes of Health Pioneer grant (no. 1DP1DK113643 to J.D.R.) and grant no. DK107667 to Z.A. C.J. was a postdoctoral fellow of the American Diabetes Association (no. 1–17-PDF-076). We thank members of the Arany and Rabinowitz laboratories for scientific discussions.
Ethics declarations
Competing interests
J.D.R. is a consultant and receives research funding from Pfizer and is an advisor of Colorado Research Partners and cofounder of VL54. All other authors declare no conflicts of interest.
Additional information
Peer review information Primary Handling Editor: Christoph Schmitt.
Publisher's note Springer Nature remains neutral with regard to jurisdictional claims in published maps and institutional affiliations.
Supplementary information
Source data
Unprocessed western Blots for Extended Data Fig. 1b.
Unprocessed western Blots for Extended Data Fig. 7b.
About this article
Cite this article
Jang, C., Wada, S., Yang, S. et al. The small intestine shields the liver from fructose-induced steatosis. Nat Metab 2, 586–593 (2020). https://doi.org/10.1038/s42255-020-0222-9
Received:

Accepted:

Published:

Issue Date:

DOI: https://doi.org/10.1038/s42255-020-0222-9