Whereas textbooks depict metabolism in perfect homeostasis, disturbances occur in real life. One particularly relevant disturbance, caused by excess food and alcohol consumption and exacerbated by genetics, is reductive stress. New work by Goodman et al. identifies a biomarker of reductive stress and uses a gene therapy solution in mice. This work suggests how exercise and an accessible nutritional technology can synergistically increase catabolism and relieve reductive stress.
Access options
Subscribe to Journal
Get full journal access for 1 year
$99.00
only $8.25 per issue
All prices are NET prices.
VAT will be added later in the checkout.
Tax calculation will be finalised during checkout.
Rent or Buy article
Get time limited or full article access on ReadCube.
from$8.99
All prices are NET prices.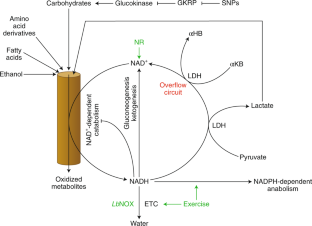 References
1.

Zhao, Y. et al. Nat. Protoc. 11, 1345–1359 (2016).

2.

Goodman, R. P. et al. Nature https://doi.org/10.1038/s41586-020-2337-2 (2020).

3.

Sullivan, L. B. et al. Cell 162, 552–563 (2015).

4.

Liu, X., Romero, I. L., Litchfield, L. M., Lengyel, E. & Locasale, J. W. Cell Metab. 24, 728–739 (2016).

5.

Gall, W. E. et al. PLoS ONE 5, e10883 (2010).

6.

Trammell, S. A. J. et al. Sci. Rep. 6, 26933 (2016).

7.

Diguet, N. et al. Circulation 137, 2256–2273 (2018).

8.

Bieganowski, P. & Brenner, C. Cell 117, 495–502 (2004).

9.

Fluharty, N. & Brenner, C. Am. J. Clin. Nutr. (in the press).

10.

Cracan, V., Titov, D. V., Shen, H., Grabarek, Z. & Mootha, V. K. Nat. Chem. Biol. 13, 1088–1095 (2017).

11.

Patgiri, A. et al. Nat. Biotechnol. 38, 309–313 (2020).
Ethics declarations
Competing interests
C.B. owns stock in, and is chief scientific adviser to, ChromaDex, Inc. C.D.H. declares no competing interests.
About this article
Cite this article
Heer, C.D., Brenner, C. Letting off electrons to cope with metabolic stress. Nat Metab 2, 485–486 (2020). https://doi.org/10.1038/s42255-020-0207-8