Abstract
The transcriptional role of cMyc (or Myc) in tumorigenesis is well appreciated; however, it remains to be fully established how extensively Myc is involved in the epigenetic regulation of gene expression. Here, we show that by deactivating succinate dehydrogenase complex subunit A (SDHA) via acetylation, Myc triggers a regulatory cascade in cancer cells that leads to H3K4me3 activation and gene expression. We find that Myc facilitates the acetylation-dependent deactivation of SDHA by activating the SKP2-mediated degradation of SIRT3 deacetylase. We further demonstrate that Myc inhibition of SDH-complex activity leads to cellular succinate accumulation, which triggers H3K4me3 activation and tumour-specific gene expression. We demonstrate that acetylated SDHA at Lys 335 contributes to tumour growth in vitro and in vivo, and we confirm increased tumorigenesis in clinical samples. This study illustrates a link between acetylation-dependent SDHA deactivation and Myc-driven epigenetic regulation of gene expression, which is critical for cancer progression.
Access options
Subscribe to Journal
Get full journal access for 1 year
$119.00
only $9.92 per issue
All prices are NET prices.
VAT will be added later in the checkout.
Tax calculation will be finalised during checkout.
Rent or Buy article
Get time limited or full article access on ReadCube.
from$8.99
All prices are NET prices.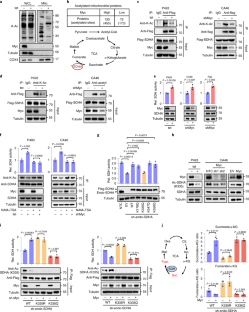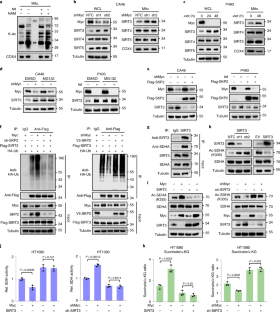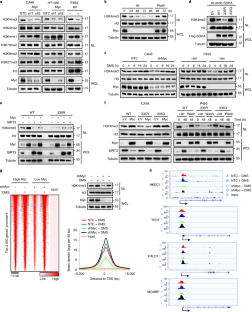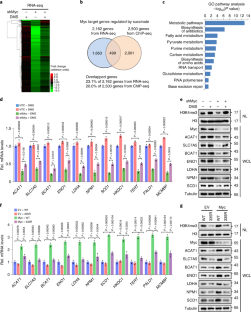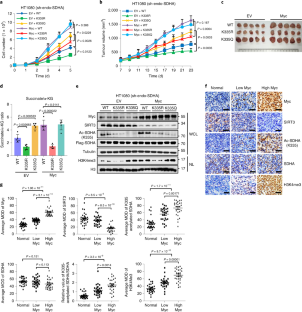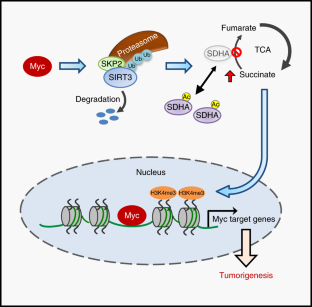 Data availability
Data from this study have been deposited in the GEO. Original data from ChIP-seq and RNA-seq in P493 or CA46 cells are available in the NCBI GEO (accession numbers GSE124255 and GSE141227, respectively). The datasets generated and/or analysed during the current study are available from the corresponding author upon reasonable request. Source data for Figs. 1–5 and Extended Data Figs. 1–5 are presented within the paper.
References
1.

Eilers, M. & Eisenman, R. N. Myc's broad reach. Genes Dev. 22, 2755–2766 (2008).

2.

Brooks, T. A. & Hurley, L. H. The role of supercoiling in transcriptional control of MYC and its importance in molecular therapeutics. Nat. Rev. Cancer 9, 849–861 (2009).

3.

Dang, C. V. MYC on the path to cancer. Cell 149, 22–35 (2012).

4.

van Riggelen, J., Yetil, A. & Felsher, D. W. MYC as a regulator of ribosome biogenesis and protein synthesis. Nat. Rev. Cancer 10, 301–309 (2010).

5.

Dang, C. V. MYC, metabolism, cell growth, and tumorigenesis. Cold Spring Harb. Perspect. Med. 3, a014217 (2013).

6.

Kim, J. W., Gao, P., Liu, Y. C., Semenza, G. L. & Dang, C. V. Hypoxia-inducible factor 1 and dysregulated c-Myc cooperatively induce vascular endothelial growth factor and metabolic switches hexokinase 2 and pyruvate dehydrogenase kinase 1. Mol. Cell. Biol. 27, 7381–7393 (2007).

7.

Zeller, K. I. et al. Global mapping of c-Myc binding sites and target gene networks in human B cells. Proc. Natl Acad. Sci. USA 103, 17834–17839 (2006).

8.

Guccione, E. et al. Myc-binding-site recognition in the human genome is determined by chromatin context. Nat. Cell Biol. 8, 764–770 (2006).

9.

Zhang, L., Sokolowski, N., Atmadibrata, B. & Liu, T. Histone demethylase JARID1B promotes cell proliferation but is downregulated by N-Myc oncoprotein. Oncol. Rep. 31, 1935–1939 (2014).

10.

Ullius, A. et al. The interaction of MYC with the trithorax protein ASH2L promotes gene transcription by regulating H3K27 modification. Nucleic Acids Res. 42, 6901–6920 (2014).

11.

Santos-Rosa, H. et al. Active genes are tri-methylated at K4 of histone H3. Nature 419, 407–411 (2002).

12.

Schneider, R. et al. Histone H3 lysine 4 methylation patterns in higher eukaryotic genes. Nat. Cell Biol. 6, 73–77 (2004).

13.

Bernstein, B. E. et al. Genomic maps and comparative analysis of histone modifications in human and mouse. Cell 120, 169–181 (2005).

14.

Martinato, F., Cesaroni, M., Amati, B. & Guccione, E. Analysis of Myc-induced histone modifications on target chromatin. PLoS One 3, e3650 (2008).

15.

Kim, S. C. et al. Substrate and functional diversity of lysine acetylation revealed by a proteomics survey. Mol. Cell. 23, 607–618 (2006).

16.

Choudhary, C. et al. Lysine acetylation targets protein complexes and co-regulates major cellular functions. Science 325, 834–840 (2009).

17.

Zhao, S. et al. Regulation of cellular metabolism by protein lysine acetylation. Science 327, 1000–1004 (2010).

18.

Wang, Q. et al. Acetylation of metabolic enzymes coordinates carbon source utilization and metabolic flux. Science 327, 1004–1007 (2010).

19.

Xiong, Y. & Guan, K. L. Mechanistic insights into the regulation of metabolic enzymes by acetylation. J. Cell Biol. 198, 155–164 (2012).

20.

Gil, J., Ramirez-Torres, A. & Encarnacion-Guevara, S. Lysine acetylation and cancer: a proteomics perspective. J. Proteomics 150, 297–309 (2017).

21.

Baysal, B. E. et al. Mutations in SDHD, a mitochondrial complex II gene, in hereditary paraganglioma. Science 287, 848–851 (2000).

22.

Hao, H. X. et al. SDH5, a gene required for flavination of succinate dehydrogenase, is mutated in paraganglioma. Science 325, 1139–1142 (2009).

23.

Hensen, E. F. & Bayley, J. P. Recent advances in the genetics of SDH-related paraganglioma and pheochromocytoma. Fam. Cancer 10, 355–363 (2011).

24.

Oermann, E. K., Wu, J., Guan, K. L. & Xiong, Y. Alterations of metabolic genes and metabolites in cancer. Semin. Cell Dev. Biol. 23, 370–380 (2012).

25.

Ricketts, C. et al. Germline SDHB mutations and familial renal cell carcinoma. J. Natl. Cancer Inst. 100, 1260–1262 (2008).

26.

Kim, S., Kim, D. H., Jung, W. H. & Koo, J. S. Succinate dehydrogenase expression in breast cancer. Springerplus 2, 299 (2013).

27.

Cervera, A. M., Bayley, J. P., Devilee, P. & McCreath, K. J. Inhibition of succinate dehydrogenase dysregulates histone modification in mammalian cells. Mol. Cancer 8, 89 (2009).

28.

Kinnaird, A., Zhao, S., Wellen, K. E. & Michelakis, E. D. Metabolic control of epigenetics in cancer. Nat. Rev. Cancer 16, 694–707 (2016).

29.

Letouze, E. et al. SDH mutations establish a hypermethylator phenotype in paraganglioma. Cancer Cell 23, 739–752 (2013).

30.

Xiao, M. et al. Inhibition of alpha-KG-dependent histone and DNA demethylases by fumarate and succinate that are accumulated in mutations of FH and SDH tumor suppressors. Genes Dev. 26, 1326–1338 (2012).

31.

Lv, L. et al. Acetylation targets the M2 isoform of pyruvate kinase for degradation through chaperone-mediated autophagy and promotes tumor growth. Mol. Cell 42, 719–730 (2011).

32.

Zhao, D. et al. Lysine-5 acetylation negatively regulates lactate dehydrogenase A and is decreased in pancreatic cancer. Cancer Cell 23, 464–476 (2013).

33.

Tao, R. et al. Sirt3-mediated deacetylation of evolutionarily conserved lysine 122 regulates MnSOD activity in response to stress. Mol. Cell 40, 893–904 (2010).

34.

Inuzuka, H. et al. Acetylation-dependent regulation of Skp2 function. Cell 150, 179–193 (2012).

35.

Bretones, G. et al. SKP2 oncogene is a direct MYC target gene and MYC down-regulates p27(KIP1) through SKP2 in human leukemia cells. J. Biol. Chem. 286, 9815–9825 (2011).

36.

Hoekstra, A. S. et al. Inactivation of SDH and FH cause loss of 5hmC and increased H3K9me3 in paraganglioma/pheochromocytoma and smooth muscle tumors. Oncotarget 6, 38777–38788 (2015).

37.

Kooistra, S. M. & Helin, K. Molecular mechanisms and potential functions of histone demethylases. Nat. Rev. Mol. Cell Biol. 13, 297–311 (2012).

38.

Liu, P. S. et al. alpha-ketoglutarate orchestrates macrophage activation through metabolic and epigenetic reprogramming. Nat. Immunol. 18, 985–994 (2017).

39.

Nie, Z. et al. Structure-based design and discovery of potent and selective KDM5 inhibitors. Bioorg. Med. Chem. Lett. 28, 1490–1494 (2018).

40.

Kluk, M. J. et al. Immunohistochemical detection of MYC-driven diffuse large B-cell lymphomas. PLoS One 7, e33813 (2012).

41.

Johnson, N. A. et al. Concurrent expression of MYC and BCL2 in diffuse large B-cell lymphoma treated with rituximab plus cyclophosphamide, doxorubicin, vincristine, and prednisone. J. Clin. Oncol. 30, 3452–3459 (2012).

42.

Green, T. M. et al. High levels of nuclear MYC protein predict the presence of MYC rearrangement in diffuse large B-cell lymphoma. Am. J. Surg. Pathol. 36, 612–619 (2012).

43.

Barrans, S. et al. Rearrangement of MYC is associated with poor prognosis in patients with diffuse large B-cell lymphoma treated in the era of rituximab. J. Clin. Oncol. 28, 3360–3365 (2010).

44.

Savage, K. J. et al. MYC gene rearrangements are associated with a poor prognosis in diffuse large B-cell lymphoma patients treated with R-CHOP chemotherapy. Blood 114, 3533–3537 (2009).

45.

Carey, C. D. et al. Molecular classification of MYC-driven B-cell lymphomas by targeted gene expression profiling of fixed biopsy specimens. J. Mol. Diagn. 17, 19–30 (2015).

46.

Dang, C. V. c-Myc target genes involved in cell growth, apoptosis, and metabolism. Mol. Cell. Biol. 19, 1–11 (1999).

47.

Zhao, D. et al. NOTCH-induced aldehyde dehydrogenase 1A1 deacetylation promotes breast cancer stem cells. J. Clin. Invest. 124, 5453–5465 (2014).

48.

Yang, H. et al. SIRT3-dependent GOT2 acetylation status affects the malate-aspartate NADH shuttle activity and pancreatic tumor growth. EMBO J. 34, 1110–1125 (2015).

49.

Fan, J. et al. Tyr phosphorylation of PDP1 toggles recruitment between ACAT1 and SIRT3 to regulate the pyruvate dehydrogenase complex. Mol. Cell 53, 534–548 (2014).

50.

Zhang, M. et al. Sirtinol promotes PEPCK1 degradation and inhibits gluconeogenesis by inhibiting deacetylase SIRT2. Sci. Rep. 7, 7 (2017).

51.

Gao, P. et al. c-Myc suppression of miR-23a/b enhances mitochondrial glutaminase expression and glutamine metabolism. Nature 458, 762–765 (2009).

52.

Sun, L. et al. cMyc-mediated activation of serine biosynthesis pathway is critical for cancer progression under nutrient deprivation conditions. Cell Res. 25, 429–444 (2015).

53.

Wu, G. et al. Menin enhances c-Myc-mediated transcription to promote cancer progression. Nat. Commun. 8, 15278 (2017).

54.

Miettinen, M. et al. Succinate dehydrogenase-deficient GISTs: a clinicopathologic, immunohistochemical, and molecular genetic study of 66 gastric GISTs with predilection to young age. Am. J. Surg. Pathol. 35, 1712–1721 (2011).

55.

Badve, S. et al. Basal-like and triple-negative breast cancers: a critical review with an emphasis on the implications for pathologists and oncologists. Mod. Pathol. 24, 157–167 (2011).

56.

Schuhmacher, M. et al. Control of cell growth by c-Myc in the absence of cell division. Curr. Biol. 9, 1255–1258 (1999).

57.

Guan, K. L., Yu, W., Lin, Y., Xiong, Y. & Zhao, S. Generation of acetyllysine antibodies and affinity enrichment of acetylated peptides. Nat. Protoc. 5, 1583–1595 (2010).

58.

Lee, M. G., Wynder, C., Norman, J. & Shiekhattar, R. Isolation and characterization of histone H3 lysine 4 demethylase-containing complexes. Methods 40, 327–330 (2006).

59.

Xu, W. et al. Oncometabolite 2-hydroxyglutarate is a competitive inhibitor of alpha-ketoglutarate-dependent dioxygenases. Cancer Cell 19, 17–30 (2011).

60.

Lei, Q. et al. NKX3.1 stabilizes p53, inhibits AKT activation, and blocks prostate cancer initiation caused by PTEN loss. Cancer Cell. 9, 367–378 (2006).
Acknowledgements
We thank C. V. Dang for critical reading of this manuscript and valuable suggestions. This work is supported in part by National Natural Science Foundation of China (91957203, 81525022, 81930083, 31571472, 81530076, 81821001), National Key R&D Program of China (2018YFA0800300, 2018YFA0107103, 2017YFA0205600), the Chinese Academy of Sciences (XDPB10), the Program for Guangdong Introducing Innovative and Entrepreneurial Teams (2017ZT07S054) and the Program of Development Foundation of Hefei Center for Physical Science and Technology (2017FXZY004). Please address all the correspondence and requests for materials to P.G. (pgao2@ustc.edu.cn).
Ethics declarations
Competing interests
The authors declare no competing interests.
Additional information
Peer review information Primary Handling Editors: Ana Mateus; Elena Bellafante.
Publisher's note Springer Nature remains neutral with regard to jurisdictional claims in published maps and institutional affiliations.
Supplementary information
Supplementary Tables 1 and 2
About this article
Cite this article
Li, ST., Huang, D., Shen, S. et al. Myc-mediated SDHA acetylation triggers epigenetic regulation of gene expression and tumorigenesis. Nat Metab 2, 256–269 (2020). https://doi.org/10.1038/s42255-020-0179-8
Received:

Accepted:

Published:

Issue Date: