Abstract
Chronic low-grade white adipose tissue (WAT) inflammation is a hallmark of metabolic syndrome in obesity. Here, we demonstrate that a subpopulation of mouse WAT perivascular (PDGFRβ+) cells, termed fibro-inflammatory progenitors (FIPs), activate proinflammatory signalling cascades shortly after the onset of high-fat diet feeding and regulate proinflammatory macrophage accumulation in WAT in a TLR4-dependent manner. FIPs activation in obesity is mediated by the downregulation of zinc-finger protein 423 (ZFP423), identified here as a transcriptional corepressor of NF-κB. ZFP423 suppresses the DNA-binding capacity of the p65 subunit of NF-κB by inducing a p300-to-NuRD coregulator switch. Doxycycline-inducible expression of Zfp423 in PDGFRβ+ cells suppresses inflammatory signalling in FIPs and attenuates metabolic inflammation of visceral WAT in obesity. Inducible inactivation of Zfp423 in PDGFRβ+ cells increases FIP activity, exacerbates adipose macrophage accrual and promotes WAT dysfunction. These studies implicate perivascular mesenchymal cells as important regulators of chronic adipose-tissue inflammation in obesity and identify ZFP423 as a transcriptional break on NF-κB signalling.
Relevant articles
Open Access articles citing this article.
Jinteng Li

,

Feng Ye

…

Huiyong Shen

Journal of Nanobiotechnology Open Access 19 August 2023

Jiayin Ye

,

Cheng Gao

…

Ying Wang

Cell Regeneration Open Access 04 May 2023
Access options
Access Nature and 54 other Nature Portfolio journals
Get Nature+, our best-value online-access subscription
$29.99 / 30 days
cancel any time
Subscribe to this journal
Receive 12 digital issues and online access to articles
$119.00 per year
only $9.92 per issue
Rent or buy this article
Prices vary by article type
from$1.95
to$39.95
Prices may be subject to local taxes which are calculated during checkout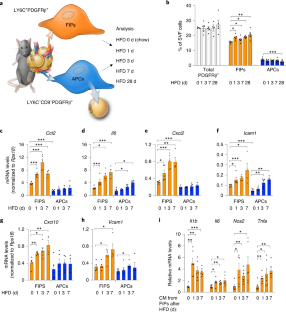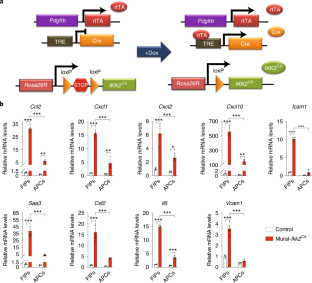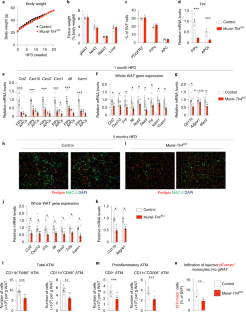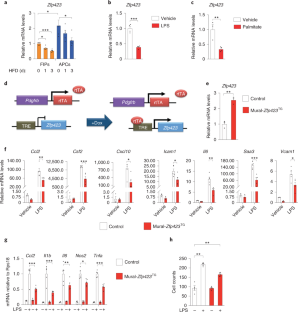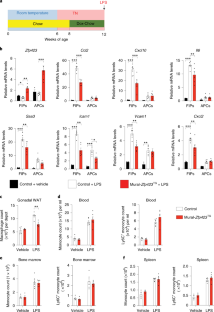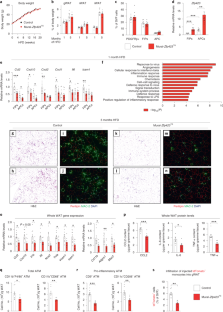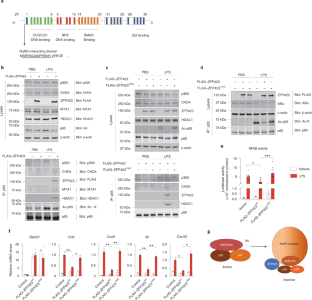 References
Weisberg, S. P. et al. CCR2 modulates inflammatory and metabolic effects of high-fat feeding. J. Clin. Invest. 116, 115–124 (2006).

Oh, D. Y., Morinaga, H., Talukdar, S., Bae, E. J. & Olefsky, J. M. Increased macrophage migration into adipose tissue in obese mice. Diabetes 61, 346–354 (2012).

Amano, S. U. et al. Local proliferation of macrophages contributes to obesity-associated adipose tissue inflammation. Cell Metab. 19, 162–171 (2014).

Saltiel, A. R. & Olefsky, J. M. Inflammatory mechanisms linking obesity and metabolic disease. J. Clin. Invest. 127, 1–4 (2017).

Hepler, C. et al. Identification of functionally distinct fibro-inflammatory and adipogenic stromal subpopulations in visceral adipose tissue of adult mice. eLife 7, e39636 (2018).

Giles, D. A. et al. Thermoneutral housing exacerbates nonalcoholic fatty liver disease in mice and allows for sex-independent disease modeling. Nat. Med. 23, 829–838 (2017).

Tian, X. Y. et al. Thermoneutral housing accelerates metabolic inflammation to potentiate atherosclerosis but not insulin resistance. Cell Metab. 23, 165–178 (2016).

Hill, A. A. et al. Activation of NF-κB drives the enhanced survival of adipose tissue macrophages in an obesogenic environment. Mol. Metab. 4, 665–677 (2015).

Chiang, S. H. et al. The protein kinase IKKε regulates energy balance in obese mice. Cell 138, 961–975 (2009).

Cho, K. W., Morris, D. L. & Lumeng, C. N. Flow cytometry analyses of adipose tissue macrophages. Methods Enzymol. 537, 297–314 (2014).

Hill, D. A. et al. Distinct macrophage populations direct inflammatory versus physiological changes in adipose tissue. Proc. Natl Acad. Sci. USA 115, E5096–E5105 (2018).

Gupta, R. K. et al. Zfp423 expression identifies committed preadipocytes and localizes to adipose endothelial and perivascular cells. Cell Metab. 15, 230–239 (2012).

Vishvanath, L. et al. Pdgfrβ+ mural preadipocytes contribute to adipocyte hyperplasia induced by high-fat-diet feeding and prolonged cold exposure in adult mice. Cell Metab. 23, 350–359 (2016).

Gupta, R. K. et al. Transcriptional control of preadipocyte determination by Zfp423. Nature 464, 619–623 (2010).

Hepler, C. et al. Directing visceral white adipocyte precursors to a thermogenic adipocyte fate improves insulin sensitivity in obese mice. eLife 6, e27669 (2017).

Shao, M. et al. Fetal development of subcutaneous white adipose tissue is dependent on Zfp423. Mol. Metab. 6, 111–124 (2017).

Shao, M. et al. Zfp423 maintains white adipocyte identity through suppression of the beige cell thermogenic gene program. Cell Metab. 23, 1167–1184 (2016).

Shao, M. et al. De novo adipocyte differentiation from Pdgfrβ+ preadipocytes protects against pathologic visceral adipose expansion in obesity. Nat. Commun. 9, 890 (2018).

Kloting, N. et al. Insulin-sensitive obesity. Am. J. Physiol. Endocrinol. Metab. 299, E506–E515 (2010).

Huang, B., Yang, X. D., Lamb, A. & Chen, L. F. Posttranslational modifications of NF-κB: another layer of regulation for NF-κB signaling pathway. Cell Signal 22, 1282–1290 (2010).

Chen, L. F., Mu, Y. & Greene, W. C. Acetylation of RelA at discrete sites regulates distinct nuclear functions of NF-κB. EMBO J 21, 6539–6548 (2002).

Chen, L., Fischle, W., Verdin, E. & Greene, W. C. Duration of nuclear NF-κB action regulated by reversible acetylation. Science 293, 1653–1657 (2001).

Torchy, M. P., Hamiche, A. & Klaholz, B. P. Structure and function insights into the NuRD chromatin remodeling complex. Cell Mol. Life Sci 72, 2491–2507 (2015).

Lauberth, S. M. & Rauchman, M. A conserved 12-amino acid motif in Sall1 recruits the nucleosome remodeling and deacetylase corepressor complex. J. Biol. Chem. 281, 23922–23931 (2006).

Reilly, S. M. & Saltiel, A. R. Adapting to obesity with adipose tissue inflammation. Nat. Rev. Endocrinol. 13, 633–643 (2017).

Jia, L. et al. Hepatocyte Toll-like receptor 4 regulates obesity-induced inflammation and insulin resistance. Nat. Commun. 5, 3878 (2014).

Tao, C. et al. Short-term versus long-term effects of adipocyte toll-like receptor 4 activation on insulin resistance in male mice. Endocrinology 158, 1260–1270 (2017).

Cardamone, M. D. et al. A protective strategy against hyperinflammatory responses requiring the nontranscriptional actions of GPS2. Mol. Cell 46, 91–104 (2012).

Gillum, M. P. et al. SirT1 regulates adipose tissue inflammation. Diabetes 60, 3235–3245 (2011).

Saijo, K. et al. A Nurr1/CoREST pathway in microglia and astrocytes protects dopaminergic neurons from inflammation-induced death. Cell 137, 47–59 (2009).

Addison, W. N. et al. Zfp423 regulates skeletal muscle regeneration and proliferation. Mol. Cell Biol. 39, e00447-18 (2019).

Cheng, L. E., Zhang, J. & Reed, R. R. The transcription factor Zfp423/OAZ is required for cerebellar development and CNS midline patterning. Dev. Biol. 307, 43–52 (2007).

Cheng, L. E. & Reed, R. R. Zfp423/OAZ participates in a developmental switch during olfactory neurogenesis. Neuron 54, 547–557 (2007).

Warming, S., Rachel, R. A., Jenkins, N. A. & Copeland, N. G. Zfp423 is required for normal cerebellar development. Mol. Cell Biol. 26, 6913–6922 (2006).

Kiernan, R. et al. Post-activation turn-off of NF-κB-dependent transcription is regulated by acetylation of p65. J. Biol. Chem. 278, 2758–2766 (2003).

Yeung, F. et al. Modulation of NF-κB-dependent transcription and cell survival by the SIRT1 deacetylase. EMBO J. 23, 2369–2380 (2004).

Spallanzani, R. G. et al. Distinct immunocyte-promoting and adipocyte-generating stromal components coordinate adipose tissue immune and metabolic tenors. Sci. Immunol. 4, eaaw3658 (2019).

Mahlakoiv, T. et al. Stromal cells maintain immune cell homeostasis in adipose tissue via production of interleukin-33. Sci. Immunol. 4, eaax0416 (2019).

Luo, X. et al. PARP-1 controls the adipogenic transcriptional program by PARylating C/EBPβ and modulating its transcriptional activity. Mol. Cell 65, 260–271 (2017).

Shan, B. et al. The metabolic ER stress sensor IRE1α suppresses alternative activation of macrophages and impairs energy expenditure in obesity. Nat. Immunol. 18, 519–529 (2017).

Oh, D. Y. et al. GPR120 is an omega-3 fatty acid receptor mediating potent anti-inflammatory and insulin-sensitizing effects. Cell 142, 687–698 (2010).

Oh, D. Y. et al. A Gpr120-selective agonist improves insulin resistance and chronic inflammation in obese mice. Nat. Med. 20, 942–947 (2014).

Kim, D., Langmead, B. & Salzberg, S. L. HISAT: a fast spliced aligner with low memory requirements. Nat. Methods 12, 357–360 (2015).

Tarasov, A., Vilella, A. J., Cuppen, E., Nijman, I. J. & Prins, P. Sambamba: fast processing of NGS alignment formats. Bioinformatics 31, 2032–2034 (2015).

Liao, Y., Smyth, G. K. & Shi, W. featureCounts: an efficient general purpose program for assigning sequence reads to genomic features. Bioinformatics 30, 923–930 (2014).

Frankish, A. et al. GENCODE reference annotation for the human and mouse genomes. Nucleic Acids Res. 47, D766–D773 (2019).

Love, M. I., Huber, W. & Anders, S. Moderated estimation of fold change and dispersion for RNA-seq data with DESeq2. Genome Biol. 15, 550 (2014).

Li, H. & Durbin, R. Fast and accurate short read alignment with Burrows–Wheeler transform. Bioinformatics 25, 1754–1760 (2009).

Li, H. et al. The Sequence Alignment/Map format and SAMtools. Bioinformatics 25, 2078–2079 (2009).

Quinlan, A. R. & Hall, I. M. BEDTools: a flexible suite of utilities for comparing genomic features. Bioinformatics 26, 841–842 (2010).

Landt, S. G. et al. ChIP-seq guidelines and practices of the ENCODE and modENCODE consortia. Genome Res. 22, 1813–1831 (2012).

Feng, J., Liu, T., Qin, B., Zhang, Y. & Liu, X. S. Identifying ChIP–seq enrichment using MACS. Nat. Protoc. 7, 1728–1740 (2012).

McLean, C. Y. et al. GREAT improves functional interpretation of cis-regulatory regions. Nat. Biotechnol. 28, 495–501 (2010).

Ramirez, F. et al. deepTools2: a next generation web server for deep-sequencing data analysis. Nucleic Acids Res. 44, W160–W165 (2016).

Heinz, S. et al. Simple combinations of lineage-determining transcription factors prime cis-regulatory elements required for macrophage and B cell identities. Mol. Cell 38, 576–589 (2010).

Heinz, S., Romanoski, C. E., Benner, C. & Glass, C. K. The selection and function of cell type-specific enhancers. Nat. Rev. Mol. Cell Biol. 16, 144–154 (2015).
Acknowledgements
The authors are grateful to P. Scherer and C. Kusminski for critical reading of the manuscript and members of the UTSW Touchstone Diabetes Center for useful discussions. The authors thank C. Lee, the UTSW Animal Resource Center, Metabolic Phenotyping Core, Pathology Core, Live Cell Imaging Core, Flow Cytometry Core, McDermott Sequencing Center and Proteomics Core, for excellent guidance and assistance with experiments performed here. This study and/or personnel were supported in part by the NIH NIDDK F31DK113696 to C.H., NIDDK R01 DK104789, R56 DK119163 and R01 DK119163 to R.K.G., the American Heart Association postdoctoral fellowship 16POST26420136 to M.S, NIDDK R01 DK115477 to D.W.S, NIDDK R01 DK108773 and AHA 14SDG19880020 to D.O., American Diabetes Association 1-18-PMF-030 to V.A.P., NIH R03 DK101865 to O.T.G, the Cancer Prevention and Research Institute of Texas (RP150596) to S.D.B and V.S.M, NIH NIAAA K01AA024809 to L.J. and NIDDK PO1 DK088761to J.K.E.
Ethics declarations
Competing interests
The authors declare that they have no competing interests.
Additional information
Peer review information Primary Handling Editor: Christoph Schmitt.
Publisher's note Springer Nature remains neutral with regard to jurisdictional claims in published maps and institutional affiliations.
Supplementary information
About this article
Cite this article
Shan, B., Shao, M., Zhang, Q. et al. Perivascular mesenchymal cells control adipose-tissue macrophage accrual in obesity. Nat Metab 2, 1332–1349 (2020). https://doi.org/10.1038/s42255-020-00301-7
Received:

Accepted:

Published:

Issue Date:

DOI: https://doi.org/10.1038/s42255-020-00301-7