Abstract
Mitochondria supply ATP essential for synaptic transmission. Neurons face exceptional challenges in maintaining energy homoeostasis at synapses. Regulation of mitochondrial trafficking and anchoring is critical for neurons to meet increased energy consumption during sustained synaptic activity. However, mechanisms recruiting and retaining presynaptic mitochondria in sensing synaptic ATP levels remain elusive. Here we reveal an energy signalling axis that controls presynaptic mitochondrial maintenance. Activity-induced presynaptic energy deficits can be rescued by recruiting mitochondria through the AMP-activated protein kinase (AMPK)–p21-activated kinase (PAK) energy signalling pathway. Synaptic activity induces AMPK activation within axonal compartments and AMPK–PAK signalling triggers phosphorylation of myosin VI, which drives mitochondrial recruitment and syntaphilin-mediated anchoring on presynaptic filamentous actin. This pathway maintains presynaptic energy supply and calcium clearance during intensive synaptic activity. Disrupting this signalling cross-talk triggers local energy deficits and intracellular calcium build-up, leading to impaired synaptic efficacy during trains of stimulation and reduced recovery from synaptic depression after prolonged synaptic activity. Our study reveals a mechanistic cross-talk between energy sensing and mitochondria anchoring to maintain presynaptic metabolism, thus fine-tuning short-term synaptic plasticity and prolonged synaptic efficacy.
Access options
Access Nature and 54 other Nature Portfolio journals
Get Nature+, our best-value online-access subscription
$29.99 / 30 days
cancel any time
Subscribe to this journal
Receive 12 digital issues and online access to articles
$99.00 per year
only $8.25 per issue
Rent or buy this article
Get just this article for as long as you need it
$39.95
Prices may be subject to local taxes which are calculated during checkout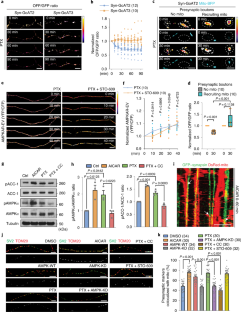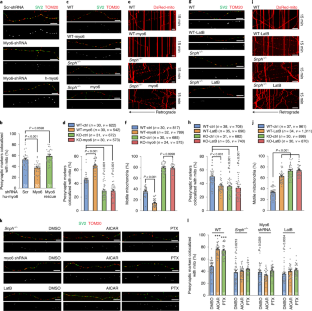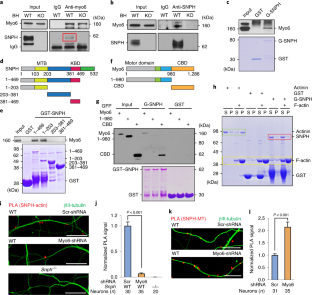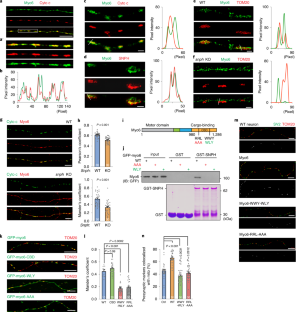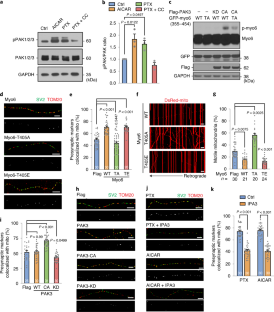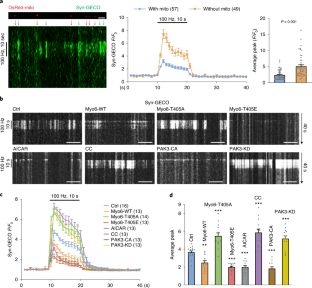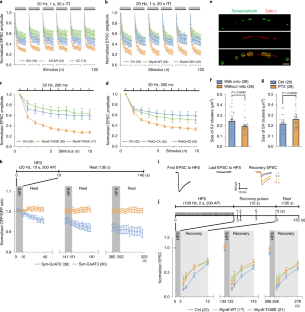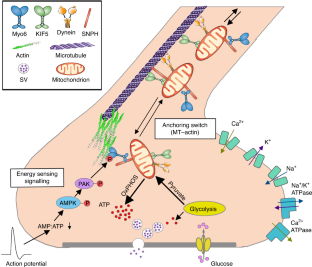 Data availability
Further information and requests for resources and reagents should be directed to and will be fulfilled by the corresponding author. The raw datasets generated and/or analysed during the current study are available from the corresponding author upon reasonable request. Source data are provided with this paper.
References
Harris, J. J., Jolivet, R. & Attwell, D. Synaptic energy use and supply. Neuron 75, 762–777 (2012).

Sheng, Z. H. The interplay of axonal energy homeostasis and mitochondrial trafficking and anchoring. Trends Cell Biol. 27, 403–416 (2017).

Devine, M. J. & Kittler, J. T. Mitochondria at the neuronal presynapse in health and disease. Nat. Rev. Neurosci. 19, 63–80 (2018).

Sun, T., Qiao, H., Pan, P. Y., Chen, Y. & Sheng, Z. H. Motile axonal mitochondria contribute to the variability of presynaptic strength. Cell Rep. 4, 413–419 (2013).

Ashrafi, G. & Ryan, T. A. Glucose metabolism in nerve terminals. Curr. Opin. Neurobiol. 45, 156–161 (2017).

Hubley, M. J., Locke, B. R. & Moerland, T. S. The effects of temperature, pH and magnesium on the diffusion coefficient of ATP in solutions of physiological ionic strength. Biochim. Biophys. Acta 1291, 115–121 (1996).

Verstreken, P. et al. Synaptic mitochondria are critical for mobilization of reserve pool vesicles at Drosophila neuromuscular junctions. Neuron 47, 365–378 (2005).

Smith, H. L. et al. Mitochondrial support of persistent presynaptic vesicle mobilization with age-dependent synaptic growth after LTP. eLife 5, e15275 (2016).

Pathak, D., Berthet, A. & Nakamura, K. Energy failure—does it contribute to neurodegeneration? Ann. Neurol. 74, 506–516 (2013).

Cingolani, L. A. & Goda, Y. Actin in action: the interplay between the actin cytoskeleton and synaptic efficacy. Nat. Rev. Neurosci. 9, 344–356 (2008).

Morris, R. L. & Hollenbeck, P. J. Axonal transport of mitochondria along microtubules and F-actin in living vertebrate neurons. J. Cell Biol. 131, 1315–1326 (1995).

Chada, S. R. & Hollenbeck, P. J. Nerve growth factor signaling regulates motility and docking of axonal mitochondria. Curr. Biol. 14, 1272–1276 (2004).

Hirokawa, N. & Takemura, R. Molecular motors and mechanisms of directional transport in neurons. Nat. Rev. Neurosci. 6, 201–214 (2005).

Quintero, O. A. et al. Human Myo19 is a novel myosin that associates with mitochondria. Curr. Biol. 19, 2008–2013 (2009).

Wang, X. & Schwarz, T. L. The mechanism of Ca2+-dependent regulation of kinesin-mediated mitochondrial motility. Cell 136, 163–174 (2009).

MacAskill, A. F. et al. Miro1 is a calcium sensor for glutamate receptor-dependent localization of mitochondria at synapses. Neuron 61, 541–555 (2009).

Sheng, Z. H. Mitochondrial trafficking and anchoring in neurons: new insight and implications. J. Cell Biol. 204, 1087–1098 (2014).

Kang, J. S. et al. Docking of axonal mitochondria by syntaphilin controls their mobility and affects short-term facilitation. Cell 132, 137–148 (2008).

Zhou, B. et al. Facilitation of axon regeneration by enhancing mitochondrial transport and rescuing energy deficits. J. Cell Biol. 214, 103–119 (2016).

Chen, Y. & Sheng, Z. H. Kinesin-1-syntaphilin coupling mediates activity-dependent regulation of axonal mitochondrial transport. J. Cell Biol. 202, 351–364 (2013).

Gutnick, A., Banghart, M. R., West, E. R. & Schwarz, T. L. The light-sensitive dimerizer zapalog reveals distinct modes of immobilization for axonal mitochondria. Nat. Cell Biol. 21, 768–777 (2019).

Xiao, B. et al. Structural basis of AMP binding to mammalian AMP-activated protein kinase. Nature 449, 496–500 (2007).

Bokoch, G. M. Biology of the p21-activated kinases. Annu. Rev. Biochem. 72, 743–781 (2003).

Meng, J., Meng, Y., Hanna, A., Janus, C. & Jia, Z. Abnormal long-lasting synaptic plasticity and cognition in mice lacking the mental retardation gene Pak3. J. Neurosci. 25, 6641–6650 (2005).

Kong, D. et al. A postsynaptic AMPK→p21-activated kinase pathway drives fasting-induced synaptic plasticity in AgRP. Neuron 91, 25–33 (2016).

Pathak, D. et al. The role of mitochondrially derived ATP in synaptic vesicle recycling. J. Biol. Chem. 290, 22325–22336 (2015).

Nakano, M., Imamura, H., Nagai, T. & Noji, H. Ca2+ regulation of mitochondrial ATP synthesis visualized at the single-cell level. ACS Chem. Biol. 6, 709–715 (2011).

Vaccaro, V., Devine, M. J., Higgs, N. F. & Kittler, J. T. Miro1-dependent mitochondrial positioning drives the rescaling of presynaptic Ca2+ signals during homeostatic plasticity. EMBO Rep. 18, 231–240 (2017).

Yu, D. F. et al. HFS-triggered AMPK activation phosphorylates GSK3β and induces E-LTP in rat hippocampus in vivo. CNS Neurosci. Ther. 22, 525–531 (2016).

Marinageli, C. et al. AMP-activated protein kinase is essential for the maintenance of energy levels during synaptic activation. iScience 9, 1–13 (2018).

Konagaya, Y. et al. A highly sensitive FRET biosensor for AMPK exhibits heterogeneous AMPK responses among cells and organs. Cell Rep. 21, 2628–2638 (2017).

Hurley, R. L. et al. The Ca2+/calmodulin-dependent protein kinase kinases are AMP-activated protein kinase kinases. J. Biol. Chem. 280, 29060–29066 (2005).

Woods, A. et al. Ca2+/calmodulin-dependent protein kinase kinase-β acts upstream of AMP-activated protein kinase in mammalian cells. Cell Metab. 2, 21–33 (2005).

Herzig, S. & Shaw, R. J. AMPK: guardian of metabolism and mitochondrial homeostasis. Nat. Rev. Mol. Cell Biol. 19, 121–135 (2018).

Corton, J. M., Gillespie, J. G., Hawley, S. A. & Hardie, D. G. 5-aminoimidazole-4-carboxamide ribonucleoside. A specific method for activating AMP-activated protein kinase in intact cells? Eur. J. Biochem. 229, 558–565 (1995).

Hamann, J. C. et al. Entosis is induced by glucose starvation. Cell Rep. 20, 201–210 (2017).

Sheng, Z. H. & Cai, Q. Mitochondrial transport in neurons impact on synaptic homeostasis and neurodegeneration. Nat. Rev. Neurosci. 13, 77–93 (2012).

Coles, C. H. & Bradke, F. Coordinating neuronal actin–microtubule dynamics. Curr. Biol. 25, R677–R691 (2015).

Osterweil, E., Wells, D. G. & Mooseker, M. S. A role for myosin VI in postsynaptic strcture and glutamate receptor endocytosis. J. Cell Biol. 168, 329–338 (2005).

Yano, H. et al. BDNF-mediated neurotransmission relies upon a myosin VI motor complex. Nat. Neurosci. 9, 1009–1018 (2006).

Pathak, D., Sepp, K. J. & Hollenbeck, P. J. Evidence that myosin activity opposes microtubule-based axonal transport of mitochondria. J. Neurosci. 30, 8984–8992 (2010).

Morton, W. M., Ayscough, K. R. & McLaughlin, P. J. Latrunculin alters the actin-monomer subunit interface to prevent polymerization. Nat. Cell Biol. 2, 376–378 (2000).

Tumbarello, D. A., Kendrick-Jones, J. & Buss, F. Myosin VI and its cargo adaptors—linking endocytosis and autophagy. J. Cell Sci. 126, 2561–2570 (2013).

Srivastava, J. & Barber, D. Actin co-sedimentation assay; for the analysis of protein binding to F-actin. J. Vis. Exp. 13, 690 (2008).

Sjoblom, B., Salmazo, A. & Djinovic-Carugo, K. α-Actinin structure and regulation. Cell. Mol. Life Sci. 65, 2688–2701 (2008).

Alam, M. S. Proximity ligation assay (PLA). Curr. Protoc. Immunol. 123, e58 (2018).

Masters, T. A., Tumbarello, D. A., Chibalina, M. V. & Buss, F. MYO6 regulates spatial organization of signaling endosomes driving AKT activation and actin dynamics. Cell Rep. 19, 2088–2101 (2017).

Lin, M. Y. et al. Releasing syntaphilin removes stressed mitochondria from axons independent of mitophagy under pathophysiological conditions. Neuron 94, 595–610(2017).

Spudich, G. et al. Myosin VI targeting to clathrin-coated structures and dimerization is mediated by binding to Disabled-2 and PtdIns(4,5)P2. Nat. Cell Biol. 9, 176–183 (2007).

Thevenot, E. et al. p21-activated kinase 3 (PAK3) protein regulates synaptic transmission through its interaction with the Nck2/Grb4 protein adaptor. J. Biol. Chem. 286, 40044–40059 (2011).

Campbell, H. K., Salvi, A. M., O'Brien, T., Superfine, R. & DeMali, K. A. PAK2 links cell survival to mechanotransduction and metabolism. J. Cell Biol. 218, 1958–1971 (2019).

Buss, F. et al. The localization of myosin VI at the golgi complex and leading edge of fibroblasts and its phosphorylation and recruitment into membrane ruffles of A431 cells after growth factor stimulation. J. Cell Biol. 143, 1535–1545 (1998).

Brooks, A. B. et al. MYO6 is targeted by Salmonella virulence effectors to trigger PI3-kinase signaling and pathogen invasion into host cells. Proc. Natl Acad. Sci. USA 114, 3915–3920 (2017).

Huang, W. et al. p21-activated kinases 1 and 3 control brain size through coordinating neuronal complexity and synaptic properties. Mol. Cell. Biol. 31, 388–403 (2011).

Lei, M. et al. Structure of PAK1 in an autoinhibited conformation reveals a multistage activation switch. Cell 102, 387–397 (2000).

Deacon, S. W. et al. An isoform-selective, small-molecule inhibitor targets the autoregulatory mechanism of p21-activated kinase. Chem. Biol. 15, 322–331 (2008).

Di Giovanni, J. & Sheng, Z. H. Regulation of synaptic activity by snapin-mediated endolysosomal transport and sorting. EMBO J. 34, 2059–2077 (2015).

Zucker, R. S. & Regehr, W. G. Short-term synaptic plasticity. Annu. Rev. Physiol. 64, 355–405 (2002).

Rangaraju, V., Calloway, N. & Ryan, T. A. Activity-driven local ATP synthesis is required for synaptic function. Cell 156, 825–835 (2014).

MacAskill, A. F., Atkin, T. A. & Kittler, J. T. Mitochondrial trafficking and the provision of energy and calcium buffering at excitatory synapses. Eur. J. Neurosci. 32, 231–240 (2010).

Billups, B. & Forsythe, I. D. Presynaptic mitochondrial calcium sequestration influences transmission at mammalian central synapses. J. Neurosci. 22, 5840–5847 (2002).

López-Doménech et al. Miro proteins coordinate microtubule- and actin-dependent mitochondrial transport and distribution. EMBO J. 37, 321–336 (2018).

Xu, K., Zhong, G. & Zhuang, X. Actin, spectrin and associated proteins form a periodic cytoskeletal structure in axons. Science 339, 452–456 (2013).

Ganguly, A. et al. A dynamic formin-dependent deep F-actin network in axons. J. Cell Biol. 210, 401–417 (2015).

Kruppa, A. J. et al. Myosin VI-dependent actin cages encapsulate parkin-positive damaged mitochondria. Dev. Cell 44, 484–499 (2018).

Chang, D. T., Honick, A. S. & Reynolds, I. J. Mitochondrial trafficking to synapses in cultured primary cortical neurons. J. Neurosci. 26, 7035–7045 (2006).

Nguyen, T. T. et al. Loss of Miro1-directed mitochondrial movement results in a novel murine model for neuron disease. Proc. Natl Acad. Sci. USA 111, E3631–E3640 (2014).

Courchet, J. et al. Terminal axon branching is regulated by the LKB1–NUAK1 kinase pathway via presynaptic mitochondrial capture. Cell 153, 1510–1525 (2013).

Tao, K., Matsuki, N. & Koyama, R. AMP-activated protein kinase mediates activity-dependent axon branching by recruiting mitochondria to axon. Dev. Neurobiol. 74, 557–573 (2014).

Friel, D. D. & Tsien, R. W. An FCCP-sensitive Ca2+ store in bullfrog sympathetic neurons and its participation in stimulus-evoked changes in [Ca2+]i. J. Neurosci. 14, 4007–4024 (1994).

Tang, Y. & Zucker, R. S. Mitochondrial involvement in post-tetanic potentiation of synaptic transmission. Neuron 18, 483–491 (1997).

Virmani, T., Atasoy, D. & Kavalali, E. T. Synaptic vesicle recycling adapts to chronic changes in activity. J. Neurosci. 26, 2197–2206 (2006).

Jonas, E. A. et al. Modulation of synaptic transmission by the BCL-2 family protein BCL-xL. J. Neurosci. 23, 8423–8431 (2003).

Sakaba, T. & Neher, E. Calmodulin mediates rapid recruitment of fast-releasing synaptic vesicles at a calyx-type synapse. Neuron 32, 1119–1131 (2001).

Vingtdeux, V., Davies, P., Dickson, D. W. & Marambaud, P. AMPK is abnormally activated in tangle- and pre-tangle-bearing neurons in Alzheimer's disease and other tauopathies. Acta Neuropathol. 121, 337–349 (2011).

Pickett, E. K. et al. Region-specific depletion of synaptic mitochondria in the brains of patients with Alzheimer's disease. Acta Neuropathol. 136, 747–757 (2018).

Chen, Y. M., Gerwin, C. & Sheng, Z. H. Dynein light chain LC8 regulates syntaphilin-mediated mitochondrial docking in axons. J. Neurosci. 29, 9429–9438 (2009).
Acknowledgements
We thank members of the Sheng laboratory for constructive discussion; K.A. Chamberlain and J.C. Roney for critical reading and editing; K. Remmert and J. Hammer (National Heart, Lung and Blood Institute (NHLBI), NIH) for advice on actin co-sedimentation assay; H. Imamura (Kyoto University), R. Youle (NINDS, NIH), J. Hammer (NHLBI, NIH), J. Kendrick-Jones (MRC LMB), F. Buss (University of Cambridge), D.-Y. Jin (The University of Hong Kong), G. Voeltz (University of Colorado), M. Matsuda (Kyoto University) and D. Trono (EPFL) for sharing constructs; and the NINDS EM Facility and Light Imaging Facility. This work was supported by the Intramural Research Program of NINDS, NIH ZIA NS003029 and ZIA NS002946 (Z.-H.S.).
Ethics declarations
Competing interests
The authors declare no competing interests.
Additional information
Peer review information Primary Handling Editor: Pooja Jha.
Publisher's note Springer Nature remains neutral with regard to jurisdictional claims in published maps and institutional affiliations.
Supplementary information
About this article
Cite this article
Li, S., Xiong, GJ., Huang, N. et al. The cross-talk of energy sensing and mitochondrial anchoring sustains synaptic efficacy by maintaining presynaptic metabolism. Nat Metab 2, 1077–1095 (2020). https://doi.org/10.1038/s42255-020-00289-0
Received:

Accepted:

Published:

Issue Date:

DOI: https://doi.org/10.1038/s42255-020-00289-0