Abstract
High-protein diets are commonly utilized for weight loss, yet they have been reported to raise cardiovascular risk. The mechanisms underlying this risk are unknown. Here, we show that dietary protein drives atherosclerosis and lesion complexity. Protein ingestion acutely elevates amino acid levels in blood and atherosclerotic plaques, stimulating macrophage mammalian target of rapamycin (mTOR) signalling. This is causal in plaque progression, because the effects of dietary protein are abrogated in macrophage-specific Raptor-null mice. Mechanistically, we find amino acids exacerbate macrophage apoptosis induced by atherogenic lipids, a process that involves mammalian target of rapamycin complex 1 (mTORC1)-dependent inhibition of mitochondrial autophagy (mitophagy), accumulation of dysfunctional mitochondria and mitochondrial apoptosis. Using macrophage-specific mTORC1- and autophagy-deficient mice, we confirm this amino acid–mTORC1–autophagy signalling axis in vivo. Our data provide insights into the deleterious impact of excessive protein ingestion on macrophages and atherosclerotic progression. Incorporation of these concepts in clinical studies is important to define the vascular effects of protein-based weight loss regimens.
Access options
Subscribe to Journal
Get full journal access for 1 year
$99.00
only $8.25 per issue
All prices are NET prices.
VAT will be added later in the checkout.
Rent or Buy article
Get time limited or full article access on ReadCube.
from$8.99
All prices are NET prices.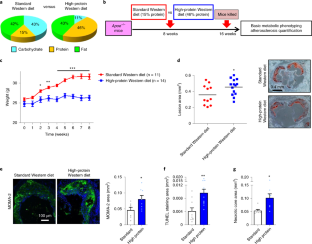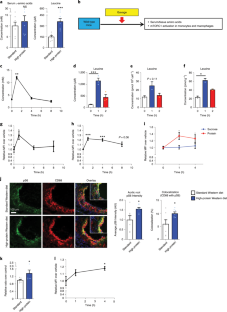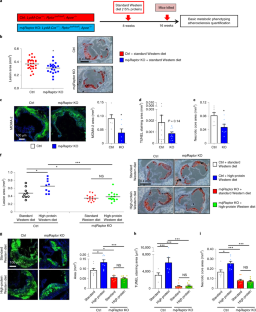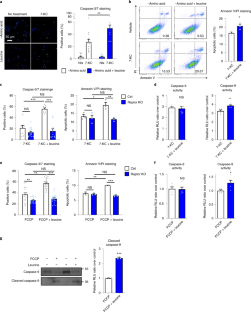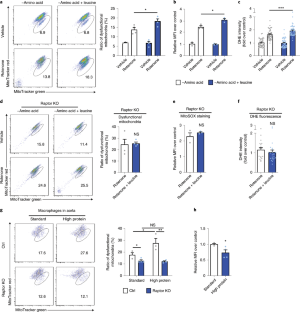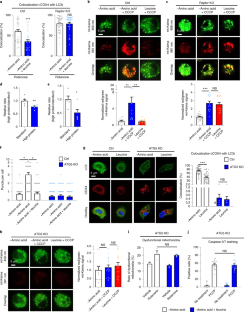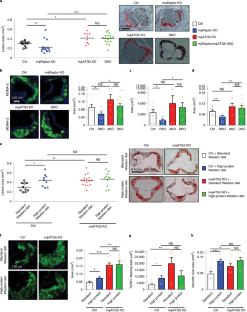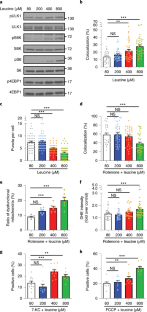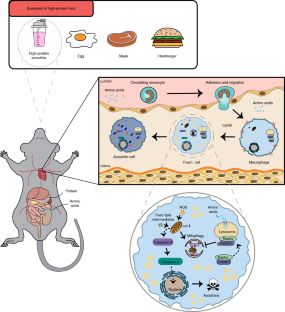 References
1.

Moore, K. J. & Tabas, I. Macrophages in the pathogenesis of atherosclerosis. Cell 145, 341–355 (2011).

2.

Gardner, C. D. et al. Comparison of the Atkins, Zone, Ornish, and LEARN diets for change in weight and related risk factors among overweight premenopausal women: the A to Z Weight Loss Study: a randomized trial. JAMA 297, 969–977 (2007).

3.

Halton, T. L. et al. Low-carbohydrate-diet score and the risk of coronary heart disease in women. N. Engl. J. Med. 355, 1991–2002 (2006).

4.

Hu, F. B. et al. Dietary protein and risk of ischemic heart disease in women. Am. J. Clin. Nutr. 70, 221–227 (1999).

5.

Lagiou, P. et al. Low carbohydrate-high protein diet and incidence of cardiovascular diseases in Swedish women: prospective cohort study. BMJ 344, e4026 (2012).

6.

Debry, G. Dietary Proteins and Atherosclerosis (CRC Press, 2004).

7.

Foo, S. Y. et al. Vascular effects of a low-carbohydrate high-protein diet. Proc. Natl Acad. Sci. USA 106, 15418–15423 (2009).

8.

Wolfson, R. L. & Sabatini, D. M. The dawn of the age of amino acid sensors for the mTORC1 pathway. Cell Metab. 26, 301–309 (2017).

9.

Ma, Y. et al. A dietary quality comparison of popular weight-loss plans. J. Am. Diet. Assoc. 107, 1786–1791 (2007).

10.

Anderson, J. W., Konz, E. C. & Jenkins, D. J. Health advantages and disadvantages of weight-reducing diets: a computer analysis and critical review. J. Am. Coll. Nutr. 19, 578–590 (2000).

11.

Razani, B. et al. Autophagy links inflammasomes to atherosclerotic progression. Cell Metab. 15, 534–544 (2012).

12.

Sergin, I. et al. Inclusion bodies enriched for p62 and polyubiquitinated proteins in macrophages protect against atherosclerosis. Sci. Signal. 9, ra2 (2016).

13.

Sancak, Y. et al. Ragulator-Rag complex targets mTORC1 to the lysosomal surface and is necessary for its activation by amino acids. Cell 141, 290–303 (2010).

14.

Zoncu, R. et al. mTORC1 senses lysosomal amino acids through an inside-out mechanism that requires the vacuolar H+-ATPase. Science 334, 678–683 (2011).

15.

Sengupta, S., Peterson, T. R., Laplante, M., Oh, S. & Sabatini, D. M. mTORC1 controls fasting-induced ketogenesis and its modulation by ageing. Nature 468, 1100–1104 (2010).

16.

Ai, D. et al. Disruption of mammalian target of rapamycin complex 1 in macrophages decreases chemokine gene expression and atherosclerosis. Circ. Res. 114, 1576–1584 (2014).

17.

Li, N. et al. Mitochondrial complex I inhibitor rotenone induces apoptosis through enhancing mitochondrial reactive oxygen species production. J. Biol. Chem. 278, 8516–8525 (2003).

18.

Emanuel, R. et al. Induction of lysosomal biogenesis in atherosclerotic macrophages can rescue lipid-induced lysosomal dysfunction and downstream sequelae. Arterioscler. Thromb. Vasc. Biol. 34, 1942–1952 (2014).

19.

Liao, X. et al. Macrophage autophagy plays a protective role in advanced atherosclerosis. Cell Metab. 15, 545–553 (2012).

20.

Ouimet, M. et al. Autophagy regulates cholesterol efflux from macrophage foam cells via lysosomal acid lipase. Cell Metab. 13, 655–667 (2011).

21.

Sergin, I. et al. Exploiting macrophage autophagy-lysosomal biogenesis as a therapy for atherosclerosis. Nat. Commun. 8, 15750 (2017).

22.

Evans, T. D., Sergin, I., Zhang, X. & Razani, B. Target acquired: selective autophagy in cardiometabolic disease. Sci. Signal. 10, eaag2298 (2017).

23.

Sun, N. et al. Measuring in vivo mitophagy. Mol. Cell 60, 685–696 (2015).

24.

Laplante, M. & Sabatini, D. M. mTOR signaling in growth control and disease. Cell 149, 274–293 (2012).

25.

Food and Agriculture Organization, Food Policy and Food Science Service, Nutrition Division. Amino-Acid Content of Foods and Biological Data on Proteins (FAO, 1970).

26.

Castellano, B. M. et al. Lysosomal cholesterol activates mTORC1 via an SLC38A9–Niemann-Pick C1 signaling complex. Science 355, 1306–1311 (2017).

27.

Bernstein, A. M. et al. Major dietary protein sources and risk of coronary heart disease in women. Circulation 122, 876–883 (2010).

28.

Solon-Biet, S. M. et al. The ratio of macronutrients, not caloric intake, dictates cardiometabolic health, aging, and longevity in ad libitum-fed mice. Cell Metab. 19, 418–430 (2014).

29.

Kurdi, A., De Meyer, G. R. & Martinet, W. Potential therapeutic effects of mTOR inhibition in atherosclerosis. Br. J. Clin. Pharmacol. 82, 1267–1279 (2016).

30.

Hara, T. et al. Suppression of basal autophagy in neural cells causes neurodegenerative disease in mice. Nature 441, 885–889 (2006).

31.

Razani, B. et al. Fatty acid synthase modulates homeostatic responses to myocardial stress. J. Biol. Chem. 286, 30949–30961 (2011).

32.

Jewell, J. L. et al. Metabolism. Differential regulation of mTORC1 by leucine and glutamine. Science 347, 194–198 (2015).

33.

Febbraio, M. et al. Targeted disruption of the class B scavenger receptor CD36 protects against atherosclerotic lesion development in mice. J. Clin. Invest. 105, 1049–1056 (2000).

34.

Razani, B. et al. Caveolin-1 null mice are viable but show evidence of hyperproliferative and vascular abnormalities. J. Biol. Chem. 276, 38121–38138 (2001).

35.

Katayama, H., Kogure, T., Mizushima, N., Yoshimori, T. & Miyawaki, A. A sensitive and quantitative technique for detecting autophagic events based on lysosomal delivery. Chem. Biol. 18, 1042–1052 (2011).

36.

Sun, N. et al. A fluorescence-based imaging method to measure in vitro and in vivo mitophagy using mt-Keima. Nat. Protoc. 12, 1576–1587 (2017).
Acknowledgements
This work was supported by National Institutes of Health grant no. R01 HL125838, VA MERIT I01 BX003415, American Diabetes Association grant no. 1-18-IBS-029, Washington University Diabetic Cardiovascular Disease Center and Diabetes Research Center grant no. P30 DK020579, Washington University Mass Spectrometry core grant nos. P41GM103422 and P30DK056341, a grant from the Longer Life Foundation and the Foundation for Barnes-Jewish Hospital.
Ethics declarations
Competing interests
The authors declare no competing interests.
Additional information
Peer review information Primary Handling Editor: Pooja Jha.
Publisher's note Springer Nature remains neutral with regard to jurisdictional claims in published maps and institutional affiliations.
Supplementary information
About this article
Cite this article
Zhang, X., Sergin, I., Evans, T.D. et al. High-protein diets increase cardiovascular risk by activating macrophage mTOR to suppress mitophagy. Nat Metab 2, 110–125 (2020). https://doi.org/10.1038/s42255-019-0162-4
Received:

Accepted:

Published:

Issue Date: