Abstract
Highly conserved signalling pathways controlled by mammalian target of rapamycin (mTOR) and AMP-activated protein kinase (AMPK) are central to cellular metabolism and cell proliferation1,2, and their dysregulation is implicated in the pathogenesis of major human diseases such as cancer and type 2 diabetes. AMPK pathways leading to reduced cell proliferation are well established and, in part, act through inhibition of TOR complex 1 (TORC1) activity. Here we demonstrate reciprocal regulation, specifically that TORC1 directly downregulates AMPK signalling by phosphorylating the evolutionarily conserved residue S367 in the fission yeast AMPK catalytic subunit Ssp2 and AMPK α1 S347 and α2 S345 in the mammalian homologs, which is associated with reduced phosphorylation of activation loop T172. Genetic or pharmacological inhibition of TORC1 signalling led to AMPK activation in the absence of increased AMP/ATP ratios, which under nutrient stress conditions was associated with growth limitation in both yeast and human cell cultures. Our findings reveal fundamental bidirectional regulation between two major metabolic signalling networks and uncover new opportunities for cancer treatment strategies aimed at suppressing cell proliferation in the nutrient-poor tumour microenvironment.
Access options
Subscribe to Journal
Get full journal access for 1 year
$119.00
only $9.92 per issue
All prices are NET prices.
VAT will be added later in the checkout.
Tax calculation will be finalised during checkout.
Rent or Buy article
Get time limited or full article access on ReadCube.
from$8.99
All prices are NET prices.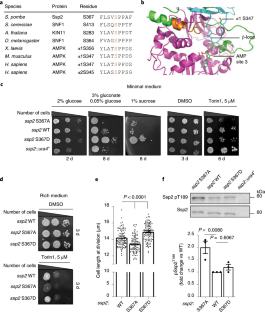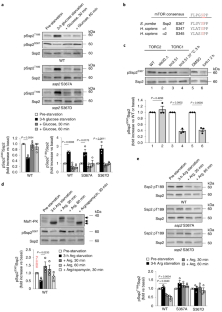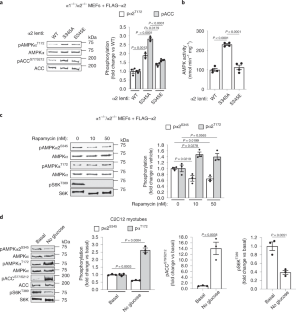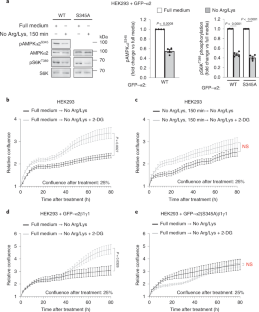 References
1.

Saxton, R. A. & Sabatini, D. M. mTOR signaling in growth, metabolism, and disease. Cell 168, 960–976 (2017).

2.

Hardie, D. G. AMPK—sensing energy while talking to other signaling pathways. Cell Metab. 20, 939–952 (2014).

3.

Oakhill, J. S., Scott, J. W. & Kemp, B. E. AMPK functions as an adenylate charge-regulated protein kinase. Trends Endocrinol. Metab. 23, 125–132 (2012).

4.

Zhang, S.-C. et al. The lysosomal v-ATPase–Ragulator complex is a common activator for AMPK and mTORC1, acting as a switch between catabolism and anabolism. Cell Metab. 20, 526–540 (2014).

5.

Hanyu, Y. et al. Schizosaccharomyces pombe cell division cycle under limited glucose requires Ssp1 kinase, the putative CaMKK, and Sds23, a PP2A-related phosphatase inhibitor. Genes Cells 14, 539–554 (2009).

6.

Davie, E., Forte, G. M. & Petersen, J. Nitrogen regulates AMPK to control TORC1 signalling. Curr. Biol. 25, 445–454 (2015).

7.

Koch, A., Krug, K., Pengelley, S., Macek, B. & Hauf, S. Mitotic substrates of the kinase Aurora with roles in chromatin regulation identified through quantitative phosphoproteomics of fission yeast. Sci. Signal. 4, rs6 (2011).

8.

Wilson-Grady, J. T., Villén, J. & Gygi, S. P. Phosphoproteome analysis of fission yeast. J. Proteome Res. 7, 1088–1097 (2008).

9.

Wissing, J. et al. Proteomics analysis of protein kinases by target class-selective prefractionation and tandem mass spectrometry. Mol. Cell. Proteom. 6, 537–547 (2007).

10.

Parker, B. L. et al. Targeted phosphoproteomics of insulin signaling using data-independent acquisition mass spectrometry. Sci. Signal. 8, rs6 (2015).

11.

Chen, L. et al. Conserved regulatory elements in AMPK. Nature 472, 230–233 (2011).

12.

Xiao, B. et al. Structure of mammalian AMPK and its regulation by ADP. Nature 472, 230–233 (2011).

13.

Petersen, J. & Nurse, P. TOR signalling regulates mitotic commitment through the stress MAP kinase pathway and the Polo and Cdc2 kinases. Nat. Cell Biol. 9, 1263–1272 (2007).

14.

Matsuzawa, T., Fujita, Y., Tohda, H. & Takegawa, K. Snf1-like protein kinase Ssp2 regulates glucose derepression in Schizosaccharomyces pombe. Eukaryot. Cell 11, 159–167 (2012).

15.

Du, W., Hálová, L., Kirkham, S., Atkin, J. & Petersen, J. TORC2 and the AGC kinase Gad8 regulate phosphorylation of the ribosomal protein S6 in fission yeast. Biol. Open 1, 884–888 (2012).

16.

Álvarez, B. & Moreno, S. Fission yeast Tor2 promotes cell growth and represses cell differentiation. J. Cell Sci. 119, 4475–4485 (2005).

17.

Wolfson, R. L. & Sabatini, D. M. The dawn of the age of amino acid sensors for the mTORC1 pathway. Cell Metab. 26, 301–309 (2017).

18.

Dite, T. A. et al. The autophagy initiator ULK1 sensitizes AMPK to allosteric drugs. Nat. Commun. 18, 571 (2017).

19.

Cybulski, N., Zinzalla, V. & Hall, M. N. Inducible raptor and rictor knockout mouse embryonic fibroblasts. Methods Mol. Biol. 821, 267–278 (2012).

20.

Gwinn, D. M. et al. AMPK phosphorylation of raptor mediates a metabolic checkpoint. Mol. Cell 30, 214–226 (2008).

21.

de Souza Almeida Matos, A. L. et al. Allosteric regulation of AMP-activated protein kinase by adenylate nucleotides and small-molecule drugs. Biochem. Soc. Trans. 30, 733–741 (2019).

22.

Liu, X. et al. Discrete mechansism of mTOR and cell cycle regulation by AMPK agonists independent of AMPK. Proc. Natl Acad. Sci. USA 111, E435–E444 (2013).

23.

Hülsmann, H. J. et al. Activation of AMP-activated protein kinase sensitizes lung cancer cells and H1299 xenografts to erlotinib. Lung Cancer 86, 151–157 (2014).

24.

Lopez-Mejia, I. C. et al. CDK4 phosphorylates AMPKα2 to inhibit its activity and repress fatty acid oxidation. Mol. Cell 68, 336–349 (2017).

25.

Zhang, C.-S. et al. Fructose-1,6-bisphophate and aldolase mediate glucose sensing by AMPK. Nature 548, 112–116 (2017).

26.

Barban, S. & Schulze, H. O. The effects of 2-deoxyglucose on the growth and metabolism of cultured cells. J. Biol. Chem. 236, 1887–1890 (1961).

27.

Egan, D. F. et al. Small molecule inhibition of the autophagy kinase ULK1 and identification of ULK1 substrates. Mol. Cell 59, 285–297 (2015).

28.

Dite, T. A. et al. AMP-activated protein kinase selectively inhibited by the type II inhibitor SBI-0206965. J. Biol. Chem. 293, 8874–8885 (2018).

29.

Jeon, S.-M. Regulation and function of AMPK in physiology and diseases. Exp. Mol. Med. 48, e245 (2016).

30.

Inoki, K., Zhu, T. & Guan, K.-L. TSC2 mediates cellular energy response to control cell growth and survival. Cell 115, 577–590 (2003).

31.

Fantes, P. A. Control of cell size and cycle time in Schizosaccharomyces pombe. J. Cell Sci. 24, 51–67 (1977).

32.

Petersen, J. & Russell, P. Growth and the environment of Schizosaccharomyces pombe. Cold Spring Harb. Protoc. 2016, pdb.top079764 (2016).

33.

Caspari, T. et al. Characterization of Schizosaccharomyces pombe Hus1: a PCNA-related protein that associates with Rad1 and Rad9. Mol. Cell. Biol. 20, 1254–1262 (2000).

34.

Oakhill, J. S. et al. β-Subunit myristoylation is the gatekeeper for initiating metabolic stress sensing by AMP-activated protein kinase (AMPK). Proc. Natl Acad. Sci. USA 107, 19237–19241 (2010).

35.

Langendorf, C. G. et al. Structural basis of allosteric and synergistic activation of AMPK by furan-2-phosphonic derivative C2 binding. Nat. Commun. 7, 10912 (2016).

36.

Smiles, W. J. et al. Modulation of autophagy signaling with resistance exercise and protein ingestion following short-term energy deficit. Am. J. Physiol. Regul. Integr. Comp. Physiol. 309, R603–R612 (2015).

37.

Scott, J. W. et al. Small molecule drug A-769662 and AMP synergistically activate naive AMPK independent of upstream kinase signaling. Chem. Biol. 21, 619–627 (2014).

38.

Scott, J. W. et al. Thienopyridone drugs are selective activators of AMP-activated protein kinase β1-containing complexes. Chem. Biol. 15, 1220–1230 (2008).

39.

Scott, J. W. et al. Inhibition of AMP-activated protein kinase at the allosteric drug-binding site promotes islet insulin release. Chem. Biol. 22, 705–711 (2015).
Acknowledgements
We thank K. Gull (Oxford University, UK) and S. Lim (St. Vincent's Institute, Australia) for antibodies, M. Balasubramanian (Warwick University, UK), K. Shiozaki (Nara University, Japan) and S. Moreno (IBFG Salamanca, Spain) for yeast strains, M. Hall (University of Basel, Switzerland) for iRapKO MEFs, I. Hagan for stimulating discussions and C. Proud and J. Murphy for critical evaluation of the manuscript. C.G.L. was supported by an Early Career Fellowship from the National Health and Medical Research Council (NHMRC; 1143080). J.S.O. was supported by a Future Fellowship from the Australian Research Council (ARC; FT130100988), the NHMRC (1098459), St Vincent's Institute of Medical Research (Australia) and in part by the Victorian Government's Operational Infrastructure Support Program. J.P. was supported by a Cancer Research UK senior fellowship (C10888/A11178), Cancer Council Australia (1125662), Worldwide Cancer Research (16-0052), the NHMRC (1161262), the ARC (DP180101682), a Flinders Foundation seeding grant, Manchester (UK), and Flinders University (Australia).
Ethics declarations
Competing interests
The authors declare no competing interests.
Additional information
Peer review information Primary Handling Editors: Ana Mateus; Christoph Schmitt.
Publisher's note Springer Nature remains neutral with regard to jurisdictional claims in published maps and institutional affiliations.
Supplementary information
Supplementary Fig. 1 and Supplementary Table 1
Unprocessed immunoblots for Supplementary Fig. 1.
About this article
Cite this article
Ling, N.X.Y., Kaczmarek, A., Hoque, A. et al. mTORC1 directly inhibits AMPK to promote cell proliferation under nutrient stress. Nat Metab 2, 41–49 (2020). https://doi.org/10.1038/s42255-019-0157-1
Received:

Accepted:

Published:

Issue Date: