Abstract
Serine racemase (SRR) catalyses not only the racemization but also the dehydration of l-serine and d-serine, resulting in the formation of pyruvate and ammonia. Although SRR activity is important in the central nervous system, SRR has not been linked to cancer metabolism before. Here we show that SRR supports proliferation of colorectal-cancer cells. We find that SRR expression is upregulated in colorectal adenoma and adenocarcinoma lesions compared with non-neoplastic mucosa in human colorectal-cancer specimens. SRR-mediated dehydration of serine contributes to the pyruvate pool in colon-cancer cells, enhances proliferation, maintains mitochondrial mass and increases basal reactive oxygen species production, which has anti-apoptotic effects. Moreover, SRR promotes acetylation of histone H3 by maintaining intracellular acetyl-CoA levels. Inhibition of SRR suppresses growth of colorectal tumours in mice and augments the efficacy of 5-fluorouracil treatment. Our findings highlight a previously unknown mechanism through which a racemase supports cancer-cell growth and suggest that SRR might be a molecular target for colorectal-cancer therapy.
Access options
Subscribe to Journal
Get full journal access for 1 year
$99.00
only $8.25 per issue
All prices are NET prices.
VAT will be added later in the checkout.
Rent or Buy article
Get time limited or full article access on ReadCube.
from$8.99
All prices are NET prices.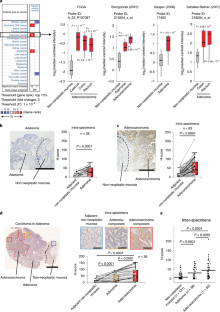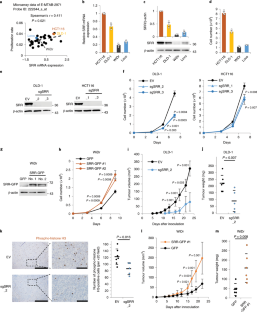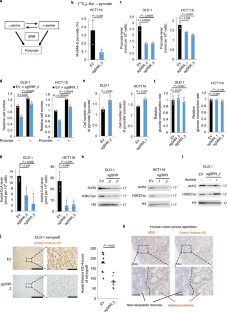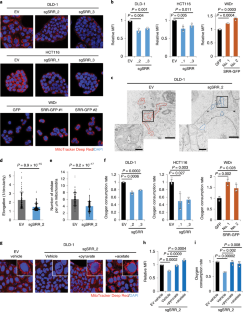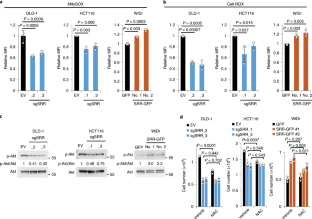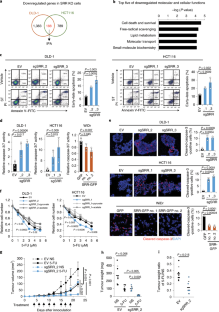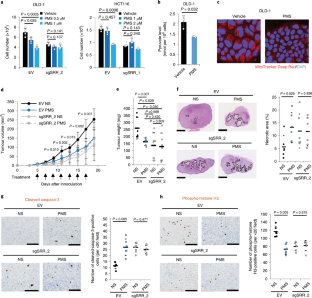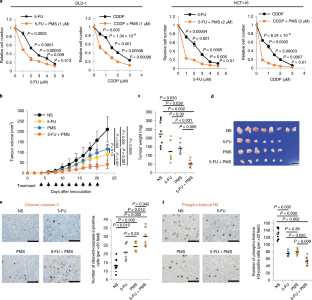 Data availability
The data that support the findings of this study are available from the corresponding author upon reasonable request. RNA-seq data that support the findings of this study have been deposited in GEO with the accession code GSE128804. The previously published data of colorectal-cancer cells that have been reanalysed here are available under ArrayExpress accession code E-MTAB-2971 (ref. 21). Data in Fig. 1a are publicly available online at www.oncomine.org. Source data for Figs. 2, 3 and 5 and Extended Data Fig. 2 are available online.
References
1.

Bray, F. et al. Global cancer statistics 2018: GLOBOCAN estimates of incidence and mortality worldwide for 36 cancers in 185 countries. CA: Cancer J. Clin. 68, 394–424 (2018).

2.

Pavlova, N. N. & Thompson, C. B. The emerging hallmarks of cancer metabolism. Cell Metab. 23, 27–47 (2016).

3.

DeBerardinis, R. J. & Chandel, N. S. Fundamentals of cancer metabolism. Sci. Adv. 2, e1600200 (2016).

4.

Warburg, O. On the origin of cancer cells. Science 123, 309–314 (1956).

5.

Vyas, S., Zaganjor, E. & Haigis, M. C. Mitochondria and cancer. Cell 166, 555–566 (2016).

6.

Porporato, P. E., Filigheddu, N., Pedro, J. M. B., Kroemer, G. & Galluzzi, L. Mitochondrial metabolism and cancer. Cell Res. 28, 265–280 (2018).

7.

Chandel, N. S. Evolution of mitochondria as signaling organelles. Cell Metab. 22, 204–206 (2015).

8.

Martinez-Reyes, I. et al. TCA cycle and mitochondrial membrane potential are necessary for diverse biological functions. Mol. Cell 61, 199–209 (2016).

9.

Wang, C. & Youle, R. J. The role of mitochondria in apoptosis. Annul. Rev. Genet. 43, 95–118 (2009).

10.

Cruz, M. D. et al. Metabolic reprogramming of the premalignant colonic mucosa is an early event in carcinogenesis. Oncotarget 8, 20543–20557 (2017).

11.

Wen, Y. A. et al. The mitochondrial retrograde signaling regulates Wnt signaling to promote tumorigenesis in colon cancer. Cell Death Differ. https://doi.org/10.1038/s41418-018-0265-6 (2019).

12.

Satoh, K. et al. Global metabolic reprogramming of colorectal cancer occurs at adenoma stage and is induced by MYC. Proc. Natl Acad. Sci. USA 114, E7697–E7706 (2017).

13.

Wolosker, H., Blackshaw, S. & Snyder, S. H. Serine racemase: a glial enzyme synthesizing d-serine to regulate glutamate-N-methyl-d-aspartate neurotransmission. Proc. Natl Acad. Sci. USA 96, 13409–13414 (1999).

14.

De Miranda, J., Panizzutti, R., Foltyn, V. N. & Wolosker, H. Cofactors of serine racemase that physiologically stimulate the synthesis of the N-methyl-d-aspartate (NMDA) receptor coagonist d-serine. Proc. Natl Acad. Sci. USA 99, 14542–14547 (2002).

15.

Foltyn, V. N. et al. Serine racemase modulates intracellular d-serine levels through an alpha,beta-elimination activity. J. Biol. Chem. 280, 1754–1763 (2005).

16.

Mothet, J. P. et al. d-serine is an endogenous ligand for the glycine site of the N-methyl-d-aspartate receptor. Proc. Natl Acad. Sci. USA 97, 4926–4931 (2000).

17.

Kim, P. M. et al. Serine racemase: activation by glutamate neurotransmission via glutamate receptor interacting protein and mediation of neuronal migration. Proc. Natl Acad. Sci. USA 102, 2105–2110 (2005).

18.

Campanini, B., Spyrakis, F., Peracchi, A. & Mozzarelli, A. Serine racemase: a key player in neuron activity and in neuropathologies. Front. Biosci. 18, 1112–1128 (2013).

19.

Raboni, S. et al. The energy landscape of human serine racemase. Front. Mol. Biosci. 5, https://doi.org/10.3389/fmolb.2018.00112 (2019).

20.

Marchetti, M. et al. ATP binding to human serine racemase is cooperative and modulated by glycine. FEBS J. 280, 5853–5863 (2013).

21.

Bazzocco, S. et al. Highly expressed genes in rapidly proliferating tumor cells as new targets for colorectal cancer treatment. Clin. Cancer Res. 21, 3695–3704 (2015).

22.

Lozoya, O. A. et al. Mitochondrial acetyl-CoA reversibly regulates locus-specific histone acetylation and gene expression. Life Sci. Alliance 2, https://doi.org/10.26508/lsa.201800228 (2019).

23.

Schieber, M. & Chandel, N. S. ROS function in redox signaling and oxidative stress. Curr. Biol. 24, R453–R462 (2014).

24.

Sena, L. A. & Chandel, N. S. Physiological roles of mitochondrial reactive oxygen species. Mol. Cell 48, 158–167 (2012).

25.

Lee, S. R. et al. Reversible inactivation of the tumor suppressor PTEN by H2O2. J. Biol. Chem. 277, 20336–20342 (2002).

26.

Pommier, Y., Sordet, O., Antony, S., Hayward, R. L. & Kohn, K. W. Apoptosis defects and chemotherapy resistance: molecular interaction maps and networks. Oncogene 23, 2934–2949 (2004).

27.

Nita, M. E. et al. 5-Fluorouracil induces apoptosis in human colon cancer cell lines with modulation of Bcl-2 family proteins. Br. J. Cancer 78, 986–992 (1998).

28.

Sasabe, J. et al. d-serine is a key determinant of glutamate toxicity in amyotrophic lateral sclerosis. EMBO J. 26, 4149–4159 (2007).

29.

Hagiwara, H., Iyo, M. & Hashimoto, K. Neonatal disruption of serine racemase causes schizophrenia-like behavioral abnormalities in adulthood: clinical rescue by d-serine. PLoS One 8, e62438 (2013).

30.

Watanabe, A. et al. Serine racemase inhibition induces nitric oxide-mediated neurovascular protection during cerebral ischemia. Neuroscience 339, 139–149 (2016).

31.

Beltran-Castillo, S. et al. d-serine released by astrocytes in brainstem regulates breathing response to CO2 levels. Nature Commun 8, 838 (2017).

32.

Snell, K., Natsumeda, Y., Eble, J. N., Glover, J. L. & Weber, G. Enzymic imbalance in serine metabolism in human colon carcinoma and rat sarcoma. Br. J. Cancer 57, 87–90 (1988).

33.

Wellen, K. E. et al. ATP-citrate lyase links cellular metabolism to histone acetylation. Science 324, 1076–1080 (2009).

34.

Cai, L., Sutter, B. M., Li, B. & Tu, B. P. Acetyl-CoA induces cell growth and proliferation by promoting the acetylation of histones at growth genes. Mol. Cell 42, 426–437 (2011).

35.

Karczmarski, J. et al. Histone H3 lysine 27 acetylation is altered in colon cancer. Clin. Proteom 11, 24 (2014).

36.

Kroll, W., Loffler, M. & Schneider, F. Energy parameters, macromolecular synthesis and cell cycle progression of in vitro grown Ehrlich ascites tumor cells after inhibition of oxidative ATP synthesis by oligomycin. Zeitschrift für Naturforschung. C 38, 604–612 (1983).

37.

Loffer, M. & Schneider, F. Further characterization of the growth inhibitory effect of rotenone on in vitro cultured Ehrlich ascites tumour cells. Mol. Cell. Biochem. 48, 77–90 (1982).

38.

Molina, J. R. et al. An inhibitor of oxidative phosphorylation exploits cancer vulnerability. Nat. Med. 24, 1036–1046 (2018).

39.

Kaldma, A. et al. An in situ study of bioenergetic properties of human colorectal cancer: the regulation of mitochondrial respiration and distribution of flux control among the components of ATP synthasome. Int. J. Biochem. Cell Biol. 55, 171–186 (2014).

40.

Hensley, C. T. et al. Metabolic heterogeneity in human lung tumors. Cell 164, 681–694 (2016).

41.

Sellers, K. et al. Pyruvate carboxylase is critical for non-small-cell lung cancer proliferation. J. Clin. Invest. 125, 687–698 (2015).

42.

Boyle, K. A. et al. Mitochondria-targeted drugs stimulate mitophagy and abrogate colon cancer cell proliferation. J. Biol. Chem. 293, 14891–14904 (2018).

43.

Spandidos, A., Wang, X., Wang, H. & Seed, B. PrimerBank: a resource of human and mouse PCR primer pairs for gene expression detection and quantification. Nucleic Acids Res. 38, D792–D799 (2010).

44.

Konya, Y., Taniguchi, M. & Fukusaki, E. Novel high-throughput and widely-targeted liquid chromatographyetime of flight mass spectrometry method for d-amino acids in foods. J. Biosci. Bioeng. 123, 126–133 (2017).
Acknowledgements
We thank M. Kohara, E. Maeno and T. Sawamura from Department of Pathology, Osaka University Graduate School of Medicine, and H. Omori and K. Murata from Core Instrumentation Facility, Research Institute for Microbial Diseases, Osaka University, for their technical assistance. This study was supported by E. Oiki and the Center for Medical Research and Education, Osaka University Graduate School of Medicine. This work was supported in part by JSPS KAKENHI grant number T16K086490, T17K195550, T18K151220, T18K150780, T18K150790, T18K070680, A19H034520, T19K165570 and T19K165850.
Ethics declarations
Competing interests
The authors declare no competing interests.
Additional information
Peer review information Primary Handling Editor: Christoph Schmitt.
Publisher's note Springer Nature remains neutral with regard to jurisdictional claims in published maps and institutional affiliations.
Supplementary information
Supplementary Fig. 1 and Supplementary Tables 1 and 2
About this article
Cite this article
Ohshima, K., Nojima, S., Tahara, S. et al. Serine racemase enhances growth of colorectal cancer by producing pyruvate from serine. Nat Metab 2, 81–96 (2020). https://doi.org/10.1038/s42255-019-0156-2
Received:

Accepted:

Published:

Issue Date: