Di Gioia and colleagues report on how the oxidized phospholipid oxPAPC alters metabolism in macrophages via glutamine and oxaloacetate, thus boosting production of the cytokine IL-1β and promoting atherosclerosis.
Access options
Subscribe to Journal
Get full journal access for 1 year
$104.00
only $8.67 per issue
All prices are NET prices.
VAT will be added later in the checkout.
Rent or Buy article
Get time limited or full article access on ReadCube.
from$8.99
All prices are NET prices.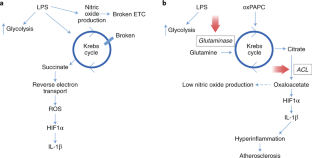 References
1.

O'Neill, L. A., Kishton, R. J. & Rathmell, J. Nat. Rev. Immunol. 16, 553–565 (2016).

2.

O'Neill, L. A. & Pearce, E. J. J. Exp. Med. 213, 15–23 (2016).

3.

Hooftman, A. & O'Neill, L. A. J. Trends Immunol. 40, 687–698 (2019).

4.

Di Gioia, M. et al Nat. Immunol. https://doi.org/10.1038/s41590-019-0539-2 (2019).

5.

Mills, E. L. et al. Cell 167, 457–470.e13 (2016).

6.

Bailey, J. D. et al. Cell Rep. 28, 218–230.e7 (2019).

7.

Ridker, P. M. et al. N. Engl. J. Med. 377, 1119–1131 (2017).

8.

Jha, A. K. et al. Immunity 42, 419–430 (2015).
Ethics declarations
Competing interests
The author declares no competing interests.
About this article
Cite this article
O'Neill, L.A.J. Targeting macrophage immunometabolism to prevent atherosclerosis. Nat Metab 1, 1173–1174 (2019) doi:10.1038/s42255-019-0154-4