Abstract
Catecholamines stimulate the first step of lipolysis through protein kinase A (PKA)-dependent release of the lipid-droplet-associated protein abhydrolase domain containing 5 (ABHD5) from perilipin to coactivate the lipase adipose triglyceride lipase (ATGL). Here, we unmask a proteolytic and cardioprotective function of ABHD5. ABHD5 acts in vivo and in vitro as a serine protease that cleaves histone deacetylase 4 (HDAC4). Through the production of an amino-terminal polypeptide of HDAC4 (HDAC4-NT), ABHD5 inhibits MEF2-dependent gene expression and thereby controls glucose handling. ABHD5 deficiency leads to neutral-lipid storage disease in mice. Cardiac-specific gene therapy using the gene encoding HDAC4-NT does not protect against intracardiomyocyte lipid accumulation, but strikingly protects against heart failure, thereby challenging the concept of lipotoxicity-induced heart failure. ABHD5 levels are reduced in failing human hearts, and murine transgenic ABHD5 expression protects against pressure-overload-induced heart failure. These findings represent a conceptual advance by connecting lipid with glucose metabolism through HDAC4 proteolysis, and enable new translational approaches to treating cardiometabolic disease.
Relevant articles
Open Access articles citing this article.
Xin Xie

,

Yi-Fan Tie

…

Ying Liu

Cell Death & Disease Open Access 26 October 2021

Pan Yang

,

Youlin Wang

…

Liqing Yu

Scientific Reports Open Access 13 March 2020
Access options
Access Nature and 54 other Nature Portfolio journals
Get Nature+, our best-value online-access subscription
$29.99 / 30 days
cancel any time
Subscribe to this journal
Receive 12 digital issues and online access to articles
$99.00 per year
only $8.25 per issue
Rent or buy this article
Get just this article for as long as you need it
$39.95
Prices may be subject to local taxes which are calculated during checkout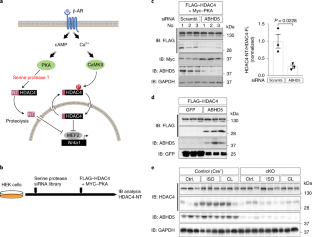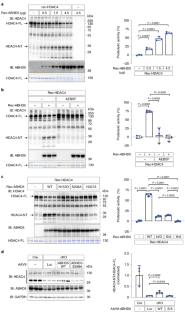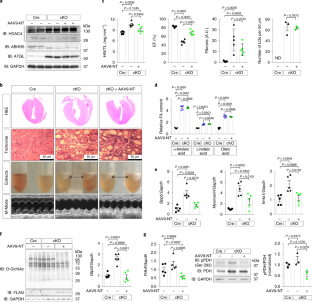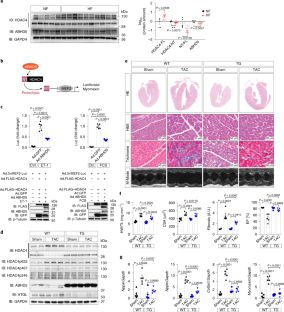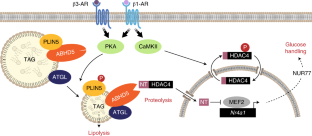 Data availability
Raw data from experiments presented in Fig. 3f,g, Supplementary Table 1 and Extended Data Fig. 3d were deposited in the gene-expression omnibus (GEO), accession number GSE135662. Source Data are available for Figs. 1–4 and Extended Data Figs. 1–6, including all uncut gels of the immunoblotting figures in the manuscript, and all data supporting the findings of the manuscript can be obtained from the corresponding author upon request.
References
Lohse, M. J., Engelhardt, S. & Eschenhagen, T. What is the role of beta-adrenergic signaling in heart failure? Circ. Res. 93, 896–906 (2003).

Dewenter, M., von der Lieth, A., Katus, H. A. & Backs, J. Calcium signaling and transcriptional regulation in cardiomyocytes. Circ. Res. 121, 1000–1020 (2017).

Rockman, H. A., Koch, W. J. & Lefkowitz, R. J. Cardiac function in genetically engineered mice with altered adrenergic receptor signaling. Am. J. Physiol. 272, H1553–H1559 (1997).

Wang, H. et al. Unique regulation of adipose triglyceride lipase (ATGL) by perilipin 5, a lipid droplet-associated protein. J. Biol. Chem. 286, 15707–15715 (2011).

Yamaguchi, T. et al. CGI-58 facilitates lipolysis on lipid droplets but is not involved in the vesiculation of lipid droplets caused by hormonal stimulation. J. Lipid Res. 48, 1078–1089 (2007).

Sahu-Osen, A. et al. CGI-58/ABHD5 is phosphorylated on Ser239 by protein kinase a: control of subcellular localization. J. Lipid Res. 56, 109–121 (2015).

Haemmerle, G. et al. ATGL-mediated fat catabolism regulates cardiac mitochondrial function via PPAR-alpha and PGC-1. Nat. Med. 17, 1076–1085 (2011).

Zierler, K. A. et al. Functional cardiac lipolysis in mice critically depends on comparative gene identification-58. J. Biol. Chem. 288, 9892–9904 (2013).

Pollak, N. M. et al. The interplay of protein kinase A and perilipin 5 regulates cardiac lipolysis. J. Biol. Chem. 290, 1295–1306 (2015).

Lass, A. et al. Adipose triglyceride lipase-mediated lipolysis of cellular fat stores is activated by CGI-58 and defective in chanarin-dorfman syndrome. Cell Metab. 3, 309–319 (2006).

Cerk, I. K., Wechselberger, L. & Oberer, M. Adipose triglyceride lipase regulation: an overview. Curr. Protein Pept. Sci. 19, 221–233 (2018).

Yamaguchi, T. Crucial role of CGI-58/alpha/beta hydrolase domain-containing protein 5 in lipid metabolism. Biol. Pharm. Bull. 33, 342–345 (2010).

Chanarin, I. et al. Neutral-lipid storage disease: a new disorder of lipid metabolism. BMJ 1, 553–555 (1975).

Lefevre, C. et al. Mutations in CGI-58, the gene encoding a new protein of the esterase/lipase/thioesterase subfamily, in chanarin-dorfman syndrome. Am. J. Hum. Genet. 69, 1002–1012 (2001).

Radner, F. P. et al. Growth retardation, impaired triacylglycerol catabolism, hepatic steatosis, and lethal skin barrier defect in mice lacking comparative gene identification-58 (CGI-58). J. Biol. Chem. 285, 7300–7311 (2010).

Wang, W. et al. Sustained β1-adrenergic stimulation modulates cardiac contractility by Ca2+/calmodulin kinase signaling pathway. Circ. Res. 95, 798–806 (2004).

Fischer, T. H. et al. Ca2+/calmodulin-dependent protein kinase II and protein kinase A differentially regulate sarcoplasmic reticulum Ca2+ leak in human cardiac pathology. Circulation 128, 970–981 (2013).

Backs, J., Song, K., Bezprozvannaya, S., Chang, S. & Olson, E. N. CaM kinase II selectively signals to histone deacetylase 4 during cardiomyocyte hypertrophy. J. Clin. Invest. 116, 1853–1864 (2006).

Backs, J. et al. Selective repression of MEF2 activity by PKA-dependent proteolysis of HDAC4. J. Cell Biol. 195, 403–415 (2011).

Lehmann, L. H. et al. A proteolytic fragment of histone deacetylase 4 protects the heart from failure by regulating the hexosamine biosynthetic pathway. Nat. Med. 24, 62–72 (2018).

Kronlage, M. et al. O-GlcNAcylation of histone deacetylase 4 protects the diabetic heart from failure. Circulation 140, 580–594 (2019).

Kim, Y. et al. The MEF2D transcription factor mediates stress-dependent cardiac remodeling in mice. J. Clin. Invest. 118, 124–132 (2008).

Yang, L. K. & Tao, Y. X. Physiology and pathophysiology of the β3-adrenergic receptor. Prog. Mol. Biol. Transl. Sci. 161, 91–112 (2019).

Wei, J. et al. Reversal of pathological cardiac hypertrophy via the MEF2-coregulator interface. JCI Insight 2, pii: 91068 (2017).

Pouleur, A. C. et al. Rationale and design of a multicentre, randomized, placebo-controlled trial of mirabegron, a β3-adrenergic receptor agonist on left ventricular mass and diastolic function in patients with structural heart disease β3-left ventricular hypertrophy (β3-LVH). ESC Heart Fail. 5, 830–841 (2018).

Wang, Y. et al. Adipocyte liver kinase b1 suppresses beige adipocyte renaissance through class iia histone deacetylase 4. Diabetes 66, 2952–2963 (2017).

Sohal, D. S. et al. Temporally regulated and tissue-specific gene manipulations in the adult and embryonic heart using a tamoxifen-inducible Cre protein. Circ. Res. 89, 20–25 (2001).

deAlmeida, A. C., van Oort, R. J. & Wehrens, X. H. Transverse aortic constriction in mice. J. Vis. Exp. 38, e1729 (2010).

Kreusser, M. M. et al. Cardiac CaM kinase II genes delta and gamma contribute to adverse remodeling but redundantly inhibit calcineurin-induced myocardial hypertrophy. Circulation 130, 1262–1273 (2014).

Muller, O. J., Schinkel, S., Kleinschmidt, J. A., Katus, H. A. & Bekeredjian, R. Augmentation of AAV-mediated cardiac gene transfer after systemic administration in adult rats. Gene Ther. 15, 1558–1565 (2008).

Geisler, A. et al. microRNA122-regulated transgene expression increases specificity of cardiac gene transfer upon intravenous delivery of AAV9 vectors. Gene Ther. 18, 199–209 (2011).

Jungmann, A., Leuchs, B., Katus, H. A., Rommelaere, J. & Muller, O. J. Protocol for efficient generation and characterization of adeno-associated viral (AAV) vectors. Hum. Gene Ther. Methods 28, 235–246 (2017).

Lehmann, L. H. et al. Essential role of sympathetic endothelin a receptors for adverse cardiac remodeling. Proc. Natl Acad. Sci. USA 111, 13499–13504 (2014).

Adams, J. et al. 13-cis retinoic acid inhibits development and progression of chronic allograft nephropathy. Am. J. Pathol. 167, 285–298 (2005).

Benkert, P., Biasini, M. & Schwede, T. Toward the estimation of the absolute quality of individual protein structure models. Bioinformatics 27, 343–350 (2011).

Bienert, S. et al. The SWISS-MODEL repository-new features and functionality. Nucleic Acids Res. 45, D313–D319 (2017).

Waterhouse, A. et al. SWISS-MODEL: homology modelling of protein structures and complexes. Nucleic Acids Res. 46, W296–W303 (2018).

Guex, N., Peitsch, M. C. & Schwede, T. Automated comparative protein structure modeling with SWISS-MODEL and Swiss-PdbViewer: a historical perspective. Electrophoresis 30 (Suppl. 1), S162–S173 (2009).

Boeszoermenyi, A. et al. Structure of a CGI-58 motif provides the molecular basis of lipid droplet anchoring. J. Biol. Chem. 290, 26361–26372 (2015).

Badin, P. M. et al. Regulation of skeletal muscle lipolysis and oxidative metabolism by the co-lipase CGI-58. J. Lipid Res. 53, 839–848 (2012).

Poschl, J. M. et al. Effects of dietary supplementation of saturated fatty acids and of n-6 or n-3 polyunsaturated fatty acids on plasma and red blood cell membrane phospholipids and deformability in weanling guinea pigs. Lipids 34, 467–473 (1999).

Dodt, M., Roehr, J. T., Ahmed, R. & Dieterich, C. FLEXBAR-flexible barcode and adapter processing for next-generation sequencing platforms. Biology (Basel) 1, 895–905 (2012).

Dobin, A. et al. STAR: ultrafast universal RNA-seq aligner. Bioinformatics 29, 15–21 (2013).

Trapnell, C. et al. Differential gene and transcript expression analysis of RNA-seq experiments with TopHat and cufflinks. Nat. Protoc. 7, 562–578 (2012).

Alexa, A., Rahnenfuhrer, J. & Lengauer, T. Improved scoring of functional groups from gene expression data by decorrelating GO graph structure. Bioinformatics 22, 1600–1607 (2006).
Acknowledgements
We thank M. Hagenmüller for help with figures and manuscript editing; Q. Sun, M. Oestringer, J. Krebs, U. Oehl and J. Hartmann for technical help; R. Zahn, K. Perez, K. Remans and J. Baßler for help with purification of recombinant HDAC4 and ABHD5; and S. Kaden for the help with electron microscopy. L.H.L. is recipient of the Clinician-Scientist Program (CSP) of the German Cardiac Society (DGK). M.O. is supported by the Austrian Science Fund (FWF): F73 SFB Lipid Hydrolysis. J.B. was supported by grants from the Deutsche Forschungsgemeinschaft (BA 2258/2-1BA; BA 2258/9-1; SFB 1118), the European Commission (FP7-Health-2010; MEDIA-261409) and the DZHK (Deutsches Zentrum für Herz-Kreislauf-Forschung—German Centre for Cardiovascular Research) and by the BMBF (German Ministry of Education and Research).
Ethics declarations
Competing interests
Z.H.J., L.H.L, O.J.M, H.A.K. and J.B. filed a patent on HDAC4-NT and ABHD5 gene therapy (US9914912B2). All other authors declare no competing interests.
Additional information
Peer review information Primary Handling Editor: Christoph Schmitt.
Publisher's note Springer Nature remains neutral with regard to jurisdictional claims in published maps and institutional affiliations.
Supplementary information
About this article
Cite this article
Jebessa, Z.H., Shanmukha, K.D., Dewenter, M. et al. The lipid-droplet-associated protein ABHD5 protects the heart through proteolysis of HDAC4. Nat Metab 1, 1157–1167 (2019). https://doi.org/10.1038/s42255-019-0138-4
Received:

Accepted:

Published:

Issue Date:

DOI: https://doi.org/10.1038/s42255-019-0138-4