Abstract
The regulation of ATP production by mitochondria, crucial for multicellular life, is poorly understood. Here, we investigate the molecular controls of this process in the heart and provide a framework for its Ca2+-dependent regulation. We find that the entry of Ca2+ into the matrix through the mitochondrial calcium uniporter (MCU) in the heart has neither an apparent cytosolic Ca2+ threshold nor a gating function, and guides ATP production by its influence on the inner mitochondrial membrane (IMM) potential, ΔΨm. This regulation occurs through matrix Ca2+-dependent modulation of pyruvate and glutamate dehydrogenase activity and not through any effect of Ca2+ on ATP synthase or on electron transport chain complexes II, III or IV. Examining the ΔΨm dependence of ATP production over the range of −60 mV to −170 mV in detail reveals that cardiac ATP synthase has a voltage dependence that distinguishes it fundamentally from the previous standard, the bacterial ATP synthase. Cardiac ATP synthase operates with a different ΔΨm threshold for ATP production than bacterial ATP synthase and reveals a concave-upward shape without saturation. Skeletal muscle MCU Ca2+ flux, while also having no apparent cytosolic Ca2+ threshold, is substantially different from the cardiac MCU, yet the ATP synthase voltage dependence in skeletal muscle is identical to that in the heart. These results suggest that, while the conduction of cytosolic Ca2+ signals through the MCU appears to be tissue dependent, as shown by earlier work1, the control of ATP synthase by ΔΨm appears to be broadly consistent among tissues but is clearly different from that in bacteria.
Relevant articles
Open Access articles citing this article.
M. A. Zabielska-Kaczorowska

,

A. E. Bogucka

…

R. T. Smolenski

Scientific Reports Open Access 03 October 2022

Zhanat Koshenov

,

Furkan E. Oflaz

…

Wolfgang F. Graier

Communications Biology Open Access 20 January 2022

Jasiel O. Strubbe-Rivera

,

Jason R. Schrad

…

Jason N. Bazil

Scientific Reports Open Access 13 January 2021
Access options
Access Nature and 54 other Nature Portfolio journals
Get Nature+, our best-value online-access subscription
$29.99 / 30 days
cancel any time
Subscribe to this journal
Receive 12 digital issues and online access to articles
$119.00 per year
only $9.92 per issue
Rent or buy this article
Prices vary by article type
from$1.95
to$39.95
Prices may be subject to local taxes which are calculated during checkout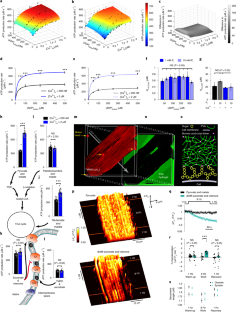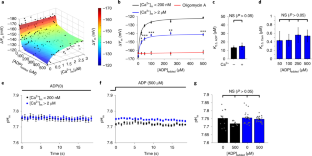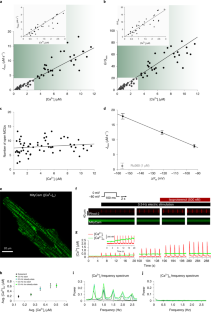 Data availability
The data that support the findings of this study are available from the corresponding author upon reasonable request.
References
Fieni, F., Lee, S. B., Jan, Y. N. & Kirichok, Y. Activity of the mitochondrial calcium uniporter varies greatly between tissues. Nat. Commun. 3, 1317 (2012).

Jacobus, W. E. Respiratory control and the integration of heart high-energy phosphate metabolism by mitochondrial creatine kinase. Annu. Rev. Physiol. 47, 707–725 (1985).

Wang, Z. et al. Specific metabolic rates of major organs and tissues across adulthood: evaluation by mechanistic model of resting energy expenditure. Am. J. Clin. Nutr. 92, 1369–1377 (2010).

Murphy, E. et al. Mitochondrial function, biology, and role in disease: a scientific statement from the American Heart Association. Circ. Res. 118, 1960–1991 (2016).

DiMauro, S. & Schon, E. A. Mitochondrial respiratory-chain diseases. N. Engl. J. Med. 348, 2656–2668 (2003).

Latorre-Pellicer, A. et al. Mitochondrial and nuclear DNA matching shapes metabolism and healthy ageing. Nature 535, 561–565 (2016).

Williams, G. S., Boyman, L., Chikando, A. C., Khairallah, R. J. & Lederer, W. J. Mitochondrial calcium uptake. Proc. Natl Acad. Sci. USA 110, 10479–10486 (2013).

Boyman, L., Williams, G. S. & Lederer, W. J. The growing importance of mitochondrial calcium in health and disease. Proc. Natl Acad. Sci. USA 112, 11150–11151 (2015).

Chance, B. & Williams, G. R. Respiratory enzymes in oxidative phosphorylation. I. Kinetics of oxygen utilization. J. Biol. Chem. 217, 383–393 (1955).

Klingenberg, M. The ADP-ATP translocation in mitochondria, a membrane potential controlled transport. J. Membr. Biol. 56, 97–105 (1980).

Denton, R. M., Randle, P. J. & Martin, B. R. Stimulation by calcium ions of pyruvate dehydrogenase phosphate phosphatase. Biochem. J. 128, 161–163 (1972).

McCormack, J. G. & Denton, R. M. The effects of calcium ions and adenine nucleotides on the activity of pig heart 2-oxoglutarate dehydrogenase complex. Biochem. J. 180, 533–544 (1979).

Glancy, B. & Balaban, R. S. Role of mitochondrial Ca2+ in the regulation of cellular energetics. Biochemistry 51, 2959–2973 (2012).

McCormack, J. G. & Denton, R. M. Mitochondrial Ca2+ transport and the role of intramitochondrial Ca2+ in the regulation of energy metabolism. Dev. Neurosci. 15, 165–173 (1993).

Jian, Z. et al. Mechanochemotransduction during cardiomyocyte contraction is mediated by localized nitric oxide signaling. Sci. Signal 7, ra27 (2014).

Mitchell, P. Coupling of phosphorylation to electron and hydrogen transfer by a chemi-osmotic type of mechanism. Nature 191, 144–148 (1961).

Brandes, R., Maier, L. S. & Bers, D. M. Regulation of mitochondrial [NADH] by cytosolic [Ca2+] and work in trabeculae from hypertrophic and normal rat hearts. Circ. Res. 82, 1189–1198 (1998).

Kirichok, Y., Krapivinsky, G. & Clapham, D. E. The mitochondrial calcium uniporter is a highly selective ion channel. Nature 427, 360–364 (2004).

Bick, A. G., Calvo, S. E. & Mootha, V. K. Evolutionary diversity of the mitochondrial calcium uniporter. Science 336, 886 (2012).

Luongo, T. S. et al. The mitochondrial calcium uniporter matches energetic supply with cardiac workload during stress and modulates permeability transition. Cell Rep. 12, 23–34 (2015).

Kwong, J. Q. et al. The mitochondrial calcium uniporter selectively matches metabolic output to acute contractile stress in the heart. Cell Rep. 12, 15–22 (2015).

Wu, Y. et al. The mitochondrial uniporter controls fight or flight heart rate increases. Nat. Commun. 6, 6081 (2015).

Mallilankaraman, K. et al. MICU1 is an essential gatekeeper for MCU-mediated mitochondrial Ca(2+) uptake that regulates cell survival. Cell 151, 630–644 (2012).

Antony, A. N. et al. MICU1 regulation of mitochondrial Ca(2+) uptake dictates survival and tissue regeneration. Nat. Commun 7, 10955 (2016).

Kaim, G. & Dimroth, P. ATP synthesis by F-type ATP synthase is obligatorily dependent on the transmembrane voltage. EMBO J. 18, 4118–4127 (1999).

Nguyen, M. H. & Jafri, M. S. Mitochondrial calcium signaling and energy metabolism. Ann. N Y Acad. Sci. 1047, 127–137 (2005).

Dimroth, P., von Ballmoos, C., Meier, T. & Kaim, G. Electrical power fuels rotary ATP synthase. Structure 11, 1469–1473 (2003).

Anandakrishnan, R., Zhang, Z., Donovan-Maiye, R. & Zuckerman, D. M. Biophysical comparison of ATP synthesis mechanisms shows a kinetic advantage for the rotary process. Proc. Natl Acad. Sci. USA 113, 11220–11225 (2016).

Clapham, D. E. Calcium signaling. Cell 131, 1047–1058 (2007).

Cheng, H. & Lederer, W. J. Calcium sparks. Physiol. Rev. 88, 1491–1545 (2008).

Eberhard, M. & Erne, P. Analysis of calcium binding to alpha-lactalbumin using a fluorescent calcium indicator. Eur. J. Biochem. 202, 1333–1338 (1991).

Scaduto, R. C. Jr. & Grotyohann, L. W. Measurement of mitochondrial membrane potential using fluorescent rhodamine derivatives. Biophys. J. 76, 469–477 (1999).

De Stefani, D., Raffaello, A., Teardo, E., Szabo, I. & Rizzuto, R. A forty-kilodalton protein of the inner membrane is the mitochondrial calcium uniporter. Nature 476, 336–340 (2011).

Burks, S. R. et al. (2)H,(15)N-substituted nitroxides as sensitive probes for electron paramagnetic resonance imaging. J. Org. Chem. 75, 6463–6467 (2010).

Rosen, G. M., Burks, S. R., Kohr, M. J. & Kao, J. P. Synthesis and biological testing of aminoxyls designed for long-term retention by living cells. Org. Biomol. Chem. 3, 645–648 (2005).

Terhzaz, S. et al. Differential gel electrophoresis and transgenic mitochondrial calcium reporters demonstrate spatiotemporal filtering in calcium control of mitochondria. J. Biol. Chem. 281, 18849–18858 (2006).

Boyman, L. et al. Calcium movement in cardiac mitochondria. Biophys. J. 107, 1289–1301 (2014).
Acknowledgements
We thank B.M. Polster, C.W. Ward, G.S.B. Williams, R.J . Khairallah and M. Karbowski for helpful suggestions. This research was supported by American Heart Association grants SDG 15SDG22100002 (to L.B.) and 16PRE31030023 (to A.P.W.); by NIH R01 HL106056, R01 HL105239, U01 HL116321, 1R01HL142290, 1 R01 HL140934 and 1R01 AR071618 (to W.J.L.); by the Medical Scientist Training Program and Training Program in Integrative Membrane Biology, NIH 2T32GM092237-06 and 5T32GM008181-28 (to A.P.W.).
Ethics declarations
Competing interests
The authors declare no competing interests.
Additional information
Publisher's note Springer Nature remains neutral with regard to jurisdictional claims in published maps and institutional affiliations.
Supplementary information
About this article
Cite this article
Wescott, A.P., Kao, J.P.Y., Lederer, W.J. et al. Voltage-energized calcium-sensitive ATP production by mitochondria. Nat Metab 1, 975–984 (2019). https://doi.org/10.1038/s42255-019-0126-8
Received:

Accepted:

Published:

Issue Date:

DOI: https://doi.org/10.1038/s42255-019-0126-8