Nuclear DNA damage has detrimental effects on cellular homoeostasis and accelerates the ageing process. A new study causally links error-prone mitochondrial replication to increased nuclear DNA damage, thus suggesting that the hallmarks of ageing are associated with nuclear genome instability, a potential unifying denominator in the ageing process.
Access options
Subscribe to Journal
Get full journal access for 1 year
$104.00
only $8.67 per issue
All prices are NET prices.
VAT will be added later in the checkout.
Rent or Buy article
Get time limited or full article access on ReadCube.
from$8.99
All prices are NET prices.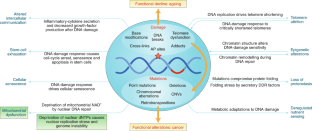 References
1.

Niedernhofer, L. J. et al. Annu. Rev. Biochem. 87, 295–322 (2018).

2.

Trifunovic, A. et al. Nature 429, 417–423 (2004).

3.

Vermulst, M. et al. Nat. Genet. 39, 540–543 (2007).

4.

Hämäläinen, R.H. et al. Nat. Metab. https://doi.org/10.1038/s42255-019-0120-1 (2019).

5.

López-Otín, C., Blasco, M. A., Partridge, L., Serrano, M. & Kroemer, G. Cell 153, 1194–1217 (2013).

6.

Edifizi, D. et al. Cell Rep. 20, 2026–2043 (2017).

7.

Behrens, A., van Deursen, J. M., Rudolph, K. L. & Schumacher, B. Nat. Cell Biol. 16, 201–207 (2014).

8.

Shimizu, I., Yoshida, Y., Suda, M. & Minamino, T. Cell Metab. 20, 967–977 (2014).

9.

Fang, E. F. et al. Trends Mol. Med. 23, 899–916 (2017).
Ethics declarations
Competing interests
The authors declare no competing interests.
About this article
Cite this article
Schumacher, B., Vijg, J. Age is in the nucleus. Nat Metab 1, 931–932 (2019). https://doi.org/10.1038/s42255-019-0125-9
Further reading
Svetlana G. Vorsanova

,

Yuri B. Yurov

&

Ivan Y. Iourov

Molecular Cytogenetics (2020)