Abstract
During heart transplantation, storage in cold preservation solution is thought to protect the organ by slowing metabolism, providing osmotic support and minimizing ischaemia–reperfusion (IR) injury following transplantation in the recipient1,2. Despite its widespread use, our understanding of the metabolic changes prevented by cold storage and how warm ischaemia leads to damage is surprisingly poor. Here, we compare the metabolic changes during warm ischaemia (WI) and cold ischaemia (CI) in mouse, pig and human hearts. We identify common metabolic alterations during WI and CI, thereby elucidating mechanisms underlying the benefits of CI and how WI causes damage. Succinate accumulation is a major feature within ischaemic hearts across species, and CI slows succinate generation, thereby reducing tissue damage upon reperfusion caused by the production of mitochondrial reactive oxygen species (ROS)3,4. Importantly, the inevitable periods of WI during organ procurement lead to the accumulation of damaging levels of succinate during transplantation, despite cooling organs as rapidly as possible. This damage is ameliorated by metabolic inhibitors that prevent succinate accumulation and oxidation. Our findings suggest how WI and CI contribute to transplant outcome and indicate new therapies for improving the quality of transplanted organs.
Access options
Subscribe to Journal
Get full journal access for 1 year
$99.00
only $8.25 per issue
All prices are NET prices.
VAT will be added later in the checkout.
Rent or Buy article
Get time limited or full article access on ReadCube.
from$8.99
All prices are NET prices.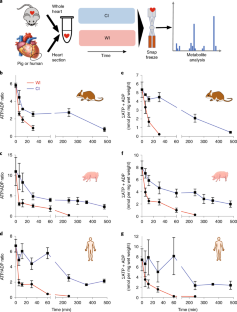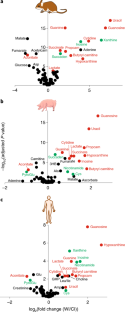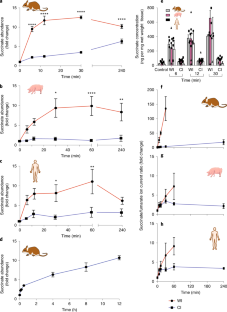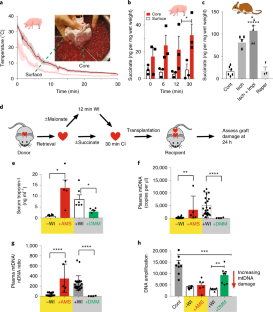 References
1.

Jahania, M. S., Sanchez, J. A., Narayan, P., Lasley, R. D. & Mentzer, R. M. Jr. Heart preservation for transplantation: principles and strategies. Ann. Thorac. Surg. 68, 1983–1987 (1999).

2.

Southard, J. H. & Belzer, F. O. Organ preservation. Annu. Rev. Med. 46, 235–247 (1995).

3.

Chouchani, E. T. et al. A unifying mechanism for mitochondrial superoxide production during ischemia-reperfusion injury. Cell Metab. 23, 254–263 (2016).

4.

Chouchani, E. T. et al. Ischaemic accumulation of succinate controls reperfusion injury through mitochondrial ROS. Nature 515, 431–435 (2014).

5.

Pagani, F. D. Use of heart donors following circulatory death: a viable addition to the heart donor pool. J. Am. Coll. Cardiol. 73, 1460–1462 (2019).

6.

Johnson, R. J., Bradbury, L. L., Martin, K. & Neuberger, J. Organ donation and transplantation in the UK-the last decade: a report from the UK national transplant registry. Transplantation 97, S1–S27 (2014).

7.

Chew, H. C. et al. Outcomes of donation after circulatory death heart transplantation in australia. J. Am. Coll. Cardiol. 73, 1447–1459 (2019).

8.

Dhital, K. K. et al. Adult heart transplantation with distant procurement and ex-vivo preservation of donor hearts after circulatory death: a case series. Lancet 385, 2585–2591 (2015).

9.

Nasralla, D. et al. A randomized trial of normothermic preservation in liver transplantation. Nature 557, 50–56 (2018).

10.

Coffey, J. C. et al. The influence of functional warm ischemia time on DCD liver transplant recipients' outcomes. Clin. Transplant. 31, e13068 (2017).

11.

Blok, J. J. et al. Longterm results of liver transplantation from donation after circulatory death. Liver Transplant. 22, 1107–1114 (2016).

12.

Eltzschig, H. K. & Eckle, T. Ischemia and reperfusion—from mechanism to translation. Nat. Med. 17, 1391–1401 (2011).

13.

Liu, F. & Kang, S. M. Heterotopic heart transplantation in mice. J. Vis. Exp. 6, 238 (2007).

14.

Niimi, M. The technique for heterotopic cardiac transplantation in mice: experience of 3000 operations by one surgeon. J. Heart Lung Transplant. 20, 1123–1128 (2001).

15.

Zhang, Q. et al. Circulating mitochondrial DAMPs cause inflammatory responses to injury. Nature 464, 104–107 (2010).

16.

Nakahira, K. et al. Circulating mitochondrial DNA in patients in the ICU as a marker of mortality: derivation and validation. PLoS Med. 10, e1001577 (2013).

17.

Ehinger, J. K. et al. Cell-permeable succinate prodrugs bypass mitochondrial complex I deficiency. Nat. Commun. 7, 12317 (2016).

18.

Valls-Lacalle, L. et al. Selective inhibition of succinate dehydrogenase in reperfused myocardium with intracoronary malonate reduces infarct size. Sci. Rep. 8, 2442 (2018).

19.

Valls-Lacalle, L. et al. Succinate dehydrogenase inhibition with malonate during reperfusion reduces infarct size by preventing mitochondrial permeability transition. Cardiovasc. Res. 109, 374–384 (2016).

20.

Bundgaard, A. et al. Metabolic adaptations during extreme anoxia in the turtle heart and their implications for ischemia-reperfusion injury. Sci. Rep. 9, 2850 (2019).

21.

Zhang, J. et al. Accumulation of succinate in cardiac ischemia primarily occurs via canonical krebs cycle activity. Cell Rep. 23, 2617–2628 (2018).

22.

Dare, A. J. et al. The mitochondria-targeted anti-oxidant MitoQ decreases ischemia-reperfusion injury in a murine syngeneic heart transplant model. J. Heart Lung Transplant. 34, 1471–1480 (2015).

23.

Mackay, G. M., Zheng, L., van den Broek, N. J. & Gottlieb, E. Analysis of cell metabolism using LC-MS and isotope tracers. Meth. Enzymol. 561, 171–196 (2015).

24.

Strehler, B. L. in Methods in Enzymatic Analysis (ed. Bergmeyer, U.) 2112–2126 (Academic Press, 1974).

25.

Passonneau, J. V. & Lauderdale, V. R. A comparison of three methods of glycogen measurement in tissues. Anal. Biochem. 60, 405–412 (1974).

26.

Santos, J. H., Meyer, J. N., Mandavilli, B. S. & Van Houten, B. Quantitative PCR-based measurement of nuclear and mitochondrial DNA damage and repair in mammalian cells. Methods Mol. Biol. 314, 183–199 (2006).

27.

Ritchie, M. E. et al. Limma powers differential expression analyses for RNA-sequencing and microarray studies. Nuc. Acids Res. 43, e47 (2015).
Acknowledgements
Work in the M.P.M. laboratory was supported by the Medical Research Council UK (MC_U105663142) and by a Wellcome Trust Investigator award (110159/Z/15/Z) to M.P.M. Work in the C.F. laboratory was supported by the Medical Research Council (MRC_MC_UU_12022/6). Work in the K.S.P. laboratory was supported by the Medical Research Council UK. Work in the RCH lab laboratory was supported by a Wellcome Trust Investigator award (110158/Z/15/Z) and a PhD studentship for .L.P from the University of Glasgow. A.V.G. was supported by a PhD studentship funded by the National Institute for Health Research Blood and Transplant Research Unit (NIHR BTRU) in Organ Donation and Transplantation at the University of Cambridge in collaboration with Newcastle University and in partnership with NHS Blood and Transplant (NHSBT). The views expressed are those of the author(s) and not necessarily those of the NHS, the NIHR, the Department of Health or NHSBT. We are grateful to the donors, the donor families, National Health Service Blood transfusion and Transplantation, and the Cambridge Biorepository for Translational Medicine for access to human samples.
Ethics declarations
Competing interests
M.P.M., T.K. and R.C.H. have submitted a patent application on the use of dimethyl malonate to prevent IR injury.
Additional information
Peer review information Primary Handling Editor: Ana Mateus.
Publisher's note Springer Nature remains neutral with regard to jurisdictional claims in published maps and institutional affiliations.
Supplementary information
About this article
Cite this article
Martin, J.L., Costa, A.S.H., Gruszczyk, A.V. et al. Succinate accumulation drives ischaemia-reperfusion injury during organ transplantation. Nat Metab 1, 966–974 (2019). https://doi.org/10.1038/s42255-019-0115-y
Received:

Accepted:

Published:

Issue Date: