Dopamine is an important neurotransmitter with essential roles in movement control and salience, and implications in addiction as well as weight loss, decreased food intake and a reduced motivational drive to eat. Folgueira et al. now demonstrate that dopamine causes weight loss and increases brown adipose tissue temperature via activation of the dopamine receptor D2R in hypothalamic GABA-expressing neurons in mice, and treatment with the dopamine agonist cabergoline causes weight loss in humans.
Access options
Subscribe to Journal
Get full journal access for 1 year
$99.00
only $8.25 per issue
All prices are NET prices.
VAT will be added later in the checkout.
Rent or Buy article
Get time limited or full article access on ReadCube.
from$8.99
All prices are NET prices.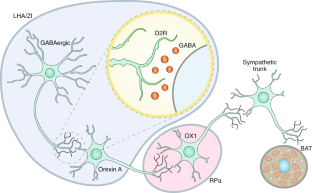 References
1.

Folgueira, C. et al. Nat. Metab. https://doi.org/10.1038/s42255-019-0099-7 (2019).

2.

Cerri, M. & Morrison, S. F. Neuroscience 135, 627–638 (2005).

3.

Tupone, D., Madden, C. J., Cano, G. & Morrison, S. F. J. Neurosci. 31, 15944–15955 (2011).

4.

Martins, L. et al. Cell Rep. 16, 2231–2242 (2016).

5.

Zhang, X. & van den Pol, A. N. Science 356, 853–859 (2017).

6.

Davis, C. et al. Int. J. Neuropsychopharmacol. 15, 181–187 (2012).
Ethics declarations
Competing interests
The authors declare no competing interests.
About this article
Cite this article
Simonds, S.E., Cowley, M.A. Speed-dieting: dopamine agonists promote weight loss. Nat Metab 1, 851–852 (2019). https://doi.org/10.1038/s42255-019-0114-z