A multi-faceted translational study provides the first evidence that gut microbial conversion of lactate to propionate may enhance athletic performance during high-intensity endurance exercise.
Access options
Access options
Subscribe to Journal
Get full journal access for 1 year
$104.00
only $8.67 per issue
All prices are NET prices.
VAT will be added later in the checkout.
Rent or Buy article
Get time limited or full article access on ReadCube.
from$8.99
All prices are NET prices.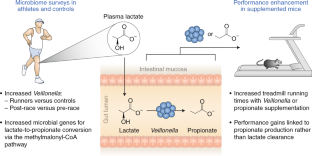 References
1.

Lynch, S. V. & Pedersen, O. N. Engl. J. Med. 375, 2369–2379 (2016).

2.

Scheiman, J. et al. Nat. Med. https://doi.org/10.1038/s41591-019-0485-4 (2019).

3.

Hui, S. et al. Nature 551, 115–118 (2017).

4.

Oner, M. D. & Erickson, L. E. Biotechnol. Bioeng. 28, 883–894 (1986).

5.

Jensen, T. L., Kiersgaard, M. K., Sørensen, D. B. & Mikkelsen, L. F. Lab. Anim. 47, 225–240 (2013).

6.

Ríos-Covián, D. et al. Front. Microbiol. 7, 185 (2016).

7.

Allen, J. M. et al. Med. Sci. Sports Exerc. 50, 747–757 (2018).

8.

Gilbert, J. A. et al. Nat. Med. 24, 392–400 (2018).
Ethics declarations
Competing interests
The authors declare no competing interests.