Many commonly used inbred mouse strains carry random mutations that can affect the results of metabolic studies. Yet, awareness of such mutations as a source for experimental variation and seemingly contradictory results is lacking. It is time that scientists pay more attention to the identification, tracking and accurate reporting of mouse strains used in experiments.
Access options
Subscribe to Journal
Get full journal access for 1 year
$104.00
only $8.67 per issue
All prices are NET prices.
VAT will be added later in the checkout.
Rent or Buy article
Get time limited or full article access on ReadCube.
from$8.99
All prices are NET prices.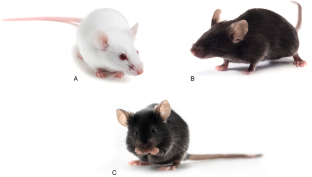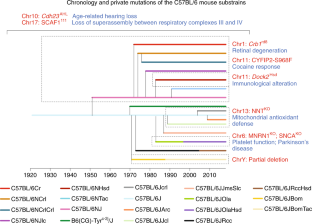 References
1.

Mouse Genome Sequencing Consortium et al. Nature 420, 520–562 (2002).

2.

Noben-Trauth, K., Zheng, Q. Y. & Johnson, K. R. Nat. Genet. 35, 21–23 (2003).

3.

Johnson, K. R., Zheng, Q. Y., Bykhovskaya, Y., Spirina, O. & Fischel-Ghodsian, N. Nat. Genet. 27, 191–194 (2001).

4.

Lapuente-Brun, E. et al. Science 340, 1567–1570 (2013).

5.

Cogliati, S. et al. Nature 539, 579–582 (2016).

6.

Mattapallil, M. J. et al. Invest. Ophthalmol. Vis. Sci. 53, 2921–2927 (2012).

7.

Kumar, V. et al. Science 342, 1508–1512 (2013).

8.

Mahajan, V. S. et al. Cell Rep. 15, 1901–1909 (2016).

9.

Fischer, M., Kosyakova, N., Liehr, T. & Dobrowolski, P. Mamm. Genome 28, 31–37 (2016).

10.

Specht, C. G. & Schoepfer, R. BMC Neurosci. 2, 11 (2001).

11.

Freeman, H. C., Hugill, A., Dear, N. T., Ashcroft, F. M. & Cox, R. D. Diabetes 55, 2153–2156 (2006).

12.

Picard, M. et al. Proc. Natl Acad. Sci. USA 112, E6614–E6623 (2015).

13.

Fan, W. et al. Science 319, 958–962 (2008).

14.

Simon, M. M. et al. Genome Biol. 14, R82 (2013).

15.

Mulligan, M. K. et al. Genes Brain Behav. 7, 677–689 (2008).

16.

Latorre-Pellicer, A. et al. Nature 535, 561–565 (2016).

17.

Kilkenny, C., Browne, W. J., Cuthill, I. C., Emerson, M. & Altman, D. G. PLoS Biol. 8, e1000412 (2010).

18.

Zurita, E. et al. Transgenic Res. 20, 481–489 (2010).
Acknowledgements
I would like to thank J. Fritsche for his inspiring effort to extend the awareness on the genetic variability in experimental mouse strains; and S. Cogliati, D. Sancho and V. Enriquez-Zarralanga for critical reading of the manuscript. My team's work is supported by MCIU; SAF2015-65633-R; CIBERFES (CB16/10/00282); and the HFSP (RGP0016/2018). The CNIC is supported by MCIU and Pro-CNIC Foundation and is a SO-MINECO (award SEV-2015-0505).
Ethics declarations
Competing interests
The author declares no competing interests.
About this article
Cite this article
Enríquez, J.A. Mind your mouse strain. Nat Metab 1, 5–7 (2019). https://doi.org/10.1038/s42255-018-0018-3
Further reading
Rafael A. Casuso

&

Jesús R. Huertas

Ageing Research Reviews (2020)

Villo Muha

,

Ritchie Williamson

,

Rachel Hills

,

Alison D. McNeilly

,

Thomas G. McWilliams

,

Jana Alonso

,

Marianne Schimpl

,

Aneika C. Leney

,

Albert J. R. Heck

,

Calum Sutherland

,

Kevin D. Read

,

Rory J. McCrimmon

,

Simon P. Brooks

&

Daan M. F. van Aalten

Open Biology (2019)

João Leandro

,

Sara Violante

,

Carmen A. Argmann

,

Jacob Hagen

,

Tetyana Dodatko

,

Aaron Bender

,

Wei Zhang

,

Evan G. Williams

,

Alexis M. Bachmann

,

Johan Auwerx

,

Chunli Yu

&

Sander M. Houten

Molecular Genetics and Metabolism (2019)