The construction of the International Thermonuclear Experimental Reactor (ITER), the world's largest nuclear fusion experiment, is now 60% complete. The challenges ahead are huge and the way to go is still long, but an extensive research effort is supporting the technological developments needed to make ITER a reality.
Access options
Subscribe to Journal
Get full journal access for 1 year
$104.00
only $8.67 per issue
All prices are NET prices.
VAT will be added later in the checkout.
Rent or Buy article
Get time limited or full article access on ReadCube.
from$8.99
All prices are NET prices.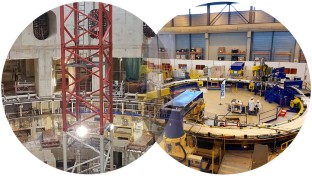 About this article
Cite this article
Pacchioni, G. The road to fusion. Nat Rev Phys 1, 360–362 (2019) doi:10.1038/s42254-019-0069-8