Access options
Subscribe to Nature+
Get immediate online access to the entire Nature family of 50+ journals
Subscribe to Journal
Get full journal access for 1 year
$119.00
only $9.92 per issue
All prices are NET prices.
VAT will be added later in the checkout.
Tax calculation will be finalised during checkout.
Buy article
Get time limited or full article access on ReadCube.
$32.00
All prices are NET prices.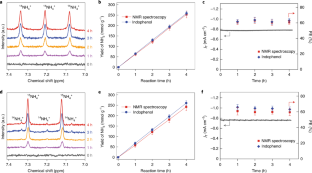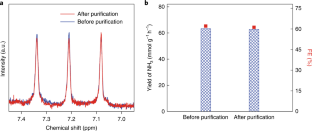 Data availability
Source data are provided with this paper. The data that support the findings of this study are available from the corresponding author upon reasonable request.
References
Hao, Y.-C. et al. Promoting nitrogen electroreduction to ammonia with bismuth nanocrystals and potassium cations in water. Nat. Catal. 2, 448–456 (2019).

Choi, J. et al. Reassessment of the catalytic activity of bismuth for aqueous nitrogen electroreduction. Nat. Catal. https://doi.org/10.1038/s41929-022-00785-4 (2022).

Montoya, J. H., Tsai, C., Vojvodic, A. & Nørskov, J. K. The challenge of electrochemical ammonia synthesis: a new perspective on the role of nitrogen scaling relations. ChemSusChem 8, 2180–2186 (2015).

van der Ham, C. J. M., Koper, M. T. M. & Hetterscheid, D. G. H. Challenges in reduction of dinitrogen by proton and electron transfer. Chem. Soc. Rev. 43, 5183–5191 (2014).

Nørskov, J. K., Bligaard, T., Rossmeisl, J. & Christensen, C. H. Towards the computational design of solid catalysts. Nat. Chem. 1, 37–46 (2009).

Zhou, L. N. et al. Quantifying hot carrier and thermal contributions in plasmonic photocatalysis. Science 362, 69–72 (2018).

Choi, J. et al. Identification and elimination of false positives in electrochemical nitrogen reduction studies. Nat. Commun. 11, 5546 (2020).

Liu, S. S. et al. Proton-filtering covalent organic frameworks with superior nitrogen penetration flux promote ambient ammonia synthesis. Nat. Catal. 4, 322–331 (2021).

Yao, D. Z. et al. In situ fragmented bismuth nanoparticles for electrocatalytic nitrogen reduction. Adv. Energy Mater. 10, 2001289 (2020).

Liu, Y. W., Li, C. Q., Guan, L. H., Li, K. & Lin, Y. Q. Oxygen vacancy regulation strategy promotes electrocatalytic nitrogen fixation by doping Bi into Ce-MOF-derived CeO2 nanorods. J. Phys. Chem. C 124, 18003–18009 (2020).

Wang, Y. et al. Generating defect-rich bismuth for enhancing the rate of nitrogen electroreduction to ammonia. Angew. Chem. Int. Ed. 58, 9464–9469 (2019).

Lin, Y. X. et al. Sulfur atomically doped bismuth nanobelt driven by electrochemical self-reconstruction for boosted electrocatalysis. J. Phys. Chem. Lett. 11, 1746–1752 (2020).

Li, L. Q. et al. Two-dimensional mosaic bismuth nanosheets for highly selective ambient electrocatalytic nitrogen reduction. ACS Catal. 9, 2902–2908 (2019).

Liu, Y. et al. Electrocatalytic production of ammonia: biomimetic electrode–electrolyte design for efficient electrocatalytic nitrogen fixation under ambient conditions. Appl. Catal. B 271, 118919 (2020).

Zhang, R. et al. Electrocatalytic N2-to-NH3 conversion with high Faradaic efficiency enabled using a Bi nanosheet array. Chem. Commun. 55, 5263–5266 (2019).

Wang, F. Y. et al. Bi nanodendrites for efficient electrocatalytic N2 fixation to NH3 under ambient conditions. Chem. Commun. 56, 2107–2110 (2020).

Qiu, Y. et al. Multi-yolk–shell bismuth@porous carbon as a highly efficient electrocatalyst for artificial N2 fixation under ambient conditions. Inorg. Chem. Front. 7, 2006–2016 (2020).

Xu, F. C. et al. Boron doping and high curvature in Bi nanorolls for promoting photoelectrochemical nitrogen fixation. Appl. Catal. B 284, 119689 (2021).

Jang, Y. J. et al. A comparative study of Bi, Sb, and BiSb for electrochemical nitrogen reduction leading to a new catalyst design strategy. J. Mater. Chem. A 9, 20453–20465 (2021).
Acknowledgements
We thank the Analytical and Testing Center of BIT for technical support. We acknowledge the financial support from the National Natural Science Foundation of China (no. 21971012), the Beijing Municipal Natural Science Foundation (JQ20007) and the Beijing Institute of Technology Research Fund Program for Young Scholars.
Ethics declarations
Competing interests
The authors declare no competing interests.
Peer review
Peer review information
Nature Catalysis thanks the anonymous reviewers for their contribution to the peer review of this work.
Additional information
Publisher's note Springer Nature remains neutral with regard to jurisdictional claims in published maps and institutional affiliations.
Supplementary information
About this article
Cite this article
Hao, YC., Chen, LW. & Yin, AX. Reply to: Reassessment of the catalytic activity of bismuth for aqueous nitrogen electroreduction. Nat Catal 5, 385–387 (2022). https://doi.org/10.1038/s41929-022-00786-3
Received:

Accepted:

Published:

Issue Date:

DOI: https://doi.org/10.1038/s41929-022-00786-3