Abstract
Biological CO2 fixation is so far the most effective means for CO2 reduction at scale and accounts for most of the CO2 fixed on Earth. Through this process, carbon is fixed in cellular components and biomass during organismal growth. To uncouple CO2 fixation from growth and cellular regulation, cell-free CO2 fixation systems represent an alternative approach since the rate can be independently manipulated. Here we designed an oxygen-insensitive, self-replenishing CO2 fixation system with opto-sensing. The system comprises a synthetic reductive glyoxylate and pyruvate synthesis (rGPS) cycle and the malyl-CoA-glycerate (MCG) pathway to produce acetyl-coenzyme A (CoA), pyruvate and malate from CO2, which are also intermediates in the cycle. We solved various problems associated with the in vitro system, and implemented opto-sensing modules to control the regeneration of cofactors. We accomplished sustained operation for 6 hours with a CO2-fixing rate comparable to or greater than typical CO2 fixation rates of photosynthetic or lithoautotrophic organisms.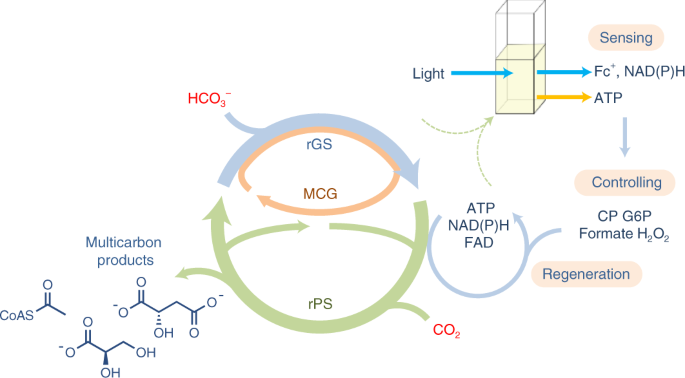 Data availability
The data that support the plots within this paper and other findings of this study are available from the corresponding author on reasonable request.
References
Friedlingstein, P. et al. Global carbon budget 2020. Earth Syst. Sci. Data 12, 3269–3340 (2020).

Guterres, A. United Nations Secretary-General. Carbon Neutrality by 2050: The World's Most Urgent Mission (United Nations, 2020); https://www.un.org/sg/en/content/sg/articles/2020-12-11/carbon-neutrality-2050-the-world%E2%80%99s-most-urgent-mission

Magliery, T. J. Protein stability: computation, sequence statistics, and new experimental methods. Curr. Opin. Struct. Biol. 33, 161–168 (2015).

Chandler, P. G. et al. in Protein Nanotechnology: Protocols, Instrumentation, and Applications 163–181 (Methods in Molecular Biology series no. 300) (Springer, 2005).

Lerma-Ortiz, C. et al. 'Nothing of chemistry disappears in biology': the top 30 damage-prone endogenous metabolites. Biochem. Soc. Trans. 44, 961–971 (2016).

Wagner, G. R. et al. A class of reactive acyl-CoA species reveals the non-enzymatic origins of protein acylation. Cell. Metab. 25, 823–837.e8 (2017).

Shi, T., Han, P., You, C. & Zhang, Y.-H. P. J. An in vitro synthetic biology platform for emerging industrial biomanufacturing: bottom-up pathway design. Synth. Syst. Biotechnol. 3, 186–195 (2018).

Barenholz, U. et al. Design principles of autocatalytic cycles constrain enzyme kinetics and force low substrate saturation at flux branch points. eLife 6, e20667 (2017).

Braakman, R. & Smith, E. The emergence and early evolution of biological carbon-fixation. PLoS Comput. Biol. 8, e1002455 (2012).

Sánchez-Andrea, I. et al. The reductive glycine pathway allows autotrophic growth of Desulfovibrio desulfuricans. Nat. Commun. 11, 5090 (2020).

Fuchs, G. Alternative pathways of carbon dioxide fixation: insights into the early evolution of life? Annu. Rev. Microbiol. 65, 631–658 (2011).

Ganti, T., Szathmary, E. & Griesemer, J. The Principles of Life (Oxford Univ. Press, 2003).

Erb, T. J. Carboxylases in natural and synthetic microbial pathways. Appl. Environ. Microbiol. 77, 8466–8477 (2011).

Erb, T. J. & Zarzycki, J. A short history of RubisCO: the rise and fall (?) of nature's predominant CO2 fixing 2 enzyme. Curr. Opin. Biotechnol. 49, 100–107 (2018).

Chabrière, E. et al. Crystal structures of the key anaerobic enzyme pyruvate:ferredoxin oxidoreductase, free and in complex with pyruvate. Nat. Struct. Mol. Biol. 6, 182–190 (1999).

Izui, K., Matsumura, H., Furumoto, T. & Kai, Y. Phosphoenolpyruvate carboxylase: a new era of structural biology. Annu. Rev. Plant Biol. 55, 69–84 (2004).

Bar-Even, A., Noor, E., Lewis, N. E. & Milo, R. Design and analysis of synthetic carbon fixation pathways. Proc. Natl Acad. Sci. USA 107, 8889–8894 (2010).

Mainguet, S. E., Gronenberg, L. S., Wong, S. S. & Liao, J. C. A reverse glyoxylate shunt to build a non-native route from C4 to C2 in Escherichia coli. Metab. Eng. 19, 116–127 (2013).

Yu, H., Li, X., Duchoud, F., Chuang, D. S. & Liao, J. C. Augmenting the Calvin–Benson–Bassham cycle by a synthetic malyl-CoA-glycerate carbon fixation pathway. Nat. Commun. 9, 2008 (2018).

Erb, T. J. et al. Synthesis of C5-dicarboxylic acids from C2-units involving crotonyl-CoA carboxylase/reductase: the ethylmalonyl-CoA pathway. Proc. Natl Acad. Sci. USA 104, 10631–10636 (2007).

Schwander, T., Schada von Borzyskowski, L., Burgener, S., Cortina, N. S. & Erb, T. J. A synthetic pathway for the fixation of carbon dioxide in vitro. Science 354, 900–904 (2016).

Zarzycki, J., Brecht, V., Müller, M. & Fuchs, G. Identifying the missing steps of the autotrophic 3-hydroxypropionate CO2 fixation cycle in Chloroflexus aurantiacus. Proc. Natl Acad. Sci. USA 106, 21317–21322 (2009).

Löwe, H. & Kremling, A. In-depth computational analysis of natural and artificial carbon fixation pathways. Bio-Des. Manuf. https://doi.org/10.34133/2021/9898316 (2021).

Buckel, W. & Thauer, R. K. Energy conservation via electron bifurcating ferredoxin reduction and proton/Na+ translocating ferredoxin oxidation. Biochim. Biophys. Acta - Bioenerg. 1827, 94–113 (2013).

Lenn, N. D., Stankovich, M. T. & Liu, H. W. Regulation of the redox potential of general acyl-CoA dehydrogenase by substrate binding. Biochemistry 29, 3709–3715 (1990).

Buckel, W. & Thauer, R. K. Flavin-based electron bifurcation, ferredoxin, flavodoxin, and anaerobic respiration with protons (Ech) or NAD+ (Rnf) as electron acceptors: a historical review. Front. Microbiol. 9, 401 (2018).

Noor, E. et al. Pathway thermodynamics highlights kinetic obstacles in central metabolism. PLoS Comput. Biol. 10, e1003483 (2014).

Noor, E., Haraldsdóttir, H. S., Milo, R. & Fleming, R. M. T. Consistent estimation of Gibbs energy using component contributions. PLoS Comput. Biol. 9, e1003098 (2013).

Shen, C. R. et al. Driving forces enable high-titer anaerobic 1-butanol synthesis in Escherichia coli. Appl. Environ. Microbiol. 77, 2905–2915 (2011).

Kortmann, M., Baumgart, M. & Bott, M. Pyruvate carboxylase from Corynebacterium glutamicum: purification and characterization. Appl. Microbiol. Biotechnol. 103, 6571–6580 (2019).

Berman, K. M. & Cohn, M. Phosphoenolpyruvate synthetase of Escherichia coli. Purification, some properties, and the role of divalent metal ions. J. Biol. Chem. 245, 5309–5318 (1970).

Kai, Y. et al. Three-dimensional structure of phosphoenolpyruvate carboxylase: a proposed mechanism for allosteric inhibition. Proc. Natl Acad. Sci. USA 96, 823–828 (1999).

Inkpen, M. S. et al. Non-chemisorbed gold–sulfur binding prevails in self-assembled monolayers. Nat. Chem. 11, 351–358 (2019).

Lin, P. P. et al. Construction and evolution of an Escherichia coli strain relying on nonoxidative glycolysis for sugar catabolism. Proc. Natl Acad. Sci. USA 115, 3538–3546 (2018).

Gong, F. et al. Quantitative analysis of an engineered CO2-fixing Escherichia coli reveals great potential of heterotrophic CO2 fixation. Biotechnol. Biofuels 8, 86 (2015).

Shabestary, K. et al. Targeted repression of essential genes to arrest growth and increase carbon partitioning and biofuel titers in Cyanobacteria. ACS Synth. Biol. 7, 1669–1675 (2018).

Jahn, M. et al. Growth of Cyanobacteria is constrained by the abundance of light and carbon assimilation proteins. Cell Rep. 25, 478–486.e8 (2018).
Acknowledgements
This work was supported by Sustainability Science Research Program from Academia Sinica (grant nos. AS-SS-109-07 and AS-SS-110-03). We thank S. Sheng-Fa Yu, M. Ming-Hsi Chiang, T. Natarajan, J. Yu-Chiao Liu and K.-T. Chu for scientific discussions. We thank M.-C. Tseng from Institute of Chemistry, Academia Sinica, for helping with identifying the low solubility problem of Fc. We thank S.-Y. Lin and Y.-Y. Chen from the Common Mass Spectrometry Facilities (Academia Sinica) for the discussions about protein stability and modification. We thank H. Yu for solving the expression problem of Mtk. We thank H.-W. Jung, D.N. Streuli, Y.-C. Chiang, J.-Y. Huang, Y.-T. Lai, H. Sebastian and I.C. Lam for helping with protein purifications. We thank B. Wang for helping with the electrochemistry system at UCLA.
Ethics declarations
Competing interests
The authors declare no competing interests.
Peer review
Peer review information
Nature Catalysis thanks Steffen N. Lindner and the other, anonymous, reviewer(s) for their contribution to the peer review of this work.
Additional information
Publisher's note Springer Nature remains neutral with regard to jurisdictional claims in published maps and institutional affiliations.
Supplementary information
Supplementary Methods, Figs. 1–30, Tables 1–7, Notes 1 and 2 and References.
Rights and permissions
Open Access This article is licensed under a Creative Commons Attribution 4.0 International License, which permits use, sharing, adaptation, distribution and reproduction in any medium or format, as long as you give appropriate credit to the original author(s) and the source, provide a link to the Creative Commons license, and indicate if changes were made. The images or other third party material in this article are included in the article's Creative Commons license, unless indicated otherwise in a credit line to the material. If material is not included in the article's Creative Commons license and your intended use is not permitted by statutory regulation or exceeds the permitted use, you will need to obtain permission directly from the copyright holder. To view a copy of this license, visit http://creativecommons.org/licenses/by/4.0/.
About this article
Cite this article
Luo, S., Lin, P.P., Nieh, LY. et al. A cell-free self-replenishing CO2-fixing system. Nat Catal 5, 154–162 (2022). https://doi.org/10.1038/s41929-022-00746-x
Received:

Accepted:

Published:

Issue Date:

DOI: https://doi.org/10.1038/s41929-022-00746-x
Further reading
Jian Zhang
Liang Guo
Xiulai Chen

Systems Microbiology and Biomanufacturing (2022)