Polyamines are a growing class of medically and agriculturally active biomolecules that have traditionally been difficult to source. Now, a bio-based platform for high-level production of diverse polyamines has been realized, showing the versatility of biocatalysis and the utility of conceptualizing metabolism as distinct modules.
Access options
Subscribe to Journal
Get full journal access for 1 year
$99.00
only $8.25 per issue
All prices are NET prices.
VAT will be added later in the checkout.
Tax calculation will be finalised during checkout.
Rent or Buy article
Get time limited or full article access on ReadCube.
from$8.99
All prices are NET prices.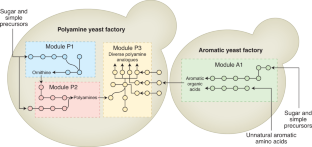 References
1.

Handa, A. K., Fatima, T. & Mattoo, A. K. Front. Chem. 6, 10 (2018).

2.

Qin, J. et al. Nat. Catal. https://doi.org/10.1038/s41929-021-00631-z (2021).

3.

Qin, J. et al. Nat. Commun. 6, 8224 (2015).

4.

Li, L. et al. ACS Sustain. Chem. Eng. 8, 2147–2157 (2020).

5.

Atsumi, S., Hanai, T. & Liao, J. C. Nature 451, 86–89 (2008).

6.

Ajikumar, P. K. et al. Science 330, 70–74 (2010).

7.

Li, Y. et al. Proc. Natl Acad. Sci. USA 115, E3922–E3931 (2018).

8.

Yang, J. E. et al. Nat. Commun. 9, 79 (2018).
Ethics declarations
Competing interests
The authors declare no competing interests.
About this article
Cite this article
Reed, K.B., Alper, H.S. Modular biocatalysis for polyamines. Nat Catal 4, 449–450 (2021). https://doi.org/10.1038/s41929-021-00636-8