Creating enzymes with new capabilities is a key goal for synthetic biology and sustainable chemistry. Now, computational approaches have been used to quickly achieve leaps in enzyme function, providing a versatile platform for biocatalytic hydroamination.
Access options
Subscribe to Journal
Get full journal access for 1 year
$99.00
only $8.25 per issue
All prices are NET prices.
VAT will be added later in the checkout.
Tax calculation will be finalised during checkout.
Rent or Buy article
Get time limited or full article access on ReadCube.
from$8.99
All prices are NET prices.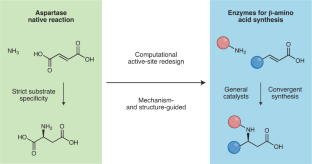 References
1.

Cui, Y. et al. Nat. Catal. https://doi.org/10.1038/s41929-021-00604-2 (2021)

2.

Parmeggiani, F., Weise, N. J., Ahmed, S. T. & Turner, N. J. Chem. Rev. 118, 73–118 (2018).

3.

Weiner, B., Szymański, W., Janssen, D. B., Minnaard, A. J. & Feringa, B. L. Chem. Soc. Rev. 39, 1656–1691 (2010).

4.

Vogel, A., Schmiedel, R., Hofmann, U., Gruber, K. & Zangger, K. ChemCatChem 6, 965–968 (2014).

5.

Li, R. et al. Nat. Chem. Biol. 14, 664–670 (2018).

6.

Kiss, G., Çelebi-Ölçüm, N., Moretti, R., Baker, D. & Houk, K. N. Angew. Chem. Int. Ed. 52, 5700–5725 (2013).

7.

Khare, S. D. et al. Nat. Chem. Biol. 8, 294–300 (2012).

8.

Hardegger, L. A. et al. Org. Process Res. Dev. 24, 1763–1771 (2020).
Ethics declarations
Competing interests
The author declares no competing interests.
About this article
Cite this article
Prier, C.K. Enzymes for amino acid synthesis by design. Nat Catal 4, 348–349 (2021). https://doi.org/10.1038/s41929-021-00622-0