Polyketide synthases are multi-domain enzymes that catalyse the construction of many bioactive natural products. Now, some of the inefficiencies and limitations of these systems have been solved by designing an artificial pathway for carbon–carbon bond formation via iterative rounds of non-decarboxylative thio-Claisen reactions.
Access options
Subscribe to Journal
Get full journal access for 1 year
$99.00
only $8.25 per issue
All prices are NET prices.
VAT will be added later in the checkout.
Tax calculation will be finalised during checkout.
Rent or Buy article
Get time limited or full article access on ReadCube.
from$8.99
All prices are NET prices.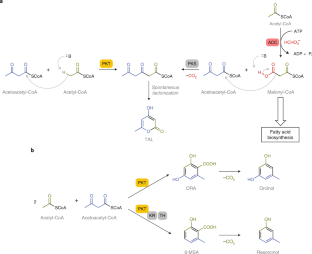 References
1.

Kalkreuter, E. & Williams, G. J. Curr. Opin. Microbiol. 45, 140–148 (2018).

2.

Wu, X. & Huang, T. Future Med. Chem. 12, 533–561 (2020).

3.

Tan, Z., Clomburg, J. M., Cheong, S., Qian, S. & Gonzalez, R. Nat. Catal. https://doi.org/10.1038/s41929-020-0471-8 (2020).

4.

Haapalainen, A. M., Gitte, M. & Rik, K. W. Trends Biochem. Sci. 31, 64–71 (2006).

5.

Tang, S. et al. J. Am. Chem. Soc. 135, 10099–10103 (2013).

6.

Kalkreuter, E., CroweTipton, J. M., Lowell, A. N., Sherman, D. H. & Williams, G. J. J. Am. Chem. Soc. 141, 1961–1969 (2019).

7.

Bonk, B. M., Tarasova, Y., Hicks, M. A., Tidor, B. & Prather, K. L. J. Biotechnol. Bioeng. 115, 2167–2182 (2018).

8.

Blaisse, M. R., Fu, B. & Chang, M. C. Y. Biochemistry 57, 3155–3166 (2018).
Ethics declarations
Competing Interests
The authors declare no competing interests.
About this article
Cite this article
Gayen, A.K., Nichols, L. & Williams, G.J. An artificial pathway for polyketide biosynthesis. Nat Catal 3, 536–538 (2020). https://doi.org/10.1038/s41929-020-0483-4