Abstract
Polyketides found in nature originate from backbones synthesized through iterative decarboxylative Claisen condensations catalysed by polyketide synthases (PKSs). However, PKSs suffer from complicated architecture, energy inefficiencies, complex regulation, and competition with essential metabolic pathways for extender unit malonyl-CoA, all combining to limit the flux of polyketide biosynthesis. Here we show that certain thiolases, which we term polyketoacyl-CoA thiolases (PKTs), catalyse polyketide backbone formation via iterative non-decarboxylative Claisen condensations, hence offering a synthetic and efficient alternative to PKSs. We show that PKTs can synthesize polyketide backbones for representative lactone, alkylresorcinolic acid, alkylresorcinol, hydroxybenzoic acid and alkylphenol polyketide families, and elucidate the basic catalytic mechanism and structural features enabling this previously unknown activity. PKT-catalysed reactions offer a route to polyketide formation that leverages the simple architecture of thiolases to achieve higher ATP efficiencies and reduced competition with essential metabolic pathways, all of which circumvent intrinsic inefficiencies of PKSs for polyketide product synthesis.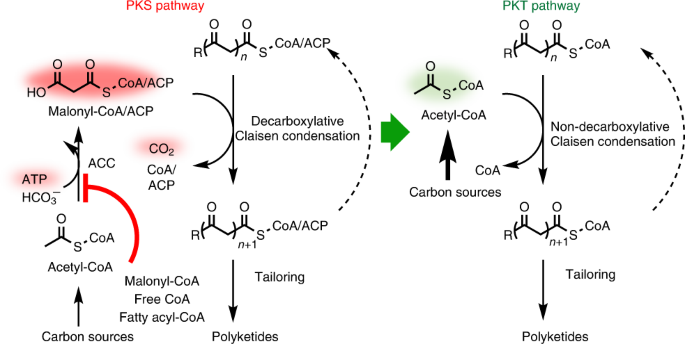 Access options
Access Nature and 54 other Nature Portfolio journals
Get Nature+, our best-value online-access subscription
$29.99 per month
cancel any time
Subscribe to this journal
Receive 12 digital issues and online access to articles
$119.00 per year
only $9.92 per issue
Rent or buy this article
Get just this article for as long as you need it
$39.95
Prices may be subject to local taxes which are calculated during checkout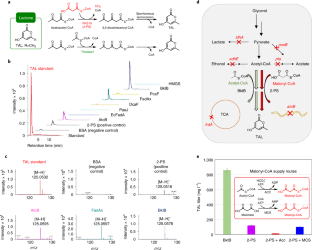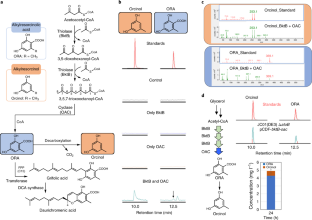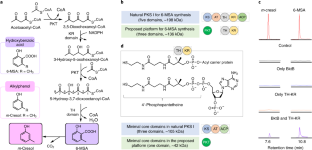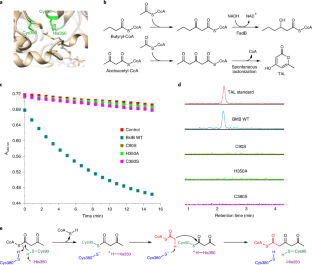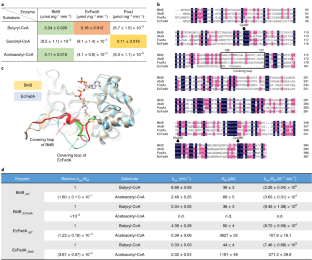 Data availability
The authors declare that data supporting the findings of this study are available within the paper and its Supplementary Information. Supplementary Table 3 provides a list of the GenBank accession numbers of the 17 key enzymes used in this study. Data for Figs. 1–6 and Extended Data Fig. 6 are available as Source Data with this paper. All other data are available from the authors on reasonable request.
References
Hertweck, C. The biosynthetic logic of polyketide diversity. Angew. Chem. 48, 4688–4716 (2009).

Ma, S. M. et al. Complete reconstitution of a highly reducing iterative polyketide synthase. Science 326, 589–592 (2009).

Yu, D. Y., Xu, F. C., Zeng, J. & Zhan, J. X. Type III polyketide synthases in natural product biosynthesis. IUBMB Life 64, 285–295 (2012).

Bond, C., Tang, Y. & Li, L. Saccharomyces cerevisiae as a tool for mining, studying and engineering fungal polyketide synthases. Fungal Genet. Biol. 89, 52–61 (2016).

Staunton, J. & Weissman, K. J. Polyketide biosynthesis: a millennium review. Nat. Prod. Rep. 18, 380–416 (2001).

Shen, B. Polyketide biosynthesis beyond the type I, II and III polyketide synthase paradigms. Curr. Opin. Chem. Biol. 7, 285–295 (2003).

Huo, L. et al. Heterologous expression of bacterial natural product biosynthetic pathways. Nat. Prod. Rep. 36, 1412–1436 (2019).

Pfeifer, B. A. & Khosla, C. Biosynthesis of polyketides in heterologous hosts. Microbiol. Mol. Biol. Rev. 65, 106–118 (2001).

Lowry, B. et al. In vitro reconstitution and analysis of the 6-deoxyerythronolide B synthase. J. Am. Chem. Soc. 135, 16809–16812 (2013).

Chan, Y. A., Podevels, A. M., Kevany, B. M. & Thomas, M. G. Biosynthesis of polyketide synthase extender units. Nat. Prod. Rep. 26, 90–114 (2009).

Brownsey, R., Boone, A., Elliott, J., Kulpa, J. & Lee, W. Regulation of acetyl-CoA carboxylase. Biochem. Soc. Trans. 34, 223–227 (2006).

Yan, D. et al. Repurposing type III polyketide synthase as a malonyl-CoA biosensor for metabolic engineering in bacteria. Proc. Natl Acad. Sci. USA 115, 9835–9844 (2018).

Keatinge-Clay, A. T. The structures of type I polyketide synthases. Nat. Prod. Rep. 29, 1050–1073 (2012).

Jiang, C., Kim, S. Y. & Suh, D. Y. Divergent evolution of the thiolase superfamily and chalcone synthase family. Mol. Phylogenetetics Evol. 49, 691–701 (2008).

Austin, M. B. & Noel, A. J. P. The chalcone synthase superfamily of type III polyketide synthases. Nat. Prod. Rep. 20, 79–110 (2003).

Haapalainen, A. M., Merilainen, G. & Wierenga, R. K. The thiolase superfamily: condensing enzymes with diverse reaction specificities. Trends Biochem. Sci. 31, 64–71 (2006).

Tang, S. Y. et al. Screening for enhanced triacetic acid lactone production by recombinant Escherichia coli expressing a designed triacetic acid lactone reporter. J. Am. Chem. Soc. 135, 10099–10103 (2013).

Campobasso, N. et al. Staphylococcus aureus 3-hydroxy-3-methylglutaryl-CoA synthase: crystal structure and mechanism. J. Biol. Chem. 279, 44883–44888 (2004).

Duncombe, G. R. & Frerman, F. E. Molecular and catalytic properties of the acetoacetyl-coenzyme A thiolase of Escherichia coli. Arch. Biochem. Biophys. 176, 159–170 (1976).

Yang, S. Y., Yang, X. Y. H., Healylouie, G., Schulz, H. & Elzinga, M. Nucleotide-sequence of the fadA Gene—primary structure of 3-ketoacyl-coenzyme-A thiolase from Escherichia coli and the structural organization of the fadAB operon. J. Biol. Chem. 265, 10424–10429 (1990).

Teufel, R. et al. Bacterial phenylalanine and phenylacetate catabolic pathway revealed. Proc. Natl Acad. Sci. USA 107, 14390–14395 (2010).

Harwood, C. S., Nichols, N. N., Kim, M. K., Ditty, J. L. & Parales, R. E. Identification of the pcaRKF gene cluster from Pseudomonas putida: involvement in chemotaxis, biodegradation, and transport of 4-hydroxybenzoate. J. Bacteriol. 176, 6479–6488 (1994).

Cheong, S., Clomburg, J. M. & Gonzalez, R. Energy- and carbon-efficient synthesis of functionalized small molecules in bacteria using non-decarboxylative Claisen condensation reactions. Nat. Biotechnol. 34, 556–561 (2016).

Parke, D., Garcia, M. A. & Ornston, L. N. Cloning and genetic characterization of dca genes required for β-oxidation of straight-chain dicarboxylic acids in Acinetobacter sp. strain ADP1. Appl. Environ. Microbiol. 67, 4817–4827 (2001).

Slater, S. et al. Multiple β-ketothiolases mediate poly(β-hydroxyalkanoate) copolymer synthesis in Ralstonia eutropha. J. Bacteriol. 180, 1979–1987 (1998).

Shanks, B. H. & Keeling, P. L. Bioprivileged molecules: creating value from biomass. Green. Chem. 19, 3177–3185 (2017).

Noor, E. et al. Pathway thermodynamics highlights kinetic obstacles in central metabolism. PLoS Comput. Biol. 10, e1003483 (2014).

Xie, D. et al. Microbial synthesis of triacetic acid lactone. Biotechnol. Bioeng. 93, 727–736 (2006).

Johnson, A. O. et al. Design and application of genetically-encoded malonyl-CoA biosensors for metabolic engineering of microbial cell factories. Metab. Eng. 44, 253–264 (2017).

Qian, S., Clomburg, J. M. & Gonzalez, R. Engineering Escherichia coli as a platform for the in vivo synthesis of prenylated aromatics. Biotechnol. Bioeng. 116, 1116–1127 (2019).

Collie, N. & Myers, W. V. I. I. The formation of orcinol and other condensation products from dehydracetic acid. J. Chem. Soc. Trans. 63, 122–128 (1893).

Gagne, S. J. et al. Identification of olivetolic acid cyclase from Cannabis sativa reveals a unique catalytic route to plant polyketides. Proc. Natl Acad. Sci. USA 109, 12811–12816 (2012).

Tan, Z., Clomburg, J. M. & Gonzalez, R. Synthetic pathway for the production of olivetolic acid in Escherichia coli. ACS Synth. Biol. 7, 1886–1896 (2018).

Lim, Y. P., Go, M. K. & Yew, W. S. Exploiting the biosynthetic potential of type III polyketide synthases. Molecules 21, 806 (2016).

Zhou, W. et al. Biosynthesis of phlorisovalerophenone and 4-hydroxy-6-isobutyl-2-pyrone in Escherichia coli from glucose. Microb. Cell Fact. 15, 149 (2016).

Huang, L., Xue, Z. & Zhu, Q. Method for the production of resveratrol in a recombinant bacterial host cell. US patent WO2006124999A2 (2007).

Choi, O. et al. Biosynthesis of plant-specific phenylpropanoids by construction of an artificial biosynthetic pathway in Escherichia coli. J. Ind. Microbiol. Biotechnol. 38, 1657–1665 (2011).

Mizuuchi, Y. et al. Novel type III polyketide synthases from Aloe arborescens. FEBS J. 276, 2391–2401 (2009).

Fujii, I. Functional analysis of fungal polyketide biosynthesis genes. J. Antibiot. 63, 207–218 (2010).

Moriguchi, T., Kezuka, Y., Nonaka, T., Ebizuka, Y. & Fujii, I. Hidden function of catalytic domain in 6-methylsalicylic acid synthase for product release. J. Biol. Chem. 285, 15637–15643 (2010).

Sabatini, M. et al. Biochemical characterization of the minimal domains of an iterative eukaryotic polyketide synthase. FEBS J. 285, 4494–4511 (2018).

Crawford, J. M. et al. Structural basis for biosynthetic programming of fungal aromatic polyketide cyclization. Nature 461, 1139–1243 (2009).

Shen, B. & Hutchinson, C. R. Deciphering the mechanism for the assembly of aromatic polyketides by a bacterial polyketide synthase. Proc. Natl Acad. Sci. USA 93, 6600–6604 (1996).

Kim, E. J., Son, H. F., Kim, S., Ahn, J. W. & Kim, K. J. Crystal structure and biochemical characterization of β-keto thiolase B from polyhydroxyalkanoate-producing bacterium Ralstonia eutropha H16. Biochem. Biophys. Res. Commun. 444, 365–369 (2014).

Jez, J. M. et al. Structural control of polyketide formation in plant-specific polyketide synthases. Chem. Biol. 7, 919–930 (2000).

Blaisse, M. R., Fu, B. & Chang, M. C. Y. Structural and biochemical studies of substrate selectivity in Ascaris suum thiolases. Biochemistry 57, 3155–3166 (2018).

Clomburg, J. M. et al. Integrated engineering of β-oxidation reversal and ω-oxidation pathways for the synthesis of medium chain omega-functionalized carboxylic acids. Metab. Eng. 28, 202–212 (2015).

Dellomonaco, C., Clomburg, J. M., Miller, E. N. & Gonzalez, R. Engineered reversal of the β-oxidation cycle for the synthesis of fuels and chemicals. Nature 476, 355–359 (2011).

Kim, S., Clomburg, J. M. & Gonzalez, R. Synthesis of medium-chain length (C6-C10) fuels and chemicals via β-oxidation reversal in Escherichia coli. J. Ind. Microbiol. Biotechnol. 42, 465–475 (2015).

Krivoruchko, A., Zhang, Y., Siewers, V., Chen, Y. & Nielsen, J. Microbial acetyl-CoA metabolism and metabolic engineering. Metab. Eng. 28, 28–42 (2015).
Acknowledgements
We thank C. Pennington at Rice University for assistance with LC–MS analysis.
Ethics declarations
Competing interests
The authors have filed a patent application (US patent application no. PCT/US2016/045037).
Additional information
Publisher's note Springer Nature remains neutral with regard to jurisdictional claims in published maps and institutional affiliations.
Supplementary information
Supplementary Tables 1–4.
About this article
Cite this article
Tan, Z., Clomburg, J.M., Cheong, S. et al. A polyketoacyl-CoA thiolase-dependent pathway for the synthesis of polyketide backbones. Nat Catal 3, 593–603 (2020). https://doi.org/10.1038/s41929-020-0471-8
Received:

Accepted:

Published:

Issue Date:

DOI: https://doi.org/10.1038/s41929-020-0471-8
This article is cited by
S. Sreeja
M. R. Shylaja
Deepu Mathew

Journal of Plant Biochemistry and Biotechnology (2023)

Christian Schnepel
Laura Rodríguez Pérez
Sabine L. Flitsch

Nature Catalysis (2022)

Anuran K. Gayen
Lindsay Nichols
Gavin J. Williams

Nature Catalysis (2020)