Abstract
The asymmetric O-alkylation of secondary aliphatic alcohols remains a substantial challenge in chemistry. Such a challenge largely stems from the steric demand of each reactant, in addition to the relatively low nucleophilicity of alcohols. Here, we report the development of a base-free, Cu-catalysed propargylic substitution reaction that enables the efficient, asymmetric O-propargylation of secondary aliphatic alcohols. Mechanistic studies implied key factors to slow down the undesired decomposition process of electrophiles in this reaction, which opened up the possibility of using secondary aliphatic alcohols as nucleophilic substrates. This asymmetric O-alkylation reaction proceeds under almost neutral conditions, tolerates a broad scope of functional groups and shows remarkable chemoselectivities. This method is amenable to the modification of natural products and commercial drugs. The products obtained could be readily elaborated to various classes of enantioenriched α,α′-disubstituted ethers that are difficult to access by other methods.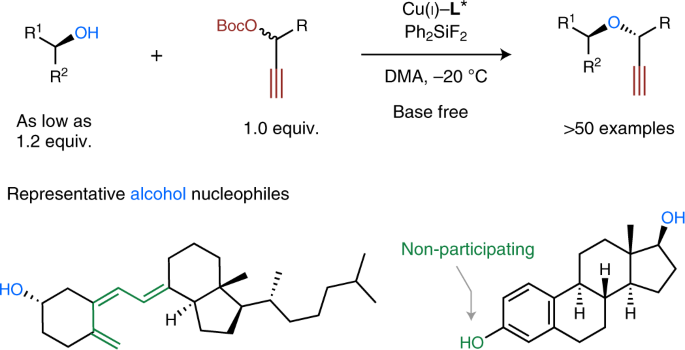 Relevant articles
Open Access articles citing this article.
Xuelun Duan

,

Nan Zheng

…

Wangze Song

Nature Communications Open Access 27 July 2022

Xiang Pu

,

Qiu-Di Dang

…

Dawen Niu

Nature Communications Open Access 04 May 2022

Malla Reddy Gannarapu

,

Takanori Imai

…

Norio Shibata

Communications Chemistry Open Access 18 November 2021
Access options
Subscribe to Nature+
Get immediate online access to the entire Nature family of 50+ journals
Subscribe to Journal
Get full journal access for 1 year
$119.00
only $9.92 per issue
All prices are NET prices.
VAT will be added later in the checkout.
Tax calculation will be finalised during checkout.
Buy article
Get time limited or full article access on ReadCube.
$32.00
All prices are NET prices.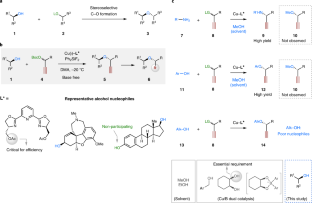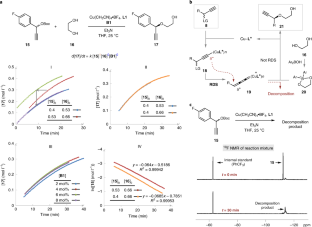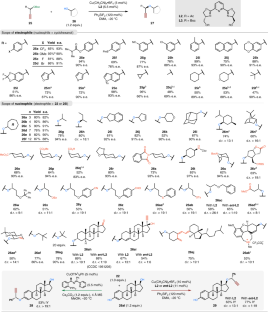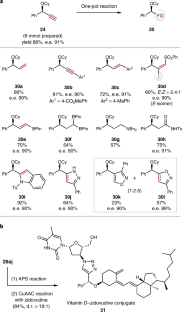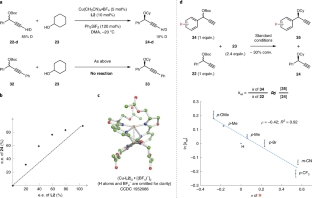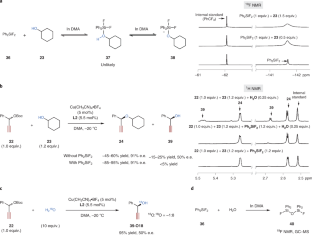 Data availability
The data supporting the findings of this study are available within the manuscript and its Supplementary Information file. Experimental details and full spectroscopic characterization data for all new compounds, as well as copies of NMR spectra, are provided in the Supplementary Information. Crystallographic data relating to this study have been deposited in the Cambridge Crystallographic Data Centre (CCDC) database under deposition numbers 1951205 and 1952086. These data can be obtained free of charge from the CCDC via www.ccdc.cam.ac.uk/data_request/cif.
References
Brown, W. H., Iverson, B. L., Anslyn, E. V. & Foote, C. S. Organic Chemistry 7th edn Ch. 11 (Cengage, 2013).

Williamson, A. W. XXII.—On etherification. J. Chem. Soc. 106, 229–239 (1852).

Xiang, J. et al. Hindered dialkyl ether synthesis with electrogenerated carbocations. Nature 573, 398–402 (2019).

Trost, B. M., McEachern, E. J. & Toste, D. F. A two-component catalyst system for asymmetric allylic alkylations with alcohol pronucleophiles. J. Am. Chem. Soc. 120, 12702–12703 (1998).

Xie, J., Guo, W., Cai, A., Escudero-Adán, E. C. & Kleij, A. W. Pd-catalyzed enantio- and regioselective formation of allylic aryl ethers. Org. Lett. 19, 6388–6391 (2017).

Liu, W.-B., Xia, J.-B. & You, S.-L. Iridium-catalyzed asymmetric allylic substitutions. Top. Organomet. Chem. 38, 155–207 (2012).

Trost, B. M., Zhang, T. & Sieber, J. D. Catalytic asymmetric allylic alkylation employing heteroatom nucleophiles: a powerful method for C–X bond formation. Chem. Sci. 1, 427–440 (2010).

Shu, C. & Hartwig, J. F. Iridium-catalyzed intermolecular allylic etherification aliphatic alkoxides: asymmetric synthesis of dihydropyrans and dihydrofurans. Angew. Chem. Int. Ed. 43, 4794–4797 (2004).

Ueno, S. & Hartwig, J. F. Direct, iridium-catalyzed enantioselective and regioselective allylic etherification with aliphatic alcohols. Angew. Chem. Int. Ed. 47, 1928–1931 (2008).

Barker, G., Johnson, D. G., Young, P. C., Macgregor, S. A. & Lee, A. L. Chirality transfer in gold(i)-catalysed direct allylic etherifications of unactivated alcohols: experimental and computational study. Chem. Eur. J. 21, 13748–13757 (2015).

Liu, Z. & Breit, B. Rhodium‐catalyzed enantioselective intermolecular hydroalkoxylation of allenes and alkynes with alcohols: synthesis of branched allylic ethers. Angew. Chem. Int. Ed. 55, 8440–8443 (2016).

Zhu, S.-F., Cai, Y., Mao, H.-X., Xie, J.-H. & Zhou, Q.-L. Enantioselective iron-catalysed O–H bond insertions. Nat. Chem. 2, 546–551 (2010).

Kang, Q. K., Wang, L., Liu, Q. J., Li, J. F. & Tang, Y. Asymmetric H2O-nucleophilic ring opening of D–A cyclopropanes: catalyst serves as a source of water. J. Am. Chem. Soc. 137, 14594–14597 (2015).

Xia, Y. et al. Asymmetric ring‐opening of cyclopropyl ketones with thiol, alcohol, and carboxylic acid nucleophiles catalyzed by a chiral N,N′‐dioxide–scandium (iii) complex. Angew. Chem. Int. Ed. 54, 13748–13752 (2015).

Ziegler, D. T. & Fu, G. C. Catalytic enantioselective carbon–oxygen bond formation: phosphine-catalyzed synthesis of benzylic ethers via the oxidation of benzylic C–H bonds. J. Am. Chem. Soc. 138, 12069–12072 (2016).

Imada, Y., Yuasa, M., Nakamura, I. & Murahashi, S. I. Copper(i)-catalyzed amination of propargyl esters. Selective synthesis of propargylamines, 1-alken-3-ylamines, and (Z)-allylamines. J. Org. Chem. 59, 2282–2284 (1994).

Detz, R. J., Hiemstra, H. & van Maarseveen, J. H. Catalyzed propargylic substitution. Eur. J. Org. Chem. 2009, 6263–6276 (2009).

Miyake, Y., Uemura, S. & Nishibayashi, Y. Catalytic propargylic substitution reactions. ChemCatChem 1, 342–356 (2009).

Nishibayashi, Y. Transition-metal-catalyzed enantioselective propargylic substitution reactions of propargylic alcohol derivatives with nucleophiles. Synthesis 2012, 489–503 (2012).

Sakata, K. & Nishibayashi, Y. Mechanism and reactivity of catalytic propargylic substitution reactions via metal–allenylidene intermediates: a theoretical perspective. Catal. Sci. Technol. 8, 12–25 (2018).

Zhang, D.-Y. & Hu, X.-P. Recent advances in copper-catalyzed propargylic substitution. Tetrahedron Lett. 56, 283–295 (2015).

Trost, B. M. & Li, C. J. Modern Alkyne Chemistry: Catalytic and Atom-Economic Transformations (Wiley, 2014).

Nakajima, K., Shibata, M. & Nishibayashi, Y. Copper-catalyzed enantioselective propargylic etherification of propargylic esters with alcohols. J. Am. Chem. Soc. 137, 2472–2475 (2015).

Taylor, M. S. Catalysis based on reversible covalent interactions of organoboron compounds. Acc. Chem. Res. 48, 295–305 (2015).

Li, R.-Z. et al. Enantioselective propargylation of polyols and desymmetrization of meso 1,2-diols by copper/borinic acid dual catalysis. Angew. Chem. Int. Ed. 56, 7213–7217 (2017).

Li, R.-Z. et al. Site-divergent delivery of terminal propargyls to carbohydrates by synergistic catalysis. Chem 3, 834–845 (2017).

Tsuchida, K., Yuki, M., Nakajima, K. & Nishibayashi, Y. Copper- and borinic acid-catalyzed propargylic etherification of propargylic carbonates with benzyl alcohols. Chem. Lett. 47, 671–673 (2018).

Blackmond, D. G. Kinetic profiling of catalytic organic reactions as a mechanistic tool. J. Am. Chem. Soc. 137, 10852–10866 (2015).

Kumar, A., Geng, Y. & Schmidt, R. R. Silicon fluorides for acid–base catalysis in glycosidations. Adv. Synth. Catal. 354, 1489–1499 (2012).

Shao, L., Zhang, D.-Y., Wang, Y.-H. & Hu, X.-P. Enantioselective copper-catalyzed propargylic etherification of propargylic esters with phenols promoted by inorganic base additives. Adv. Synth. Catal. 358, 2558–2563 (2016).

Cox, N., Dang, H., Whittaker, A. M. & Lalic, G. NHC–copper hydrides as chemoselective reducing agents: catalytic reduction of alkynes, alkyl triflates, and alkyl halides. Tetrahedron 70, 4219–4231 (2014).

Sonogashira, K. Development of Pd–Cu catalyzed cross-coupling of terminal acetylenes with sp2-carbon halides. J. Organomet. Chem. 653, 46–49 (2002).

Hari Babu, M., Ranjith Kumar, G., Kant, R. & Sridhar Reddy, M. Ni-catalyzed regio- and stereoselective addition of arylboronic acids to terminal alkynes with a directing group tether. Chem. Commun. 53, 3894–3897 (2017).

Sun, Y., Abdukader, A., Lu, D., Zhang, H. & Liu, C. Synthesis of (E)-β-iodo vinylsulfones via iodine-promoted iodosulfonylation of alkynes with sodium sulfinates in an aqueous medium at room temperature. Green Chem. 19, 1255–1258 (2017).

Coombs, J. R., Zhang, L. & Morken, J. P. Enantiomerically enriched tris(boronates): readily accessible conjunctive reagents for asymmetric synthesis. J. Am. Chem. Soc. 136, 16140–16143 (2014).

Lee, S., Li, D. & Yun, J. Copper-catalyzed synthesis of 1,1-diborylalkanes through regioselective dihydroboration of terminal alkynes. Chem. Asian J. 9, 2440–2443 (2014).

Shi, S. L. & Buchwald, S. L. Copper-catalysed selective hydroamination reactions of alkynes. Nat. Chem. 7, 38–44 (2015).

Cho, S. H., Yoo, E. J., Bae, I. & Chang, S. Copper-catalyzed hydrative amide synthesis with terminal alkyne, sulfonyl azide, and water. J. Am. Chem. Soc. 127, 16046–16047 (2005).

Larock, R. C. & Yum, E. K. Synthesis of indoles via palladium-catalyzed heteroannulation of internal alkynes. J. Am. Chem. Soc. 113, 6689–6690 (1991).

Aggarwal, V. K., de Vicente, J. & Bonnert, R. V. A novel one-pot method for the preparation of pyrazoles by 1,3-dipolar cycloadditions of diazo compounds generated in situ. J. Org. Chem. 68, 5381–5383 (2003).

Heaney, F. Nitrile oxide/alkyne cycloadditions—a credible platform for synthesis of bioinspired molecules by metal‐free molecular clicking. Eur. J. Org. Chem. 2012, 3043–3058 (2012).

Kolb, H. C., Finn, M. G. & Sharpless, K. B. Click chemistry: diverse chemical function from a few good reactions. Angew. Chem. Int. Ed. 40, 2004–2021 (2001).

Zhang, K. et al. Enantioconvergent copper catalysis: in situ generation of the chiral phosphorus ylide and its Wittig reactions. J. Am. Chem. Soc. 139, 12847–12854 (2017).

Panera, M., Diez, J., Merino, I., Rubio, E. & Gamasa, M. P. Synthesis of copper(i) complexes containing enantiopure pybox ligands. First assays on enantioselective synthesis of propargylamines catalyzed by isolated copper(i) complexes. Inorg. Chem. 48, 11147–11160 (2009).

Hattori, G. et al. Copper-catalyzed enantioselective propargylic amination of propargylic esters with amines: copper–allenylidene complexes as key intermediates. J. Am. Chem. Soc. 132, 10592–10608 (2010).

Hattori, H. Heterogeneous basic catalysis. Chem. Rev. 95, 537–558 (1995).
Acknowledgements
This work is supported by funding from the National Key Research and Development Program (2018YFA0903300) and National Natural Science Foundation of China (21922106 and 21772125), and start-up funding from Sichuan University and The Open Project of the State Key Laboratory of Natural Medicines (3144060211). We acknowledge J. J. Chruma (Sichuan University) for helpful discussions and manuscript revision. We thank D. Luo from the Analytical and Testing Center of Sichuan University for help with X-ray analysis.
Ethics declarations
Competing interests
The authors declare no competing interests.
Additional information
Publisher's note Springer Nature remains neutral with regard to jurisdictional claims in published maps and institutional affiliations.
Supplementary information
Supplementary methods, Figs. 1–6, references and spectra.
Crystallographic Data of 26ah in Fig. 3
Crystallographic data of the copper complex in Fig. 5c.
About this article
Cite this article
Li, RZ., Liu, DQ. & Niu, D. Asymmetric O-propargylation of secondary aliphatic alcohols. Nat Catal 3, 672–680 (2020). https://doi.org/10.1038/s41929-020-0462-9
Received:

Accepted:

Published:

Issue Date:

DOI: https://doi.org/10.1038/s41929-020-0462-9