A rapid and efficient electrochemical reaction requires active catalytic material, as well as proper electrode and cell design. Now, a gas diffusion electrode based on a stainless steel cloth successfully overcomes gas transport limitations for high-current ammonia electrosynthesis in non-aqueous solvents at ambient conditions.
Access options
Subscribe to Journal
Get full journal access for 1 year
$119.00
only $9.92 per issue
All prices are NET prices.
VAT will be added later in the checkout.
Tax calculation will be finalised during checkout.
Rent or Buy article
Get time limited or full article access on ReadCube.
from$8.99
All prices are NET prices.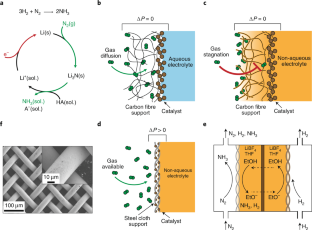 References
1.

Suryanto, B. H. R. et al. Nat. Catal. 2, 290–296 (2019).

2.

Soloveichik, G. Nat. Catal. 2, 377–380 (2019).

3.

McEnaney, J. M. et al. Energy Environ. Sci. 10, 1621–1630 (2017).

4.

Tsuneto, A., Kudo, A. & Sakata, T. J. Electroanal. Chem. 367, 183–188 (1994).

5.

Schwalbe, J. A. et al. ChemElectroChem 7, 1542–1549 (2020).

6.

Lazouski, N., Chung, M., Williams, K., Gala, M. L. & Manthiram, K. Nat. Catal. https://doi.org/10.1038/s41929-020-0455-8 (2020).

7.

Mathur, V. K. & Crawford, J. Recent Trends Fuel Cell Sci. Technol. 400, 116–128 (2007).

8.

Andersen, S. Z. et al. Nature 570, 504–508 (2019).

9.

Burdyny, T. & Smith, W. Energy Environ. Sci. 12, 1442–1453 (2019).
Ethics declarations
Competing interests
The author declares no competing interests.
About this article
Cite this article
Ampelli, C. Electrode design for ammonia synthesis. Nat Catal 3, 420–421 (2020). https://doi.org/10.1038/s41929-020-0461-x
Further reading
Gao-Feng Han

,

Feng Li

,

Zhi-Wen Chen

,

Claude Coppex

,

Seok-Jin Kim

,

Hyuk-Jun Noh

,

Zhengping Fu

,

Yalin Lu

,

Chandra Veer Singh

,

Samira Siahrostami

,

Qing Jiang

&

Jong-Beom Baek

Nature Nanotechnology (2021)