A strategy using pressure was devised to structurally identify conformational transitions in protein ensembles, allowing the rational prediction of mutations that induce pressure-driven enzyme activation. These results highlight the power of flexibility–function analyses in protein engineering design and applications.
Access options
Subscribe to Journal
Get full journal access for 1 year
$99.00
only $8.25 per issue
All prices are NET prices.
VAT will be added later in the checkout.
Rent or Buy article
Get time limited or full article access on ReadCube.
from$8.99
All prices are NET prices.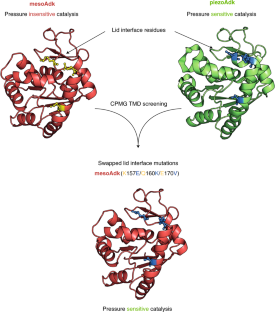 References
1.

Campbell, E. et al. Nat. Chem. Biol. 12, 944–50 (2016).

2.

Narayanan, C. et al. Structure 26, 426–36 (2018).

3.

Stiller, J. B. et al. Nat. Catal. https://doi.org/10.1038/s41929-019-0307-6 (2019).

4.

Lisi, G. P. & Loria, J. P. Prog. Nucl. Magn. Reson. Spectrosc. 92–93, 1–17 (2016).

5.

Akasaka, K. Chem. Rev. 106, 1814–35 (2006).

6.

Wilding, M., Hong, N., Spence, M., Buckle, A. M. & Jackson, C. J. Biochem. Soc. Trans. 47, 701–11 (2019).

7.

Davey, J. A., Damry, A. M., Goto, N. K. & Chica, R. A. Nat. Chem. Biol. 13, 1280–85 (2017).
About this article
Cite this article
Doucet, N. Enzyme catalysis under pressure. Nat Catal 2, 646–647 (2019). https://doi.org/10.1038/s41929-019-0326-3
Further reading
Shahzad Anwar

,

Muhammad Ovais

&

Xiang Zhang

Catalysis Letters (2020)