The biological functions of glycan motifs such as the Lewis blood antigens are often defined by their precise multivalent presentation on complex glycoconjugates, making synthesis particularly challenging. Access to a number of positionally defined Lewis motifs on natural polysaccharide scaffolds has now been achieved using bacterial glycosyltransferases.
Access options
Subscribe to Journal
Get full journal access for 1 year
$99.00
only $8.25 per issue
All prices are NET prices.
VAT will be added later in the checkout.
Tax calculation will be finalised during checkout.
Rent or Buy article
Get time limited or full article access on ReadCube.
from$8.99
All prices are NET prices.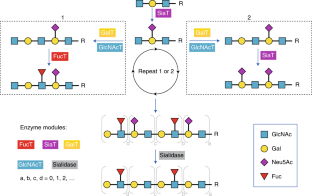 References
1.

Nycholat, C. M. et al. Angew. Chem. Int. Ed. 51, 4860–4863 (2012).

2.

Ye, J. et al. Nat. Catal. https://doi.org/10.1038/s41929-019-0281-z (2019).

3.

Zervosen, A. & Elling, L. J. Am. Chem. Soc. 118, 1836–1840 (1996).

4.

Zhang, J. et al. Angew. Chem. Int. Ed. 57, 16638–16642 (2018).

5.

Gray, C. J. et al. Anal. Chem. 89, 4540–4549 (2017).

6.

Hahm, H. S. et al. Chem 2, 114–124 (2017).

7.

Wang, Z. et al. Science 341, 379–383 (2013).

8.

Varki, A. et al. Glycobiology 25, 1323–1324 (2015).
About this article
Cite this article
Huang, K., Flitsch, S.L. Glyco-enzymatic cascades get protection. Nat Catal 2, 479–480 (2019). https://doi.org/10.1038/s41929-019-0294-7
Further reading
Pedro Laborda

,

Yong-Mei Lyu

,

Fabio Parmeggiani

,

Ai-Min Lu

,

Wen-Jiao Wang

,

Ying-Ying Huang

,

Kun Huang

,

Juan Guo

,

Li Liu

,

Sabine L. Flitsch

&

Josef Voglmeir

Angewandte Chemie International Edition (2020)

Pedro Laborda

,

Yong‐Mei Lyu

,

Fabio Parmeggiani

,

Ai‐Min Lu

,

Wen‐Jiao Wang

,

Ying‐Ying Huang

,

Kun Huang

,

Juan Guo

,

Li Liu

,

Sabine L. Flitsch

&

Josef Voglmeir

Angewandte Chemie (2020)