The biosynthesis of the pharmacophoric tetrahydropyran of the clinically important antibiotic mupirocin remained enigmatic for a long time. Now, research shows that this ring is formed by a unique epoxidation–epoxide-opening cascade starting from a non-activated alkane.
Access options
Subscribe to Journal
Get full journal access for 1 year
$104.00
only $8.67 per issue
All prices are NET prices.
VAT will be added later in the checkout.
Rent or Buy article
Get time limited or full article access on ReadCube.
from$8.99
All prices are NET prices.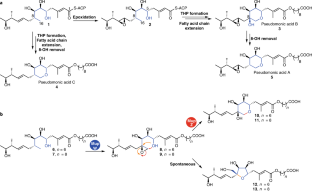 References
1.

Hemmerling, F. & Hahn, F. Beilstein J. Org. Chem. 12, 1512–1550 (2016).

2.

Wang, L. et al. Nat. Catal. https://doi.org/10.1038/s41929-018-0183-5 (2018).

3.

Gally, C., Nestl, B. M. & Hauer, B. Angew. Chem. Int. Ed. Engl. 54, 12952–12956 (2015).

4.

Withall, D. M., Haynes, S. W. & Challis, G. L. J. Am. Chem. Soc. 137, 7889–7897 (2015).

5.

Salem, S. M. et al. J. Am. Chem. Soc. 136, 4565–4574 (2014).

6.

Hotta, K. et al. Nature 483, 355–358 (2012).

7.

Gallimore, A. R. et al. Chem. Biol. 13, 453–460 (2006).
About this article
Cite this article
Hahn, F. Heterocycle biosynthesis via C–H functionalization. Nat Catal 1, 905–906 (2018). https://doi.org/10.1038/s41929-018-0194-2