Lyases are enzymes that catalyse the breaking of chemical bonds. Now, reversing this reaction towards carbon–nitrogen bond formation allows for the synthesis of various chiral aminocarboxylic acids such as the potential antibiotic co-drug aspergillomarasmine A.
Access options
Subscribe to Journal
Get full journal access for 1 year
$119.00
only $9.92 per issue
All prices are NET prices.
VAT will be added later in the checkout.
Tax calculation will be finalised during checkout.
Rent or Buy article
Get time limited or full article access on ReadCube.
from$8.99
All prices are NET prices.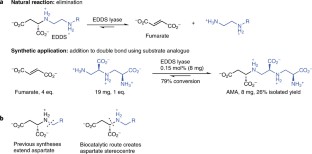 References
1.

Fu, H. et al. Nat. Catal https://doi.org/10.1038/s41929-018-0029-1 (2018)..

2.

de Villiers, M., Puthan Veetil, V., Raj, H., de Villiers, J. & Poelarends, G. J. ACS Chem. Biol. 7, 1618–1628 (2012).

3.

Friis, P., Olsen, C. E. & Møller, B. L. J. Biol. Chem. 266, 13329–13335 (1991).

4.

Raj, H. et al. Nat. Chem. 4, 478–484 (2012).
About this article
Cite this article
Kazlauskas, R.J. Enzymes working in reverse. Nat Catal 1, 172–173 (2018). https://doi.org/10.1038/s41929-018-0041-5