Abstract
Metal–oxide–semiconductor junctions are the building blocks of modern electronics and can provide a variety of functionalities, from memory to computing. The technology, however, faces constraints in terms of further miniaturization and compatibility with post–von Neumann computing architectures. Manipulation of structural—rather than electronic—states could provide a path to ultrascaled low-power functional devices, but the electrical control of such states is challenging. Here we report electronically accessible long-lived structural states in vanadium dioxide that can provide a scheme for data storage and processing. The states can be arbitrarily manipulated on short timescales and tracked beyond 10,000 s after excitation, exhibiting features similar to glasses. In two-terminal devices with channel lengths down to 50 nm, sub-nanosecond electrical excitation can occur with an energy consumption as small as 100 fJ. These glass-like functional devices could outperform conventional metal–oxide–semiconductor electronics in terms of speed, energy consumption and miniaturization, as well as provide a route to neuromorphic computation and multilevel memories.
Access options
Access Nature and 54 other Nature Portfolio journals
Get Nature+, our best-value online-access subscription
$29.99 / 30 days
cancel any time
Subscribe to this journal
Receive 12 digital issues and online access to articles
$119.00 per year
only $9.92 per issue
Rent or buy this article
Prices vary by article type
from$1.95
to$39.95
Prices may be subject to local taxes which are calculated during checkout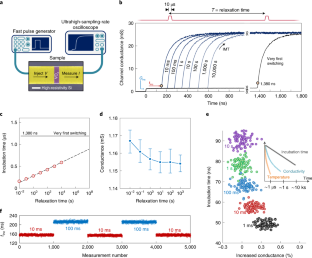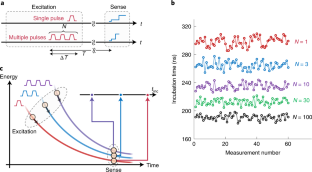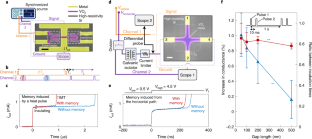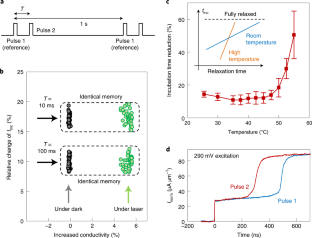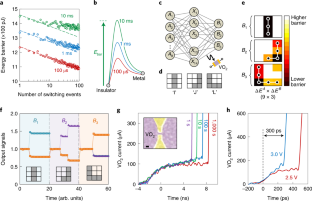 Data availability
All the data supporting the claims of this paper are available from the corresponding authors upon reasonable request.
References
Dagotto, E. Complexity in strongly correlated electronic systems. Science 309, 257–262 (2005).

Shao, Z. W., Cao, X., Luo, H. & Jin, J. P. Recent progress in the phase-transition mechanism and modulation of vanadium dioxide materials. NPG Asia Mater. 10, 581–605 (2018).

Oh, S. et al. Energy-efficient Mott activation neuron for full-hardware implementation of neural networks. Nat. Nanotechnol. 16, 680–687 (2021).

Bohaichuk, S. M. et al. Fast spiking of a Mott VO2-carbon nanotube composite device. Nano Lett. 19, 6751–6755 (2019).

Briggs, R. M., Pryce, I. M. & Atwater, H. A. Compact silicon photonic waveguide modulator based on the vanadium dioxide metal-insulator phase transition. Opt. Express 18, 11192–11201 (2010).

Strelcov, E., Lilach, Y. & Kolmakov, A. Gas sensor based on metal–insulator transition in VO2 nanowire thermistor. Nano Lett. 9, 2322–2326 (2009).

Eyert, V. The metal-insulator transitions of VO2: a band theoretical approach. Ann. Phys. 514, 650–702 (2002).

del Valle, J. et al. Spatiotemporal characterization of the field-induced insulator-to-metal transition. Science 373, 907–911 (2021).

Nakano, M. et al. Collective bulk carrier delocalization driven by electrostatic surface charge accumulation. Nature 487, 459–462 (2012).

Shukla, N. et al. A steep-slope transistor based on abrupt electronic phase transition. Nat. Commun. 6, 7812 (2015).

Liu, M. et al. Terahertz-field-induced insulator-to-metal transition in vanadium dioxide metamaterial. Nature 487, 345–348 (2012).

Gao, X., Rosário, C. M. M. & Hilgenkamp, H. Multi-level operation in VO2-based resistive switching devices. AIP Adv. 12, 015218 (2022).

del Valle, J. et al. Subthreshold firing in Mott nanodevices. Nature 569, 388–392 (2019).

Fisher, B., Patlagan, L. & Reisner, G. M. Sliding twin-domains in self-heated needle-like VO2 single crystals. Sci. Rep. 10, 6833 (2020).

del Valle, J. et al. Generation of tunable stochastic sequences using the insulator–metal transition. Nano Lett. 22, 1251–1256 (2022).

Samizadeh Nikoo, M. et al. Nanoplasma-enabled picosecond switches for ultrafast electronics. Nature 579, 534–539 (2020).

Shabalin, A. G. et al. Nanoscale imaging and control of volatile and non-volatile resistive switching in VO2. Small 16, 2005439 (2020).

Strukov, D. B., Snider, G. S., Stewart, D. R. & Williams, R. S. The missing memristor found. Nature 453, 80–83 (2008).

Wei, J., Wang, Z., Chen, W. & Cobden, D. H. New aspects of the metal–insulator transition in single-domain vanadium dioxide nanobeams. Nat. Nanotechnol. 4, 420–424 (2009).

Ramírez, J. G., Sharoni, A., Dubi, Y., Gómez, M. E. & Schuller, I. K. First-order reversal curve measurements of the metal-insulator transition in VO2: signatures of persistent metallic domains. Phys. Rev. B 79, 235110 (2009).

Abreu, E. et al. Nucleation and growth bottleneck in the conductivity recovery dynamics of nickelate ultrathin films. Nano Lett. 20, 7422 (2020).

Cheng, S. et al. Inherent stochasticity during insulator–metal transition in VO2. Proc. Natl Acad. Sci. USA 118, e2105895118 (2021).

Sohn, A., Kanki, T., Sakai, K., Tanaka, H. & Kim, D.-W. Fractal nature of metallic and insulating domain configurations in a VO2 thin film revealed by Kelvin probe force microscopy. Sci. Rep. 5, 10417 (2015).

Vaskivskyi, I. et al. Controlling the metal to insulator relaxation of the metastable hidden quantum state in 1T-TaS2. Sci. Adv. 1, e1500168 (2015).

Lee, S. et al. Electronic structure and insulating gap in epitaxial VO2 polymorphs. Appl. Mater. 3, 126109 (2015).

He, Z. & Millis, A. J. Photoinduced phase transitions in narrow-gap Mott insulators: the case of VO2. Phys. Rev. B 93, 115126 (2016).

Palmer, R. G., Stein, D. L., Abrahams, E. & Anderson, P. W. Models of hierarchically constrained dynamics for glassy relaxation. Phys. Rev. Lett. 53, 958–961 (1984).

Heckshera, T. et al. Toward broadband mechanical spectroscopy. Proc. Natl Acad. Sci. USA 114, 8710–8715 (2017).

Qazilbash, M. M. et al. Mott transition in VO2 revealed by infrared spectroscopy and nano-imaging. Science 318, 1750–1753 (2007).

Claassen, J. H., Lu, J. W., West, K. G. & Wolf, S. A. Relaxation dynamics of the metal-semiconductor transition in VO2 thin films. Appl. Phys. Lett. 96, 132102 (2010).

Prezioso, M. et al. Training and operation of an integrated neuromorphic network based on metal-oxide memristors. Nature 521, 61–64 (2015).

Ionescu, A. M. & Riel, H. Tunnel field-effect transistors as energy-efficient electronic switches. Nature 479, 329–337 (2011).

Pi, S. et al. Memristor crossbar arrays with 6-nm half-pitch and 2-nm critical dimension. Nat. Nanotechnol. 14, 35–39 (2019).

Wang, P. F. et al. A semi-floating gate transistor for low-voltage ultrafast memory and sensing operation. Science 341, 640–643 (2013).

Manca, N. et al. Selective high-frequency mechanical actuation driven by the VO2 electronic instability. Adv. Mater. 29, 1701618 (2017).

Hollander, M. J. et al. Electrically driven reversible insulator–metal phase transition in 1T-TaS2. Nano Lett. 15, 1861–1866 (2015).

Grimaldi, E. et al. Single-shot dynamics of spin–orbit torque and spin–transfer torque switching in three-terminal magnetic tunnel junctions. Nat. Nanotechnol. 15, 111–117 (2020).

Yang, J. J., Strukov, D. B. & Stewart, D. R. Memristive devices for computing. Nat. Nanotechnol. 8, 13–24 (2013).
Acknowledgements
We are grateful to the help of the staff at the Center of Micro and Nano Technology (CMi) at EPFL with the fabrication process. We thank A. Ionescu for discussions. Y.P. and J.S. acknowledge support for the PLD growth from the Basic Science Research Program (2020R1A4A1018935) through the National Research Foundation of Korea (NRF) funded by the Ministry of Science and ICT.
Ethics declarations
Competing interests
The authors declare no competing interests.
Peer review
Peer review information
Nature Electronics thanks the anonymous reviewers for their contribution to the peer review of this work.
Additional information
Publisher's note Springer Nature remains neutral with regard to jurisdictional claims in published maps and institutional affiliations.
About this article
Cite this article
Samizadeh Nikoo, M., Soleimanzadeh, R., Krammer, A. et al. Electrical control of glass-like dynamics in vanadium dioxide for data storage and processing. Nat Electron 5, 596–603 (2022). https://doi.org/10.1038/s41928-022-00812-z
Received:

Accepted:

Published:

Issue Date:

DOI: https://doi.org/10.1038/s41928-022-00812-z
This article is cited by
Mohammad Samizadeh Nikoo
Elison Matioli

Nature (2023)