A thin and rollable high-resolution image sensor can be created by placing solution-processed metal halide perovskite photodiodes over an amorphous indium gallium zinc oxide transistor backplane.
Access options
Subscribe to Journal
Get full journal access for 1 year
$99.00
only $8.25 per issue
All prices are NET prices.
VAT will be added later in the checkout.
Tax calculation will be finalised during checkout.
Rent or Buy article
Get time limited or full article access on ReadCube.
from$8.99
All prices are NET prices.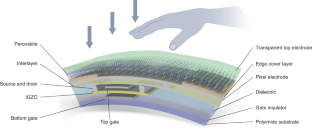 References
1.

Tse Nga, N. et al. Appl. Phys. Lett. 91, 063505 (2007).

2.

van Breemen, A. J. J. M. et al. Nat. Electron. https://doi.org/10.1038/s41928-021-00662-1 (2021).

3.

Zhu, H. L. et al. ACS Nano 13, 11800–11808 (2019).

4.

Zou, T. Y. et al. In 2019 IEEE International Electron Devices Meeting (IEDM) https://doi.org/10.1109/IEDM19573.2019.8993639 (IEEE, 2019).

5.

Tordera, D. et al. Adv. Mater. Technol. 4, 1900651 (2019).

6.

Gu, L. L. et al. Nature 581, 278–282 (2020).

7.

Xue, J. et al. Nano Lett. 18, 7628–7634 (2018).
Ethics declarations
Competing interests
The authors declare no competing interests.
About this article
Cite this article
Wang, Y., Zhou, H. High-resolution image sensors get rolled up. Nat Electron 4, 773–774 (2021). https://doi.org/10.1038/s41928-021-00673-y