Abstract
Electrically tunable metadevices can add novel functionalities to electronic and electromagnetic systems such as antennas and cloaking technologies. However, current microwave metadevices are based on materials that require sophisticated and expensive fabrication processes, and are not compatible with large-area and high-throughput deposition techniques on flexible platforms. Here we report reconfigurable microwave resonators that are electrically tuned by organic electrochemical transistors. The devices are fabricated via inkjet printing onto polyimide substrates using commercial metal nanoparticle and conducting polymer inks. By applying electrostatic gating to the polymer—a mixed ion–electron conductor—we show that the amplitude and frequency of different microwave resonant structures, including individual magnetic and electric split-ring resonators as well as a metasurface, can be modulated in the sub-5-GHz range.
Access options
Subscribe to Journal
Get full journal access for 1 year
$99.00
only $8.25 per issue
All prices are NET prices.
VAT will be added later in the checkout.
Tax calculation will be finalised during checkout.
Rent or Buy article
Get time limited or full article access on ReadCube.
from$8.99
All prices are NET prices.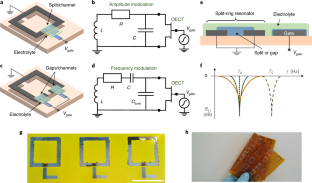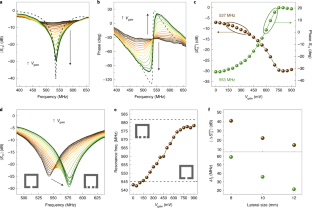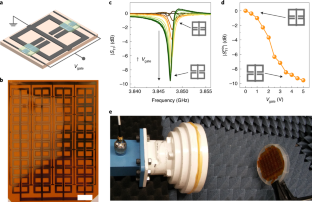 Data availability
The data that support the plots within this paper and other findings of this study are available from the corresponding author upon reasonable request.
References
1.

Smith, D. R., Pendry, J. B. & Wiltshire, M. C. K. Metamaterials and negative refractive index. Science 305, 788–792 (2004).

2.

Pendry, J. B., Schurig, D. & Smith, D. R. Controlling electromagnetic fields. Science 312, 1780–1782 (2006).

3.

Zheludev, N. I. & Kivshar, Y. S. From metamaterials to metadevices. Nat. Mater. 11, 917–924 (2012).

4.

Zhao, X., Duan, G., Li, A., Chen, C. & Zhang, X. Integrating microsystems with metamaterials towards metadevices. Microsyst. Nanoeng. 5, 5 (2019).

5.

Tao, H. et al. Metamaterial silk composites at terahertz frequencies. Adv. Mater. 22, 3527–3531 (2010).

6.

Salim, A. & Lim, S. Review of recent metamaterial microfluidic sensors. Sensors 18, 232 (2018).

7.

Cui, T. J., Liu, S. & Zhang, L. Information metamaterials and metasurfaces. J. Mater. Chem. C 5, 3644–3668 (2017).

8.

Hai, A., Spanoudaki, V. C., Bartelle, B. B. & Jasanoff, A. Wireless resonant circuits for the minimally invasive sensing of biophysical processes in magnetic resonance imaging. Nat. Biomed. Eng. 3, 69–78 (2019).

9.

Chen, H. T. et al. Active terahertz metamaterial devices. Nature 444, 597–600 (2006).

10.

Chen, H. T. et al. A metamaterial solid-state terahertz phase modulator. Nat. Photon. 3, 148–151 (2009).

11.

Balci, O. et al. Electrically switchable metadevices via graphene. Sci. Adv. 4, eaao1749 (2018).

12.

Nemati, A., Wang, Q., Hong, M. & Teng, J. Tunable and reconfigurable metasurfaces and metadevices. Opto Electron. Adv. 1, 18000901–18000925 (2018).

13.

He, Q., Sun, S. & Zhou, L. Tunable/reconfigurable metasurfaces: physics and applications. Research 2019, 1849272 (2019).

14.

Fratini, S., Nikolka, M., Salleo, A., Schweicher, G. & Sirringhaus, H. Charge transport in high-mobility conjugated polymers and molecular semiconductors. Nat. Mater. 19, 491–502 (2020).

15.

Arias, A. C., MacKenzie, J. D., McCulloch, I., Rivnay, J. & Salleo, A. Materials and applications for large area electronics: solution-based approaches. Chem. Rev. 110, 3–24 (2010).

16.

Reynolds, J. R., Thompson, B. C. & Skotheim, T. A. Conjugated Polymers: Properties, Processing and Applications (CRC Press, 2019).

17.

Caironi, M. & Noh, Y. Y. Large Area and Flexible Electronics (Wiley-VCH, 2015).

18.

Inal, S., Rivnay, J., Suiu, A. O., Malliaras, G. G. & McCulloch, I. Conjugated polymers in bioelectronics. Acc. Chem. Res. 51, 1368–1376 (2018).

19.

Rivnay, J. et al. Organic electrochemical transistors. Nat. Rev. Mater. 3, 17086 (2018).

20.

Paulsen, B. D., Tybrandt, K., Stavrinidou, E. & Rivnay, J. Organic mixed ionic–electronic conductors. Nat. Mater. 19, 13–26 (2020).

21.

Perinot, A., Passarella, B., Giorgio, M. & Caironi, M. Walking the route to GHz solution‐processed organic electronics: a HEROIC exploration. Adv. Funct. Mater. 30, 1907641 (2020).

22.

Zschieschang, U. et al. Roadmap to gigahertz organic transistors. Adv. Funct. Mater. 30, 1903812 (2020).

23.

Van De Burgt, Y., Melianas, A., Keene, S. T., Malliaras, G. & Salleo, A. Organic electronics for neuromorphic computing. Nat. Electron. 1, 386–397 (2018).

24.

Cea, C. et al. Enhancement-mode ion-biased transistor as a comprehensive interface and real-time processing unit for in vivo electrophysiology. Nat. Mater. 19, 679–686 (2020).

25.

Giovannitti, A. et al. n-type organic electrochemical transistors with stability in water. Nat. Commun. 7, 13066 (2016).

26.

Spyropoulos, G. D., Gelinas, J. N. & Khodagholy, D. Internal ion-gated organic electrochemical transistor: a building block for integrated bioelectronics. Sci. Adv. 5, eaau7378 (2019).

27.

Melianas, A. et al. Temperature-resilient solid-state organic artificial synapses for neuromorphic computing. Sci. Adv. 6, eabb2958 (2020).

28.

Pitsalidis, C. et al. Transistor in a tube: a route to three-dimensional bioelectronics. Sci. Adv. 4, eaat4253 (2018).

29.

Marqués, R., Mesa, F., Martel, J. & Medina, F. Comparative analysis of edge- and broadside-coupled split ring resonators for metamaterial design—theory and experiments. IEEE Trans. Antennas Propag. 51, 2572–2581 (2003).

30.

Wang, J. et al. A tunable left-handed metamaterial based on modified broadside-coupled split-ring resonators. Prog. Electromagn. Res. Lett. 6, 35–45 (2009).

31.

Tseng, P., Napier, B., Garbarini, L., Kaplan, D. L. & Omenetto, F. G. Functional, RF-trilayer sensors for tooth-mounted, wireless monitoring of the oral cavity and food consumption. Adv. Mater. 30, 1703257 (2018).

32.

Ekmekci, E., Topalli, K., Akin, T. & Turhan-Sayan, G. A tunable multi-band metamaterial design using micro-split SRR structures. Opt. Express 17, 16046–16058 (2009).

33.

Gulich, R., Köhler, M., Lunkenheimer, P. & Loidl, A. Dielectric spectroscopy on aqueous electrolytic solutions. Radiat. Environ. Biophys. 48, 107–114 (2009).

34.

Yaghmaee, P. et al. Tunable electric-LC resonators using liquid crystal. In Proc. IEEE Antennas and Propagation Society, AP-S International Symposium (Digest) 382–383 (IEEE, 2013); https://doi.org/10.1109/APS.2013.6710852

35.

Withayachumnankul, W., Fumeaux, C. & Abbott, D. Planar array of electric-LC resonators with broadband tunability. IEEE Antennas Wirel. Propag. Lett. 10, 577–580 (2011).

36.

Schurig, D., Mock, J. J. & Smith, D. R. Electric-field-coupled resonators for negative permittivity metamaterials. Appl. Phys. Lett. 88, 041109 (2006).

37.

Liu, R., Degiron, A., Mock, J. J. & Smith, D. R. Negative index material composed of electric and magnetic resonators. Appl. Phys. Lett. 90, 263504 (2007).

38.

Yaghmazadeh, O. et al. Optimization of organic electrochemical transistors for sensor applications.J. Polym. Sci. 49, 34–39 (2011).

39.

Andersson Ersman, P. et al. All-printed large-scale integrated circuits based on organic electrochemical transistors. Nat. Commun. 10, 5053 (2019).

40.

Yan, F., Parrott, E. P. J., Ung, B. S. Y. & Pickwell-Macpherson, E. Solvent doping of PEDOT/PSS: effect on terahertz optoelectronic properties and utilization in terahertz devices. J. Phys. Chem. C 119, 6813–6818 (2015).

41.

Du, Y. et al. Dielectric properties of DMSO-doped-PEDOT:PSS at THz frequencies. Phys. Status Solidi 255, 1700547 (2018).

42.

Ohayon, D. et al. Biofuel powered glucose detection in bodily fluids with an n-type conjugated polymer. Nat. Mater. 19, 456–463 (2020).
Acknowledgements
The authors thank T. J. Quill for helping with the preparation of the ion gel, S. Taheri, B. Murmann and the System Prototyping Facility (Stanford University) for the free-space characterization set-up, as well as FLEXcon for the polyimide substrates. The authors thank B. Napier, N. Ostrovsky-Snider, J. Roshko, S. T. Keene for useful discussions, as well as A. Salleo for support in finalizing the experimental activities. The authors gratefully acknowledge support from the Office of Naval Research (grant no. N-00014-19-12399).
Ethics declarations
Competing interests
Tufts University has filed an invention disclosure based on the technology presented in this paper.
Additional information
Peer review information Nature Electronics thanks Jonathan Rivnay and the other, anonymous, reviewer(s) for their contribution to the peer review of this work.
Publisher's note Springer Nature remains neutral with regard to jurisdictional claims in published maps and institutional affiliations.
Supplementary information
About this article
Cite this article
Bonacchini, G.E., Omenetto, F.G. Reconfigurable microwave metadevices based on organic electrochemical transistors. Nat Electron 4, 424–428 (2021). https://doi.org/10.1038/s41928-021-00590-0
Received:

Accepted:

Published:

Issue Date: