Abstract
Electronic waste can lead to the accumulation of environmentally and biologically toxic materials and is a growing global concern. Developments in transient electronics—in which devices are designed to disintegrate after use—have focused on increasing the biocompatibility, whereas efforts to develop methods to recapture and reuse materials have focused on conducting materials, while neglecting other electronic materials. Here, we report all-carbon thin-film transistors made using crystalline nanocellulose as a dielectric, carbon nanotubes as a semiconductor, graphene as a conductor and paper as a substrate. A crystalline nanocellulose ink is developed that is compatible with nanotube and graphene inks and can be written onto a paper substrate using room-temperature aerosol jet printing. The addition of mobile sodium ions to the dielectric improves the thin-film transistor on-current (87 μA mm−1) and subthreshold swing (132 mV dec−1), and leads to a faster voltage sweep rate (by around 20 times) than without ions. The devices also exhibit stable performance over six months in ambient conditions and can be controllably decomposed, with the graphene and carbon nanotube inks recaptured for recycling (>95% recapture efficiency) and reprinting of new transistors. We demonstrate the utility of the thin-film transistors by creating a fully printed, paper-based biosensor for lactate sensing.
Relevant articles
Open Access articles citing this article.
Yuzhou Shao

,

Lusong Wei

…

Jianfeng Ping

Nature Communications Open Access 09 June 2022
Access options
Subscribe to Nature+
Get immediate online access to Nature and 55 other Nature journal
Subscribe to Journal
Get full journal access for 1 year
$119.00
only $9.92 per issue
All prices are NET prices.
VAT will be added later in the checkout.
Tax calculation will be finalised during checkout.
Buy article
Get time limited or full article access on ReadCube.
$32.00
All prices are NET prices.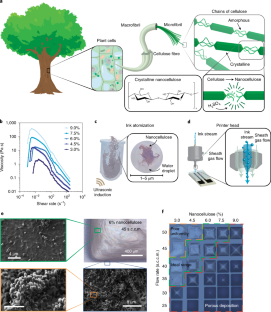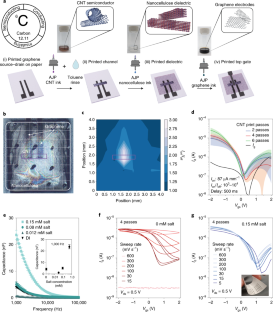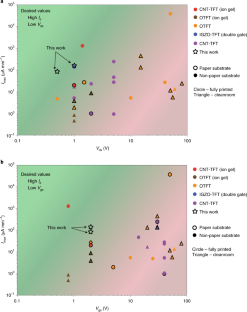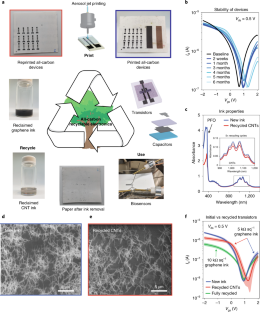 Data availability
The data that support the plots within this paper and other findings of this study are available from the corresponding author upon reasonable request.
References
Jambeck, J. et al. Plastic waste inputs from land into the ocean. Science 347, 768–771 (2015).

Hwang, S.-W. et al. A physically transient form of silicon electronics. Science 337, 1640–1644 (2012).

Boutry, C. M. et al. Biodegradable and flexible arterial-pulse sensor for the wireless monitoring of blood flow. Nat. Biomed. Eng. 3, 47–57 (2019).

Rüegg, M., Blum, R., Boero, G. & Brugger, J. Biodegradable frequency-selective magnesium radio-frequency microresonators for transient biomedical implants. Adv. Funct. Mater. 29, 1903051 (2019).

Tan, M. J. et al. Biodegradable electronics: cornerstone for sustainable electronics and transient applications. J. Mater. Chem. C 4, 5531–5558 (2016).

Teng, L. et al. Liquid metal-based transient circuits for flexible and recyclable electronics. Adv. Funct. Mater. 29, 1808739 (2019).

Liu, H., Li, J. & Tan, R. Flexible In2O3 nanowire transistors on paper substrates. IEEE J. Electron Devices Soc. 5, 141–144 (2017).

Irimia-Vladu, M. 'Green' electronics: biodegradable and biocompatible materials and devices for sustainable future. Chem. Soc. Rev. 43, 588–610 (2014).

Li, Y., Misra, M. & Gregori, S. Printing green nanomaterials for organic electronics. IEEE Trans. Compon. Packaging Manuf. Technol. 8, 1307–1315 (2018).

Banerjee, K. et al. Prospects of carbon nanomaterials for next-generation green electronics. In Proc. 10th IEEE Conference on Nanotechnology, NANO 2010 56–61 (IEEE, 2010); https://doi.org/10.1109/NANO.2010.5698053

Andrews, J. B. et al. Fully printed and flexible carbon nanotube transistors for pressure sensing in automobile tires. IEEE Sens. J. 18, 7875–7880 (2018).

Schroeder, V., Savagatrup, S., He, M., Lin, S. & Swager, T. M. Carbon nanotube chemical sensors. Chem. Rev. 119, 599–663 (2019).

Jesadabundit, W., Chaiyo, S., Siangproh, W. & Chailapakul, O. Simple and cost-effective electrochemical approach for monitoring of vitamin K in green vegetables. ChemElectroChem 7, 155–162 (2020).

Gaspar, D. et al. Nanocrystalline cellulose applied simultaneously as the gate dielectric and the substrate in flexible field effect transistors. Nanotechnology 25, 094008 (2014).

Petritz, A. et al. Cellulose as biodegradable high-k dielectric layer in organic complementary inverters. Appl. Phys. Lett. 103, 153303 (2013).

Xia, M., Cheng, Z., Han, J. & Zhang, S. Extremely stretchable all-carbon-nanotube transistor on flexible and transparent substrates. Appl. Phys. Lett. 105, 143504 (2014).

Zhang, Z., Zhang, M., Du, C., Li, L. & Chang, K. C. Improving performance of all-carbon-nanotube thin-film transistors by low temperature supercritical CO2 fluid activation. IEEE Electron Device Lett. 40, 921–924 (2019).

Li, B. et al. All-carbon electronic devices fabricated by directly grown single-walled carbon nanotubes on reduced graphene oxide electrodes. Adv. Mater. 22, 3058–3061 (2010).

Abdelmalik, A. A., Fothergill, J. C. & Dodd, S. J. Aging of Kraft paper insulation in natural ester dielectric fluid. In Proc. 2013 IEEE International Conference on Solid Dielectrics (ICSD) 541–544 (IEEE, 2013); https://doi.org/10.1109/ICSD.2013.6619678

Hamedi, M. M. et al. Highly conducting, strong nanocomposites based on nanocellulose-assisted aqueous dispersions of single-wall carbon nanotubes. ACS Nano 8, 2467–2476 (2014).

Parate, K. et al. Aerosol-jet-printed graphene electrochemical histamine sensors for food safety monitoring. 2D Mater. 7, 034002 (2020).

Jettable Fluid Formulation Guidelines (Fujifilm Dimatix, 2013).

McManus, D. et al. Water-based and biocompatible 2D crystal inks for all-inkjet-printed heterostructures. Nat. Nanotechnol. 12, 343–350 (2017).

McKerricher, G., Perez, J. G. & Shamim, A. Fully inkjet printed RF inductors and capacitors using polymer dielectric and silver conductive ink with through vias. IEEE Trans. Electron Devices 62, 1002–1009 (2015).

Pu, J. et al. Highly flexible MoS2 thin-film transistors with ion gel dielectrics. Nano Lett. 12, 4013–4017 (2012).

Cardenas, J. A. et al. Impact of morphology on printed contact performance in carbon nanotube thin-film transistors. Adv. Funct. Mater. 29, 1805727 (2019).

Higgins, T. M. et al. Electrolyte‐gated n‐type transistors produced from aqueous inks of WS2 nanosheets. Adv. Funct. Mater. 29, 1804387 (2018).

Chen, L. et al. Tailoring the yield and characteristics of wood cellulose nanocrystals (CNC) using concentrated acid hydrolysis. Cellulose 22, 1753–1762 (2015).

Zou, Z. et al. Rehealable, fully recyclable and malleable electronic skin enabled by dynamic covalent thermoset nanocomposite. Sci. Adv. 4, eaaq0508 (2018).

Martins, R. F. P. et al. Recyclable, flexible, low-power oxide electronics. Adv. Funct. Mater. 23, 2153–2161 (2013).

Williams, N. X. et al. Silver nanowire inks for direct-write electronic tattoo applications. Nanoscale 11, 14294–14302 (2019).

Lu, S. et al. Uniform and stable aerosol jet printing of carbon nanotube thin-film transistors by ink temperature control. ACS Appl. Mater. Interfaces 12, 43083–43089 (2020).

Moberg, T. et al. Rheological properties of nanocellulose suspensions: effects of fibril/particle dimensions and surface characteristics. Cellulose 24, 2499–2510 (2017).

Phan-Xuan, T. et al. Aggregation behavior of aqueous cellulose nanocrystals: the effect of inorganic salts. Cellulose 23, 3653–3663 (2016).

Wu, Q., Li, X., Fu, S., Li, Q. & Wang, S. Estimation of aspect ratio of cellulose nanocrystals by viscosity measurement: influence of surface charge density and NaCl concentration. Cellulose 24, 3255–3264 (2017).
Acknowledgements
This work was performed in part at the Duke University Shared Materials Instrumentation Facility (SMIF), a member of the North Carolina Research Triangle Nanotechnology Network (RTNN), which is supported by the National Science Foundation (grant no. ECCS-1542015) as part of the National Nanotechnology Coordinated Infrastructure (NNCI). This work was supported by the Department of Defense Congressionally Directed Medical Research Program (CDMRP) under award no. W81XWH-17-2-0045 and by the National Institutes of Health (NIH) under award no. 1R01HL146849. G.B. and M.J.T. are grateful to the Air Force Office of Scientific Research for research support under award no. FA9550-18-1-0222.
Ethics declarations
Competing interests
The authors declare no competing interests.
Additional information
Peer review information Nature Electronics thanks Seungjun Chung and Kamrul Hassan for their contribution to the peer review of this work.
Publisher's note Springer Nature remains neutral with regard to jurisdictional claims in published maps and institutional affiliations.
Supplementary information
About this article
Cite this article
Williams, N.X., Bullard, G., Brooke, N. et al. Printable and recyclable carbon electronics using crystalline nanocellulose dielectrics. Nat Electron 4, 261–268 (2021). https://doi.org/10.1038/s41928-021-00574-0
Received:

Accepted:

Published:

Issue Date:

DOI: https://doi.org/10.1038/s41928-021-00574-0