Abstract
Wide-bandgap oxide semiconductors are essential for the development of high-speed and energy-efficient transparent electronics. However, while many high-mobility n-type oxide semiconductors are known, wide-bandgap p-type oxides have carrier mobilities that are one to two orders of magnitude lower due to strong carrier localization near their valence band edge. Here, we report the growth of bilayer beta tellurium dioxide (β-TeO2), which has recently been proposed theoretically as a high-mobility p-type semiconductor, through the surface oxidation of a eutectic mixture of tellurium and selenium. The isolated β-TeO2 nanosheets are transparent and have a direct bandgap of 3.7 eV. Field-effect transistors based on the nanosheets exhibit p-type switching with an on/off ratio exceeding 106 and a field-effect hole mobility of up to 232 cm2 V−1 s−1 at room temperature. A low effective mass of 0.51 was observed for holes, and the carrier mobility reached 6,000 cm2 V−1 s−1 on cooling to −50 °C.
Relevant articles
Open Access articles citing this article.
Sirsha Guha

,

Arnab Kabiraj

&

Santanu Mahapatra

npj Computational Materials Open Access 21 September 2022
Access options
Access Nature and 54 other Nature Portfolio journals
Get Nature+, our best-value online-access subscription
$29.99 per month
cancel any time
Subscribe to this journal
Receive 12 digital issues and online access to articles
$119.00 per year
only $9.92 per issue
Rent or buy this article
Get just this article for as long as you need it
$39.95
Prices may be subject to local taxes which are calculated during checkout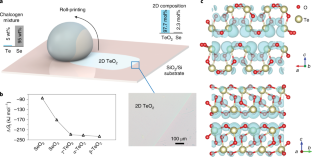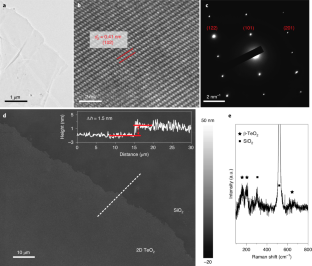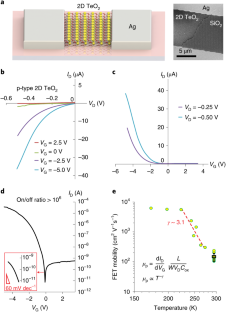 Data availability
The data used to determine the data points shown within the plots presented in this paper, and other findings from this study, are available from the corresponding authors upon reasonable request.
References
Thomas, G. Invisible circuits. Nature 389, 907–908 (1997).

Nomura, K. et al. Room-temperature fabrication of transparent flexible thin-film transistors using amorphous oxide semiconductors. Nature 432, 488–492 (2004).

Wager, J. F. Transparent electronics. Science 300, 1245–1246 (2003).

Nomura, K. et al. Thin-film transistor fabricated in single-crystalline transparent oxide semiconductor. Science 300, 1269–1272 (2003).

Zhang, S. et al. Recent progress in 2D group-VA semiconductors: from theory to experiment. Chem. Soc. Rev. 47, 982–1021 (2018).

Chhowalla, M., Jena, D. & Zhang, H. Two-dimensional semiconductors for transistors. Nat. Rev. Mater. 1, 16052 (2016).

He, Q. et al. Quest for p-type two-dimensional semiconductors. ACS Nano 13, 12294–12300 (2019).

Sanal, K. C., Vikas, L. S. & Jayaraj, M. K. Room temperature deposited transparent p-channel CuO thin film transistors. Appl. Surf. Sci. 297, 153–157 (2014).

Guo, S. et al. Ultrathin tellurium dioxide: emerging direct bandgap semiconductor with high-mobility transport anisotropy. Nanoscale 10, 8397–8403 (2018).

Hodgson, S. N. B. & Weng, L. Preparation of tellurite thin films from tellurium isopropoxide precursor by sol–gel processing. J. Non-Cryst. Solids 276, 195–200 (2000).

Hodgson, S. N. B. & Weng, L. Chemical and sol–gel processing of tellurite glasses for optoelectronics. J. Mater. Sci. Mater. Electron. 17, 723–733 (2006).

Zavabeti, A. et al. A liquid metal reaction environment for the room-temperature synthesis of atomically thin metal oxides. Science 358, 332–335 (2017).

Datta, R. S. et al. Flexible two-dimensional indium tin oxide fabricated using a liquid metal printing technique. Nat. Electron. 3, 51–58 (2020).

Cabrera, N. & Mott, N. F. Theory of the oxidation of metals. Rep. Prog. Phys. 12, 163–184 (1949).

Greenwood, N. N. & Earnshaw, A. in Chemistry of the Elements Ch. 16, 747–788 (Elsevier Butterworth-Heinemann, 1997).

Tsuchiya, Y. Phase equilibria in the liquid sulphur–tellurium system: structural changes and two-melt phase separation. J. Phys. Condens. Matter 4, 4335–4349 (1992).

Ghosh, G., Sharma, R. C., Li, D. T. & Chang, Y. A. The Se–Te (selenium–tellurium) system. J. Phase Equilib. 15, 213–224 (1994).

Li, D. T., Sharma, R. C. & Chang, Y. A. The S–Te (sulfur–tellurium) system. Bull. Alloy Phase Diagr. 10, 348–350 (1989).

Wang, L. et al. High-performance transparent inorganic–organic hybrid thin-film n-type transistors. Nat. Mater. 5, 893–900 (2006).

Nayak, P. K., Hedhili, M. N., Cha, D. & Alshareef, H. N. High performance In2O3 thin film transistors using chemically derived aluminum oxide dielectric. Appl. Phys. Lett. 103, 033518 (2013).

Chamlagain, B. et al. Mobility improvement and temperature dependence in MoSe2 field-effect transistors on parylene-C substrate. ACS Nano 8, 5079–5088 (2014).

Wurdack, M. et al. Ultrathin Ga2O3 glass: a large-scale passivation and protection material for monolayer WS2. Adv. Mater. 33, 2005732 (2020).

Lee, G.-H. et al. Highly stable, dual-gated MoS2 transistors encapsulated by hexagonal boron nitride with gate-controllable contact, resistance and threshold voltage. ACS Nano 9, 7019–7026 (2015).

Geim, A. K. & Grigorieva, I. V. Van der Waals heterostructures. Nature 499, 419–425 (2013).

Gu, J., Chakraborty, B., Khatoniar, M. & Menon, V. M. A room-temperature polariton light-emitting diode based on monolayer WS2. Nat. Nanotechnol. 14, 1024–1028 (2019).

Laun, J., Vilela Oliveira, D. & Bredow, T. Consistent Gaussian basis sets of double- and triple-zeta valence with polarization quality of the fifth period for solid-state calculations. J. Comput. Chem. 39, 1285–1290 (2018).

CRYSTAL—Basis Sets Library (CRYSTAL Theoretical Chemistry Group, Univ. Torino); http://www.crystal.unito.it/basis-sets.php

Grimme, S. Semiempirical GGA-type density functional constructed with a long-range dispersion correction. J. Comput. Chem. 27, 1787–1799 (2006).

Monkhorst, H. J. & Pack, J. D. Special points for Brillouin-zone integrations. Phys. Rev. B 13, 5188–5192 (1976).

Dovesi, R. et al. CRYSTAL14: a program for the ab initio investigation of crystalline solids. Int. J. Quantum Chem. 114, 1287–1317 (2014).

Dovesi, R. et al. CRYSTAL14 User's Manual (Univ. Torino, 2014).

Crystallography Open Database COD ID 9008125; www.crystallography.net

Qiao, J., Kong, X., Hu, Z.-X., Yang, F. & Ji, W. High-mobility transport anisotropy and linear dichroism in few-layer black phosphorus. Nat. Commun. 5, 4475 (2014).

Momma, K. & Izumi, F. VESTA 3 for three-dimensional visualization of crystal, volumetric and morphology data. J. Appl. Crystallogr. 44, 1272–1276 (2011).

Olin, Å., Nolang, B., Osadchii, E. G., Öhman, L.-O. & Rsen, E. Chemical Thermodynamics of Selenium. Vol. 7, 41 (Elsevier, 2005).

Ceriotti, M., Pietrucci, F. & Bernasconi, M. Ab initio study of the vibrational properties of crystalline TeO2: the α, β and γ phases. Phys. Rev. B 73, 104304 (2006).

Beyer, H. Verfeinerung der Kristallstruktur von Tellurit, dem rhombischen TeO2. Z. Kristallogr. Cryst. Mater. 124, 228–237 (1967).

Mirgorodsky, A. P., Merle-Méjean, T., Champarnaud, J. C., Thomas, P. & Frit, B. Dynamics and structure of TeO2 polymorphs: model treatment of paratellurite and tellurite; Raman scattering evidence for new γ- and δ-phases. J. Phys. Chem. Solids 61, 501–509 (2000).

Zhang, W. L., Zhang, S., Yang, M. & Chen, T. P. Microstructure of magnetron sputtered amorphous SiOx films: formation of amorphous Si core−shell nanoclusters. J. Phys. Chem. C 114, 2414–2420 (2010).

Di Nardo, S., Lozzi, L., Passacantando, M., Picozzi, P. & Santucci, S. Reactivity towards oxygen of TeSi(100) surfaces investigated by ultraviolet photoelectron spectroscopy, X-ray photoelectron spectroscopy and low energy electron diffraction spectroscopy. J. Electron Spectrosc. 74, 129–134 (1995).

Shimada, K. et al. Photoemission study of itinerant ferromagnet Cr1 − dTe. Phys. Rev. B 53, 7673–7683 (1996).

Charton, P., Gengembre, L. & Armand, P. TeO2–WO3 glasses: infrared, XPS and XANES structural characterizations. J. Solid State Chem. 168, 175–183 (2002).

Shalvoy, R. B., Fisher, G. B. & Stiles, P. J. Bond ionicity and structural stability of some average-valence-five materials studied by X-ray photoemission. Phys. Rev. B 15, 1680–1697 (1977).
Acknowledgements
T.D. acknowledges funds received from the Australian Research Council (ARC) through the DECRA scheme (DE190100100). A.Z. thanks the University of Melbourne for the support received through the McKenzie postdoctoral fellowship programme. This work was supported by ARC Centre of Excellence FLEET (CE170100039) and Exciton Science (CE170100026). We thank RMIT University's Microscopy and Microanalysis Facility (RMMF), a linked laboratory of the Australian Microscopy and Microanalysis Research Facility (AMMRF), and RMIT University's MicroNano Research Facility (MNRF) for scientific and technical support. The Cypher ES AFM instrument was funded in part by grant no. LE170100096 from the ARC. This project was also supported by computational resources provided by the Australian government through the National Computational Infrastructure National Facility (NCI-NF) and the Pawsey Supercomputer Centre (ARC). A.E. is supported by the Jack Brockhoff Foundation (JBF grant no. 4655-2019-AE). D.L.C. is supported by the ARC under Discovery Project grant no. DP190102852.
Ethics declarations
Competing interests
The authors declare no competing interests.
Additional information
Peer review information Nature Electronics thanks Seungwu Han, Chun-Hu Cheng and the other, anonymous, reviewer(s) for their contribution to the peer review of this work.
Publisher's note Springer Nature remains neutral with regard to jurisdictional claims in published maps and institutional affiliations.
Supplementary information
About this article
Cite this article
Zavabeti, A., Aukarasereenont, P., Tuohey, H. et al. High-mobility p-type semiconducting two-dimensional β-TeO2. Nat Electron 4, 277–283 (2021). https://doi.org/10.1038/s41928-021-00561-5
Received:

Accepted:

Published:

Issue Date:

DOI: https://doi.org/10.1038/s41928-021-00561-5
This article is cited by
Xiaodong Zhang
Liping Feng
Xitong Wang

Science China Materials (2023)

Sirsha Guha
Arnab Kabiraj
Santanu Mahapatra

npj Computational Materials (2022)

Kun Peng
Wei Ren
Fangsen Li

Journal of Materials Science (2022)