Abstract
Integrated circuits and certain silicon-based quantum devices require the precise positioning of dopant nanostructures, and hydrogen resist lithography can be used to fabricate such structures at the atomic-scale limit. However, there is no single technique capable of measuring the three-dimensional location and electrical characteristics of these dopant nanostructures, as well as the charge dynamics of carriers and trapped charges in their vicinity. Here, we show that broadband electrostatic force microscopy can be used for non-destructive carrier profiling of atomically thin n-type (phosphorus) and p-type (boron) dopant layers in silicon, and their resulting p–n junctions. The probe has a lateral resolution of 10 nm and a vertical resolution of 0.5 nm, and detects the capacitive signature of subsurface charges in a broad 1 kHz to 10 GHz frequency range. This allows the bias-dependent charge dynamics of free electrons in conducting channels and trapped charges in oxide–silicon interfaces to be investigated.
Relevant articles
Open Access articles citing this article.
Qianchun Weng

,

Le Yang

…

Susumu Komiyama

Nature Communications Open Access 06 August 2021
Access options
Subscribe to Nature+
Get immediate online access to Nature and 55 other Nature journal
Subscribe to Journal
Get full journal access for 1 year
$119.00
only $9.92 per issue
All prices are NET prices.
VAT will be added later in the checkout.
Tax calculation will be finalised during checkout.
Buy article
Get time limited or full article access on ReadCube.
$32.00
All prices are NET prices.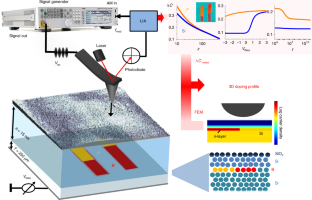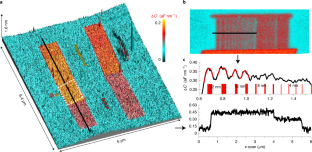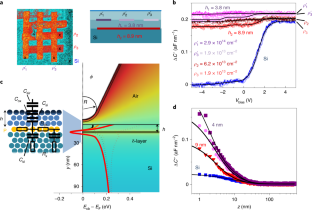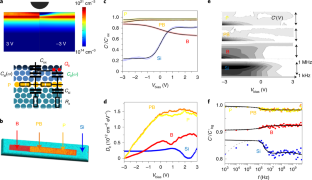 Data availability
All data needed to evaluate the conclusions in this paper are present in the paper and/or the Supplementary Information. Additional data related to this paper can be requested from the authors. The data created during this research are available at https://doi.org/10.5281/zenodo.3899692.
References
Yang, K. H. M., Dong, Q., Austin, T. & Sylvester, D. Analog malicious hardware. In Proc. 2016 IEEE Symposium on Security and Privacy 18–37 (IEEE, 2016).

Orji, N. G. et al. Metrology for the next generation of semiconductor devices. Nat. Electron. 1, 532–547 (2018).

Holler, M. et al. Three-dimensional imaging of integrated circuits with macro- to nanoscale zoom. Nat. Electron. 2, 464–470 (2019).

Holler, M. et al. High-resolution non-destructive three-dimensional imaging of integrated circuits. Nature 543, 402–406 (2017).

Zschech, E. & Diebold, A. Metrology and failure analysis for 3D IC integration. AIP Conf. Proc. 1395, 233–239 (2011).

Hill, C. D. et al. A surface code quantum computer in silicon. Sci. Adv. 1, e1500707 (2015).

Škereň, T., Köster, S., Douhard, B., Fleischmann, C. & Fuhrer, A. Bipolar device fabrication using a scanning tunneling microscope. Nat. Electron. https://doi.org/10.1038/s41928-020-0445-5 (2020).

Stock, T. J. Z. et al. Atomic-scale patterning of arsenic in silicon by scanning tunneling microscopy. ACS Nano 14, 3316–3327 (2020).

Goh, K. E. J., Oberbeck, L., Simmons, M. Y., Hamilton, A. R. & Butcher, M. J. Influence of doping density on electronic transport in degenerate Si:P δ-doped layers. Phys. Rev. B 73, 035401 (2006).

Ruess, F. J. et al. Toward atomic-scale device fabrication in silicon using scanning probe microscopy. Nano Lett. 4, 1969–1973 (2004).

Buech, H., Fuechsle, M., Baker, W., House, M. G. & Simmons, M. Y. Quantum dot spectroscopy using a single phosphorus donor. Phys. Rev. B 92, 235309 (2015).

Koch, M. et al. Spin read-out in atomic qubits in an all-epitaxial three-dimensional transistor. Nat. Nanotechnol. 14, 137–140 (2019).

International Technology Roadmap for Semiconductors—ITRS 2.0 (ITRS, 2015); http://www.itrs2.net

Oberbeck, L. et al. Imaging of buried phosphorus nanostructures in silicon using scanning tunneling microscopy. Appl. Phys. Lett. 104, 253102 (2014).

Gramse, G. et al. Nondestructive imaging of atomically thin nanostructures buried in silicon. Sci. Adv. 3, e1602586 (2017).

Cheng, B., Roy, S., Roy, G., Adamu-Lema, F. & Asenov, A. Impact of intrinsic parameter fluctuations in decanano MOSFETs on yield and functionality of SRAM cells. Solid State Electron. 49, 740–746 (2005).

Holmberg, V. C., Helps, J. R., Mkhoyan, K. A. & Norris, D. J. Imaging impurities in semiconductor nanostructures. Chem. Mater. 25, 1332–1350 (2013).

Lenk, A., Lichte, H. & Muehle, U. 2D-mapping of dopant distribution in deep sub micron CMOS devices by electron holography using adapted FIB-preparation. J. Electron Microsc. 54, 351–359 (2005).

Zalm, P. C. Ultra-shallow doping profiling with SIMS. Rep. Prog. Phys. 58, 1321–1374 (1995).

De Wolf, P., Snauwaert, J., Clarysse, T., Vandervorst, W. & Hellemans, L. Characterization of a point-contact on silicon using force microscopy-supported resistance measurements. Appl. Phys. Lett. 66, 1530–1532 (1995).

Gramse, G., Edwards, M. A., Fumagalli, L. & Gomila, G. Theory of amplitude modulated electrostatic force microscopy for dielectric measurements in liquids at MHz frequencies. Nanotechnology 24, 415709 (2013).

Fumagalli, L. et al. Nanoscale capacitance imaging with attofarad resolution using a.c. current sensing atomic force microscopy. Nanotechnology 17, 4581–4587 (2006).

Shao, R., Kalinin, S. V. & Bonnell, D. A. Local impedance imaging and spectroscopy of polycrystalline ZnO using contact atomic force microscopy. Appl. Phys. Lett. 82, 1869–1871 (2003).

Lányi, S. & Hruskovic, M. The resolution limit of scanning capacitance microscopes. J. Phys. D 36, 598 (2003).

Cho, Y. et al. Scanning nonlinear dielectric microscopy with nanometer resolution. Appl. Phys. Lett. 75, 2833–2855 (1999).

Gramse, G. et al. Quantitative sub-surface and non-contact imaging using scanning microwave microscopy. Nanotechnology 26, 135701 (2015).

Gil, A., Colchero, J., Gomez-Herrero, J. & Baro, A. M. Electrostatic force gradient signal: resolution enhancement in electrostatic force microscopy and improved kelvin probe microscopy. Nanotechnology 14, 332–340 (2003).

Girard, P. & Titkov, A. N. Applied Scanning Probe Methods II: Scanning Probe Microscopy Techniques Ch. 9.4.3 (Springer, 2006).

Girard, P. Electrostatic force microscopy: principles and some applications to semiconductors. Nanotechnology 12, 485–490 (2001).

Sze, S. M. & Ng, K. K. Physics of Semiconductor Devices 3rd edn (Wiley, 2006)

Niranjan, M. K., Zollner, S., Kleinman, L. & Demkov, A. A. Theoretical investigation of PtSi surface energies and work functions. Phys. Rev. B 73, 195332 (2006).

Oberbeck, L. et al. Encapsulation of phosphorus dopants in silicon for the fabrication of a quantum computer. Appl. Phys. Lett. 81, 3197–3199 (2002).

Polley, C. M. et al. Exploring the limits of n-type ultra-shallow junction formation. ACS Nano 7, 5499–5505 (2013).

Schmidt, V., Wittemann, J. V., Senz, S. & Gösele, U. Silicon nanowires: a review on aspects of their growth and their electrical properties. Adv. Mater. 21, 2681–2702 (2009).

Castagné, R. & Vapaille, A. Description of the SiO2:Si interface properties by means of very low frequency MOS capacitance measurements. Surf. Sci. 28, 157–193 (1971).

Mizsei, J. Determination of SiO2–Si interface trap level density (Dit) by vibrating capacitor method. Solid State Electron. 44, 1825–1831 (2000).

Bussmann, E. et al. Scanning capacitance microscopy registration of buried atomic-precision donor devices. Nanotechnology 26, 085701 (2015).

Keizer, K. G., Koelling, S., Koenraad, P. M. & Simmons, M. Y. Suppressing segregation in highly phosphorus doped silicon monolayers. ACS Nano 9, 12537–12541 (2015).

Becker, G. T., Regazzoni, F., Paar, C. & Burleson, W. P. Stealthy dopant-level hardware Trojans: extended version. J. Cryptographic Eng. 4, 19–31 (2014).

O'Brien, J. L. et al. Towards the fabrication of phosphorus qubits for a silicon quantum computer. Phys. Rev. B 64, 161401 (2001).

Shen, T. C. et al. Ultradense phosphorous δ-layers grown into silicon from PH3 molecular precursors. Appl. Phys. Lett. 80, 1580–1582 (2002).

Adams, D. P., Mayer, T. M. & Swartzentruber, B. S. Nanometer-scale lithography on Si(001) using adsorbed H as an atomic layer resist. J. Vac. Sci. Technol. B 14, 1642–1649 (1996).

McKibbin, S. R., Clarke, W. R., Fuhrer, A., Reusch, T. C. G. & Simmons, M. Y. Investigating the regrowth surface of Si:P δ-layers toward vertically stacked three dimensional devices. Appl. Phys. Lett. 95, 233111 (2009).

Gramse, G., Schönhals, A. & Kienberger, F. Nanoscale dipole dynamics of protein membranes studied by broadband dielectric microscopy. Nanoscale 11, 4303–4309 (2019).

Fumagalli, L., Gramse, G., Esteban-Ferrer, D., Edwards, M. A. & Gomila, G. Quantifying the dielectric constant of thick insulators using electrostatic force microscopy. Appl. Phys. Lett. 96, 183107 (2010).
Acknowledgements
Technical discussions with I. Alic are acknowledged. This work has been supported by FWF project no. P28018-B27, EFRE project no. IWB 2018 98292, NMBP project no. MMAMA 761036 and UKRI EPSRC project no. EP/M009564/1.
Ethics declarations
Competing interests
The authors declare no competing interests.
Additional information
Publisher's note Springer Nature remains neutral with regard to jurisdictional claims in published maps and institutional affiliations.
Supplementary information
About this article
Cite this article
Gramse, G., Kölker, A., Škereň, T. et al. Nanoscale imaging of mobile carriers and trapped charges in delta doped silicon p–n junctions. Nat Electron 3, 531–538 (2020). https://doi.org/10.1038/s41928-020-0450-8
Received:

Accepted:

Published:

Issue Date:

DOI: https://doi.org/10.1038/s41928-020-0450-8
This article is cited by
Qianchun Weng
Le Yang
Susumu Komiyama

Nature Communications (2021)

Fang Zhong
Hao Wang
Weida Hu

Nano Research (2021)