Abstract
Could computer simulation models drive our ambitions to sustainability in urban and non-urban environments? Digital twins, defined here as real-time, virtual replicas of physical and biological entities, may do just that. However, despite their touted potential, digital twins have not been examined critically in urban sustainability paradigms—not least in the Sustainable Development Goals framework. Accordingly, in this Perspective, we examine their benefits in promoting the Sustainable Development Goals. Then, we discuss critical limitations when modelling socio-technical and socio-ecological systems and go on to discuss measures to treat these limitations and design inclusive, reliable and responsible computer simulations for achieving sustainable development.
Relevant articles
Open Access articles citing this article.
Asaf Tzachor

,

Catherine E. Richards

&

Scott Jeen

npj Science of Food Open Access 10 October 2022
Access options
Access Nature and 54 other Nature Portfolio journals
Get Nature+, our best-value online-access subscription
$29.99 / 30 days
cancel any time
Subscribe to this journal
Receive 12 digital issues and online access to articles
$119.00 per year
only $9.92 per issue
Rent or buy this article
Get just this article for as long as you need it
$39.95
Prices may be subject to local taxes which are calculated during checkout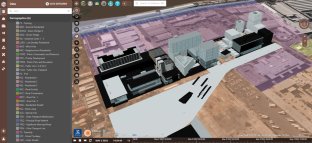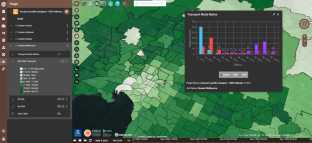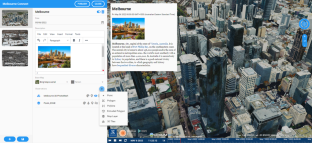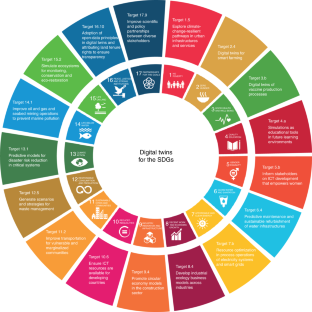 References
Wright, L. & Davidson, S. How to tell the difference between a model and a digital twin. Adv. Model. Simul. Eng. Sci. 7, 13 (2020).

Grieves, M. & Vickers, J. in Transdisciplinary Perspectives on Complex Systems (eds Kahlen, J. et al.) 85–113 (Springer, 2017).

Boschert, S. & Rosen, R. in Mechatronic Futures (eds Hehenberger, P. & Bradley, D.) 59–74 (Springer, 2016).

Tao, F. & Qi, Q. Make more digital twins. Nature 573, 490–491 (2019).

Niederer, S. A., Sacks, M. S., Girolami, M. & Willcox, K. Scaling digital twins from the artisanal to the industrial. Nat. Comput. Sci. 1, 313–320 (2021).

Bauer, P. et al. The digital revolution of Earth-system science. Nat. Comput. Sci. 1, 104–113 (2021).

Rosen, R., Von Wichert, G., Lo, G. & Bettenhausen, K. D. About the importance of autonomy and digital twins for the future of manufacturing. IFAC PapersOnLine 48, 567–572 (2015).

Tao, F., Zhang, H., Liu, A. & Nee, A. Y. Digital twin in industry: state-of-the-art. IEEE Trans. Industr. Inform. 15, 2405–2415 (2018).

Cannoodt, R., Saelens, W., Deconinck, L. & Saeys, Y. Spearheading future omics analyses using dyngen, a multi-modal simulator of single cells. Nat. Commun. 12, 3942 (2021).

Bruynseels, K., Santoni de Sio, F. & van den Hoven, J. Digital twins in health care: ethical implications of an emerging engineering paradigm. Front. Genet. 9, 31 (2018).

Laubenbacher, R., Sluka, J. P. & Glazier, J. A. Using digital twins in viral infection. Science 371, 1105–1106 (2021).

Bauer, P., Stevens, B. & Hazeleger, W. A digital twin of Earth for the green transition. Nat. Clim. Change 11, 80–83 (2021).

Voosen, P. Europe is building a 'digital twin' of Earth to revolutionize climate forecasts. Science https://doi.org/10.1126/science.abf0687 (2020).

Deren, L., Wenbo, Y. & Zhenfeng, S. Smart city based on digital twins. Comput. Urban Sci. 1, 4 (2021).

Francisco, A., Mohammadi, N. & Taylor, J. E. Smart city digital twin-enabled energy management: toward real-time urban building energy benchmarking. J. Manag. Eng. 36, 04019045 (2020).

Jiang, Y., Yin, S., Li, K., Luo, H. & Kaynak, O. Industrial applications of digital twins. Phil. Trans. R. Soc. Lond. A 379, 20200360 (2021).

Marmolejo-Saucedo, J. A., Hurtado-Hernandez, M. & Suarez-Valdes, R. Digital twins in supply chain management: a brief literature review. In Proc. ICO 2019: Intelligent Computing and Optimization Vol. 1072 (eds Vasant, P. et al.) 653–661 (Springer, 2020).

El-Zahab, S. & Zayed, T. Leak detection in water distribution networks: an introductory overview. Smart Water 4, 5 (2019).

Clemen, T. et al. Multi-agent systems and digital twins for smarter cities. In Proc. 2021 ACM SIGSIM Conference on Principles of Advanced Discrete Simulation 45–55 (ACM, 2021).

Havard, V., Jeanne, B., Lacomblez, M. & Baudry, D. Digital twin and virtual reality: a co-simulation environment for design and assessment of industrial workstations. Prod. Manuf. Res. 7, 472–489 (2019).

Onile, A. E., Machlev, R., Petlenkov, E., Levron, Y. & Belikov, J. Uses of the digital twins concept for energy services, intelligent recommendation systems, and demand side management: A review. Energy Rep. 7, 997–1015 (2021).

Dembski, F., Wössner, U., Letzgus, M., Ruddat, M. & Yamu, C. Urban digital twins for smart cities and citizens: the case study of Herrenberg, Germany. Sustainability 12, 2307 (2020).

Lian, B. et al. Application of digital twins for remote operation of membrane capacitive deionization (mCDI) systems. Desalination 525, 115482 (2022).

Designing Disruption: the critical role of Virtual Twins in accelerating Sustainability (Dassault Systèmes and Accenture, 2021).

Deng, S. et al. Edge intelligence: the confluence of edge computing and artificial intelligence. IEEE Internet Things J. 7, 7457–7469 (2020).

Engström, R. E. et al. Succeeding at home and abroad: accounting for the international spillovers of cities' SDG actions. npj Urban Sustain. 1, 18 (2021).

Amirebrahimi, S., Rajabifard, A., Mendis, P. & Ngo, T. A BIM-GIS integration method in support of the assessment and 3D visualisation of flood damage to a building. J. Spat. Sci. 61, 317–350 (2016).

Rajabifard, A. et al. in Sustainable Development Goals Connectivity Dilemma (ed. Rajabifard, A.) 243–255 (CRC, 2019).

Sabri, S. & Rajabifard, A. in Sustainable Development Goals Connectivity Dilemma (ed. Rajabifard, A.) 199–211 (CRC, 2019).

Assarkhaniki, Z., Sabri, S. & Rajabifard, A. Using open data to detect the structure and pattern of informal settlements: an outset to support inclusive SDGs' achievement. Big Earth Data 5, 497–526 (2021).

Vinuesa, R. et al. The role of artificial intelligence in achieving the Sustainable Development Goals. Nat. Commun. 11, 233 (2020).

Karvonen, A. et al. The 'New Urban Science': towards the interdisciplinary and transdisciplinary pursuit of sustainable transformations. Urban Transform. 3, 9 (2021).

Bettencourt, L. M. A. Introduction to Urban Science: Evidence and Theory of Cities as Complex Systems (MIT Press, 2021).

Acuto, M. & Parnell, S. Leave no city behind. Science 352, 873 (2016).

Kapteyn, M. G., Pretorius, J. V. & Willcox, K. E. A probabilistic graphical model foundation for enabling predictive digital twins at scale. Nat. Comput. Sci. 1, 337–347 (2021).

Ragnedda, M. & Gladkova, A. (eds) Digital Inequalities in the Global South (Springer, 2020).

Pick, J. B. & Azari, R. Global digital divide: influence of socioeconomic, governmental, and accessibility factors on information technology. Inf. Technol. Dev. 14, 91–115 (2008).

Chinn, M. D. & Fairlie, R. W. The determinants of the global digital divide: a cross-country analysis of computer and internet penetration. Oxf. Econ. Pap. 59, 16–44 (2007).

Rodriguez, F. & Wilson, E. J. Are Poor Countries Losing the Information Revolution? (World Bank, 2000).

Niu, J., Tang, W., Xu, F., Zhou, X. & Song, Y. Global research on artificial intelligence from 1990–2014: spatially-explicit bibliometric analysis. ISPRS Int. J. Geoinf. 5, 66 (2016).

Schrotter, G. & Hürzeler, C. The digital twin of the city of Zurich for urban planning. J. Photogramm. Remote. Sens. Geoinf. Sci. 88, 99–112 (2020).

United Nations Statistics Division in The Sustainable Development Goals Report 2019 (United Nations, 2019); https://unstats.un.org/sdgs/report/2019/goal-11/

Derudder, B. & Van Meeteren, M. Engaging with 'urban science'. Urban Geogr. 40, 555–564 (2019).

Bai, X. et al. Networking urban science, policy and practice for sustainability. Curr. Opin. Environ. Sustain. 39, 114–122 (2019).

Hillier, B. in Digital Urban Modeling and Simulation Vol. 242 (eds Arisona, S. M. et al.) 24–48 (Springer, 2012).

Smajgl, A., Brown, D. G., Valbuena, D. & Huigen, M. G. Empirical characterisation of agent behaviours in socio-ecological systems. Environ. Model. Softw. 26, 837–844 (2011).

Karlsson, J. M., Bring, A., Peterson, G. D., Gordon, L. J. & Destouni, G. Opportunities and limitations to detect climate-related regime shifts in inland Arctic ecosystems through eco-hydrological monitoring. Environ. Res. Lett. 6, 014015 (2011).

Laikre, L. et al. Compromising genetic diversity in the wild: unmonitored large-scale release of plants and animals. Trends Ecol. Evol. 25, 520–529 (2010).

Edmonds, B. & Meyer, R. (eds) Simulating Social Complexity: A Handbook (Springer, 2013).

Slater, T. Shaking Up the City: Ignorance, Inequality, and the Urban Question (Univ. California Press, 2021).

Brusaporci, S. in 3D Printing: Breakthroughs in Research and Practice (ed. Information Resources Management Association) 333–360 (IGI Global, 2017).

Zou, J. & Schiebinger, L. AI can be sexist and racist—it's time to make it fair. Nature 559, 324–326 (2018).

Fuso Nerini, F. et al. Mapping synergies and trade-offs between energy and the Sustainable Development Goals. Nat. Energy 3, 10–15 (2018).

Zhao, Z. et al. Synergies and tradeoffs among Sustainable Development Goals across boundaries in a metacoupled world. Sci. Total Environ. 751, 141749 (2021).

Tzachor, A., Devare, M., King, B., Avin, S. & Ó hÉigeartaigh, S. Responsible artificial intelligence in agriculture requires systemic understanding of risks and externalities. Nat. Mach. Intell. 4, 104–109 (2022).

Chen, Y. & Landry, D. Capturing the rains: comparing Chinese and World Bank hydropower projects in Cameroon and pathways for south–south and north nouth technology transfer. Energy Policy 115, 561–571 (2018).

Stilgoe, J., Owen, R., & Macnaghten, P. in The Ethics of Nanotechnology, Geoengineering and Clean Energy (eds Maynard, A. & Stilgoe, J.) 347–359 (Routledge, 2020).

Stahl, B. C. & Wright, D. Ethics and privacy in AI and big data: implementing responsible research and innovation. IEEE Secur. Priv. 16, 26–33 (2018).

Jirotka, M., Grimpe, B., Stahl, B., Eden, G. & Hartswood, M. Responsible research and innovation in the digital age. Commun. ACM 60, 62–68 (2017).

Kaissis, G. et al. End-to-end privacy preserving deep learning on multi-institutional medical imaging. Nat. Mach. Intell. 3, 473–484 (2021).

Transforming our World: The 2030 Agenda for Sustainable Development (United Nations, 2015).
Acknowledgements
This paper was made possible through the support of a grant from Templeton World Charity Foundation, Inc. The opinions expressed in this publication are those of the author(s) and do not necessarily reflect the views of Templeton World Charity Foundation, Inc. We thank Y. Chen from the University of Melbourne for supporting the production of Figs. 1–3.
Ethics declarations
Competing interests
A.T., C.E.R., S.S. and M.A. declare no competing interests. A.R. manages the Centre for Spatial Data Infrastructures and Land Administration (CSDILA) at the University of Melbourne. CSDILA developed the Fishermans Bend Digital Twin proof of concept in partnership with the Department of Environment, Land, Water and Planning (DELWP), State Government of Victoria, Australia.
Peer review
Peer review information
Nature Sustainability thanks Thomas Clemen, Fabian Dembski, Andrew Karvonen and Jack Stilgoe for their contribution to the peer review of this work.
Additional information
Publisher's note Springer Nature remains neutral with regard to jurisdictional claims in published maps and institutional affiliations.
About this article
Cite this article
Tzachor, A., Sabri, S., Richards, C.E. et al. Potential and limitations of digital twins to achieve the Sustainable Development Goals. Nat Sustain 5, 822–829 (2022). https://doi.org/10.1038/s41893-022-00923-7
Received:

Accepted:

Published:

Issue Date:

DOI: https://doi.org/10.1038/s41893-022-00923-7
This article is cited by
Catherine E. Richards
Asaf Tzachor
Richard Fenner

Nature Water (2023)

Shanay Rab
Meher Wan
Sanjay Yadav

MAPAN (2023)

Asaf Tzachor
Catherine E. Richards
Scott Jeen

npj Science of Food (2022)