Abstract
Access to electricity and modern cooking fuels, especially for women, leads to time savings in the home, improved health and better access to information. These factors increase women's well-being and enhance their ability to make reproductive choices, which is empirically expressed by falling birth rates. This study provides an international analysis of the relationship between access to modern energy and fertility, based on panel data synthesized from 155 Demographic and Health Surveys over 26 years. Controlling for other determinants, we find that access to electricity and modern cooking fuels, along with education, negatively affects fertility. Energy and education effects are complementary and strongest in regions with initially high fertility rates. Expanded access to modern energy and education would accelerate the demographic transition. Therefore, the energy demand and carbon emissions needed to achieve the Sustainable Development Goal of energy access while ensuring gender equality and climate action would be lower in the long term than currently assumed.
Relevant articles
Open Access articles citing this article.
Camille Belmin

,

Roman Hoffmann

…

Peter-Paul Pichler

Scientific Data Open Access 22 November 2022
Access options
Access Nature and 54 other Nature Portfolio journals
Get Nature+, our best-value online-access subscription
$29.99 per month
cancel any time
Subscribe to this journal
Receive 12 digital issues and online access to articles
$119.00 per year
only $9.92 per issue
Rent or buy this article
Get just this article for as long as you need it
$39.95
Prices may be subject to local taxes which are calculated during checkout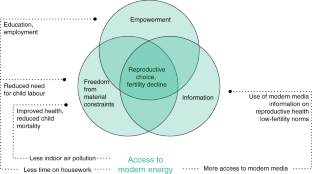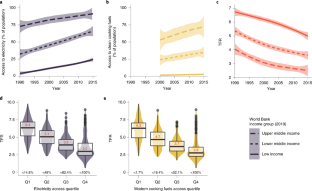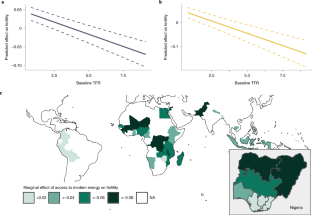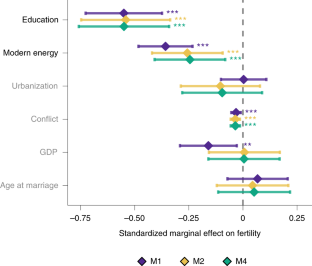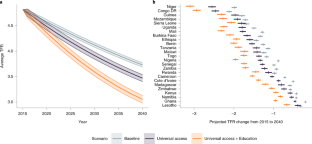 References
Johansson, T. B., Patwardhan, A. P., Nakićenović, N. & Gomez-Echeverri, L. Global Energy Assessment: Toward a Sustainable Future (Cambridge Univ. Press, 2012).

McCollum, D. L. et al. Connecting the Sustainable Development Goals by their energy inter-linkages. Environ. Res. Lett. 13, 033006 (2018).

Steinberger, J. K. & Roberts, J. T. From constraint to sufficiency: the decoupling of energy and carbon from human needs, 1975–2005. Ecol. Econ. 70, 425–433 (2010).

Das, I. et al. A Virtuous Cycle? Reviewing the Evidence on Women's Empowerment and Energy Access, Frameworks, Metrics and Methods (Duke University, 2020); https://energyaccess.duke.edu/publication/a-virtuous-cycle-reviewing-the-evidence-on-womens-empowerment-and-energy-access-frameworks-metrics-and-methods/

Wickramasinghe, A. Energy access and transition to cleaner cooking fuels and technologies in Sri Lanka: issues and policy limitations. Energy Policy 39, 7567–7574 (2011).

Rewald, R. Energy and Women and Girls: Analyzing the Needs, Uses, and Impacts of Energy on Women and Girls in the Developing World (Oxfam, 2017).

Adaji, E. E., Ekezie, W., Clifford, M. & Phalkey, R. Understanding the effect of indoor air pollution on pneumonia in children under 5 in low- and middle-income countries: a systematic review of evidence. Environ. Sci. Pollut. Res. 26, 3208–3225 (2019).

Ezzati, M. Indoor air pollution and health in developing countries. Lancet 366, 104–106 (2005).

Smith, K. R. Indoor air pollution in developing countries and acute lower respiratory infections in children. Thorax 55, 518–532 (2000).

Rehfuess, E. & WHO Fuel for Life: Household Energy and Health (WHO, 2006).

Energy and Air Pollution: World Energy Outlook Special Report 2016 (OECD and IEA, 2016).

WHO Guidelines for Indoor Air Quality: Household Fuel Combustion (WHO, 2014).

Winther, T., Matinga, M. N., Ulsrud, K. & Standal, K. Women's empowerment through electricity access: scoping study and proposal for a framework of analysis. J. Dev. Effect. 9, 389–417 (2017).

Dixon Mueller, R. Population Policy and Women's Rights: Transforming Reproductive Choice (Praeger, 1993).

The Power of Choice: Reproductive Rights and the Demographic Transition (UNFPA, 2018).

Tracking SDG 7: The Energy Progress Report (2021) (IRENA, 2021); https://www.irena.org/publications/2021/Jun/Tracking-SDG-7-2021

Sachs, J. et al. Sustainable Development Report 2020: The Sustainable Development Goals and COVID-19 (Cambridge Univ. Press, 2020).

Grimm, M., Sparrow, R. & Tasciotti, L. Does electrification spur the fertility transition? Evidence from Indonesia. Demography 52, 1773–1796 (2015).

Grogan, L. Household electrification, fertility, and employment: evidence from hydroelectric dam construction in Colombia. J. Hum. Cap. 10, 109–158 (2016).

Potter, J. E., Schmertmann, C. P. & Cavenaghi, S. M. Fertility and development: evidence from Brazil. Demography 39, 739–761 (2002).

Peters, J. & Vance, C. Rural electrification and fertility—evidence from Côte d'Ivoire. J. Dev. Stud. 47, 753–766 (2011).

Fujii, T. & Shonchoy, A. S. Fertility and rural electrification in Bangladesh. J. Dev. Econ. 143, 102430 (2020).

Harbison, S. F. & Robinson, W. C. Rural electrification and fertility change. Popul. Res. Policy Rev. 4, 149–171 (1985).

Energy Access Outlook (IEA, 2017).

Ringhofer, L., Singh, S. J. & Fischer-Kowalski, M. in Ester Boserup's Legacy on Sustainability: Orientations for Contemporary Research (eds Fischer-Kowalski, M. et al.) 117–138 (Springer, 2014).

Dasgupta, P. in Handbook of Environmental and Resource Economics Vol. 1 (eds Mäler, K. & Vincent, J.) Ch. 5 (North Holland, 2003).

Pachauri, S. & Rao, N. D. Gender impacts and determinants of energy poverty: are we asking the right questions? Curr. Opin. Environ. Sustain. 5, 205–215 (2013).

Grogan, L. & Sadanand, A. Rural electrification and employment in poor countries: evidence from Nicaragua. World Dev. 43, 252–265 (2013).

Dinkelman, T. The effects of rural electrification on employment: new evidence from South Africa. Am. Econ. Rev. 101, 3078–3108 (2011).

Osili, U. O. & Long, B. T. Does female schooling reduce fertility? Evidence from Nigeria. J. Dev. Econ. 87, 57–75 (2008).

Lutz, W. & KC, S. Global human capital: integrating education and population. Science 333, 587–592 (2011).

Schultz, T. P. Human capital, family planning, and their effects on population growth. Am. Econ. Rev. 84, 255–260 (1994).

Rotondi, V., Kashyap, R., Pesando, L. M., Spinelli, S. & Billari, F. C. Leveraging mobile phones to attain sustainable development. Proc. Natl Acad. Sci. USA 117, 13413–13420 (2020).

La Ferrara, E., Chong, A. & Duryea, S. Soap operas and fertility: evidence from Brazil. Am. Econ. J. Appl. Econ. 4, 1–31 (2012).

Jensen, R. & Oster, E. The power of TV: cable television and women's status in India. Q. J. Econ. 124, 1057–1094 (2009).

Mahat, I. Gender and rural energy technologies: empowerment perspective—a case study of Nepal. Rev. Can. Etudes Dev. 27, 531–550 (2006).

Lutz, W., Butz, W. P. & KC, S. (eds) World Population and Human Capital in the Twenty-First Century (Oxford Univ. Press, 2014).

Jejeebhoy, S. J. Women's Education, Autonomy, and Reproductive Behaviour: Experience from Developing Countries (Oxford Univ. Press, 1995).

Kravdal, O. Education and fertility in sub-Saharan Africa: individual and community effects. Demography 39, 233–250 (2002).

Gustafsson, S. Optimal age at motherhood. Theoretical and empirical considerations on postponement of maternity in Europe. J. Popul. Econ. 14, 225–247 (2001).

World Bank Open Data (World Bank, 2020); https://data.worldbank.org/

Hoffmann, R. & Lutz, S. U. The health knowledge mechanism: evidence on the link between education and health lifestyle in the Philippines. Eur. J. Health Econ. 20, 27–43 (2019).

MacKinnon, D. P., Fairchild, A. J. & Fritz, M. S. Mediation analysis. Annu. Rev. Psychol. 58, 593–614 (2007).

World Population Prospects 2019: Highlights (UN Department of Economic and Social Affairs, Population Division, 2019).

Bongaarts, J. & Casterline, J. Fertility transition: is sub-Saharan Africa different? Popul. Dev. Rev. 38, 153–168 (2013).

Kebede, E., Goujon, A. & Lutz, W. Stalls in Africa's fertility decline partly result from disruptions in female education. Proc. Natl Acad. Sci. USA 116, 2891–2896 (2019).

Africa Energy Outlook 2019 (IEA, 2019).

Mason, K. O. Explaining fertility transitions. Demography 34, 443–454 (1997).

Galor, O. & Weil, D. N. Population, technology, and growth: from Malthusian stagnation to the demographic transition and beyond. Am. Econ. Rev. 90, 806–828 (2000).

Standal, K. & Winther, T. Empowerment through energy? Impact of electricity on care work practices and gender relations. Forum Dev. Stud. 43, 27–45 (2016).

Rosenberg, M., Armanios, D. E., Aklin, M. & Jaramillo, P. Evidence of gender inequality in energy use from a mixed-methods study in India. Nat. Sustain. 3, 110–118 (2020).

Bazilian, M. et al. Energy access scenarios to 2030 for the power sector in sub-Saharan Africa. Util. Policy 20, 1–16 (2012).

Chakravarty, S. & Tavoni, M. Energy poverty alleviation and climate change mitigation: is there a trade off? Energy Econ. 40, S67–S73 (2013).

Rao, N. D., Min, J. & Mastrucci, A. Energy requirements for decent living in India, Brazil and South Africa Nat. Energy 4, 1025–1032 (2019).

KC, S. & Lutz, W. The human core of the Shared Socioeconomic Pathways: population scenarios by age, sex and level of education for all countries to 2100. Glob. Environ. Change 42, 181–192 (2017).

Lane, S. D. From population control to reproductive health: an emerging policy agenda. Soc. Sci. Med. 39, 1303–1314 (1994).

Malakar, Y. & Day, R. Differences in firewood users' and LPG users' perceived relationships between cooking fuels and women's multidimensional well-being in rural India. Nat. Energy 5, 1022–1031 (2020).

Demographic and Health Surveys Data (ICF, 2004–2017); https://dhsprogram.com/data

Health-Related Microdata for Low- and Middle-Income Countries (IPUMS-DHS, 2017); https://www.idhsdata.org/idhs/

The DHS Program Spatial Data Repository (ICF, 2020); http://spatialdata.dhsprogram.com/home/

Belmin, C. A Dataset of Harmonized DHS Regions (GitLab, 2019); https://gitlab.pik-potsdam.de/belmin/dhs_region_harmonization

Uppsala Conflict Data Program (UCDP, 2020); https://ucdp.uu.se/

Wickham, H. et al. Welcome to the tidyverse. J. Open Source Softw. 4, 1686 (2019).

Croissant, Y. & Millo, G. Panel data econometrics in R: the plm package. J. Stat. Softw. 27, 1–43 (2008).

Xie, Y. in Implementing Reproducible Research (eds Stodden, V. et al.) 3–31 (Chapman and Hall/CRC, 2018).

Piburn, J. Wbstats: Programmatic Access to the World Bank API (ORNL, 2016).

Watson, O. J., FitzJohn, R. & Eaton, J. W. Rdhs: an R package to interact with the Demographic and Health Surveys (DHS) Program datasets. Wellcome Open Res. 4, 103 (2019).

Elkasabi, M. Calculating fertility and childhood mortality rates from survey data using the DHS.rates R package. PLoS ONE 14, e0216403 (2019).
Acknowledgements
R.H. acknowledges funding from the EPICC (East Africa Peru India Climate Capacities) project, which is part of the International Climate Initiative (IKI). The German Federal Ministry for the Environment, Nature Conservation and Nuclear Safety (BMU) supports this initiative on the basis of a decision adopted by the German parliament. The authors are grateful to S. Pachauri and N. Milojevic-Dupont for useful feedback on the manuscript.
Ethics declarations
Competing interests
The authors declare no competing interests.
Additional information
Peer review information Nature Sustainability thanks Marina Fischer-Kowalski, Subhrendu Pattanayak and Julia Steinberger for their contribution to the peer review of this work.
Publisher's note Springer Nature remains neutral with regard to jurisdictional claims in published maps and institutional affiliations.
Extended data
Panel a, b) represent the effect on fertility of a one unit change in, respectively, access to electricity and access to modern cooking fuels depending on the region's baseline level of schooling year in the first year available in our data. The solid line corresponds to the marginal effect and the dotted lines delimitate the 95% confidence intervals. Panel a, b) correspond to model M8 and M9 (Supplementary Table 7).
Supplementary information
Supplementary Figs. 1–6, Methods 1–7, Notes 1 and 2, Tables 1–27 and Discussion.
About this article
Cite this article
Belmin, C., Hoffmann, R., Pichler, PP. et al. Fertility transition powered by women's access to electricity and modern cooking fuels. Nat Sustain 5, 245–253 (2022). https://doi.org/10.1038/s41893-021-00830-3
Received:

Accepted:

Published:

Issue Date:

DOI: https://doi.org/10.1038/s41893-021-00830-3
This article is cited by
Camille Belmin
Roman Hoffmann
Peter-Paul Pichler

Scientific Data (2022)