Abstract
Energy and climate change mitigation analysis rooted in economic relationships alone is largely disconnected from the advancement of well-being. We propose an interdisciplinary research agenda that relates energy use to individual well-being through consumption by building bridges between the social sciences, energy–economic models and climate policy analysis. Through these linkages, we may better characterize the potential for less harmful and more meaningful consumption that improves human well-being while reducing carbon emissions.
Access options
Subscribe to Nature+
Get immediate online access to the entire Nature family of 50+ journals
Subscribe to Journal
Get full journal access for 1 year
$119.00
only $9.92 per issue
All prices are NET prices.
VAT will be added later in the checkout.
Tax calculation will be finalised during checkout.
Buy article
Get time limited or full article access on ReadCube.
$32.00
All prices are NET prices.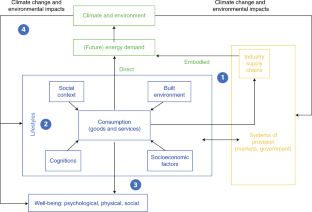 References
Creutzig, F. et al. Towards demand-side solutions for mitigating climate change. Nat. Clim. Change 8, 260–263 (2018).

McCollum, D. L. et al. Connecting the sustainable development goals by their energy inter-linkages. Environ. Res. Lett. 13, 033006 (2018).

Ürge-Vorsatz, D., Herrero, S. T., Dubash, N. K. & Lecocq, F. Measuring the co-benefits of climate change mitigation. Annu. Rev. Environ. Resour. 39, 549–582 (2014).

Grubler, A. et al. A low energy demand scenario for meeting the 1.5 °C target and sustainable development goals without negative emission technologies. Nat. Energy 3, 515–527 (2018).

Vita, G., Rao, N. D., Usubiaga-Liano, A., Min, J. & Wood, R. Durable goods drive two-thirds of global households' final energy footprints. Environ. Sci. Technol. 55, 3175–3187 (2021).

Hertwich, E. G. & Peters, G. P. Carbon footprint of nations: a global, trade-linked analysis. Environ. Sci. Technol. 43, 6414–6420 (2009).

Veblen, T. The Theory of the Leisure Class (Houghton Mifflin, 1973).

Max-Neef, M. A. Human Scale Development: Conception, Application and Further Reflections (Apex Press, 1991).

Kahneman, D. & Deaton, A. High income improves evaluation of life but not emotional well-being. Proc. Natl Acad. Sci. USA 107, 16489–16493 (2010).

Kahneman, D., Krueger, A. B., Schkade, D., Schwarz, N. & Stone, A. A. Would you be happier if you were richer? A focusing illusion. Science 312, 1908–1910 (2006).

Mazur, A. & Rosa, E. Energy and life-style. Science 186, 607–610 (1974).

Milanovic, B. Worlds Apart: Measuring International and Global Inequality (Princeton Univ. Press, 2005).

Costanza, R. Time to leave GDP behind. Nature 505, 283–285 (2014).

Steinberger, J. K. & Roberts, J. T. From constraint to sufficiency: the decoupling of energy and carbon from human needs, 1975–2005. Ecol. Econ. 70, 425–433 (2010).

Arto, I., Capellán-Pérez, I., Lago, R., Bueno, G. & Bermejo, R. The energy requirements of a developed world. Energy Sustain. Dev. 33, 1–13 (2016).

Knight, K. W. & Rosa, E. A. The environmental efficiency of well-being: a cross-national analysis. Soc. Sci. Res. 40, 931–949 (2011).

Rao, N. D., Min, J. & Mastrucci, A. Energy requirements for decent living in India, Brazil and South Africa. Nat. Energy 4, 1025–1032 (2019).

Millward-Hopkins, J., Steinberger, J. K., Rao, N. D. & Oswald, Y. Providing decent living with minimum energy: a global scenario. Global Environ. Change 65, 102168 (2020).

Di Giulio, A. & Fuchs, D. Sustainable consumption corridors: concept, objections, and responses. GAIA 23, 184–192 (2014).

Rosa, E., Machlis, G. & Keating, K. Energy and society. Annu. Rev. Sociol. 14, 149–172 (1988).

Herendeen, R. & Tanaka, J. Energy cost of living. Energy 1, 165–178 (1976).

van Beek, L., Hajer, M., Pelzer, P., van Vuuren, D. & Cassen, C. Anticipating futures through models: the rise of integrated assessment modelling in the climate science–policy interface since 1970. Glob. Environ. Change 65, 102191 (2020).

Keppo, I. et al. Exploring the possibility space: taking stock of the diverse capabilities and gaps in integrated assessment models. Environ. Res. Lett. 16, 053006 (2021).

Pachauri, S. et al. Pathways to achieve universal household access to modern energy by 2030. Environ. Res. Lett. 8, 024015 (2013).

Kalt, G., Wiedenhofer, D., Görg, C. & Haberl, H. Conceptualizing energy services: a review of energy and well-being along the Energy Service Cascade. Energy Res. Soc. Sci. 53, 47–58 (2019).

Kowsari, R. & Zerriffi, H. Three dimensional energy profile: a conceptual framework for assessing household energy use. Energy Policy 39, 7505–7517 (2011).

Wilson, C. & Dowlatabadi, H. Models of decision making and residential energy use. Annu. Rev. Environ. Resour. 32, 169–203 (2007).

McCollum, D. L. et al. Improving the behavioral realism of global integrated assessment models: an application to consumers' vehicle choices. Transp. Res. D 55, 322–342 (2017).

Oswald, Y., Owen, A. & Steinberger, J. K. Large inequality in international and intranational energy footprints between income groups and across consumption categories. Nat. Energy 5, 231–239 (2020).

Mastrucci, A., Min, J., Usubiaga-Liaño, A. & Rao, N. D. A framework for modelling consumption-based energy demand and emission pathways. Environ. Sci. Technol. 54, 1799–1807 (2020).

Ivanova, D. et al. Environmental impact assessment of household consumption. J. Ind. Ecol. 20, 526–536 (2016).

Lan, J., Malik, A., Lenzen, M., McBain, D. & Kanemoto, K. A structural decomposition analysis of global energy footprints. Appl. Energy 163, 436–451 (2016).

Zhong, W., Song, J., Yang, W., Fang, K. & Liu, X. Evolving household consumption-driven industrial energy consumption under urbanization: a dynamic input–output analysis. J. Clean. Prod. 289, 125732 (2021).

Wilson, C., Kerr, L., Sprei, F., Vrain, E. & Wilson, M. Potential climate benefits of digital consumer innovations. Annu. Rev. Environ. Resour. 45, 113–144 (2020).

Milnar, M. & Ramaswami, A. Impact of urban expansion and in situ greenery on community-wide carbon emissions: method development and insights from 11 US cities. Environ. Sci. Technol. 54, 16086–16096 (2020).

Tong, K., Nagpure, A. S. & Ramaswami, A. All urban areas' energy use data across 640 districts in India for the year 2011. Sci. Data 8, 104 (2021).

Zheng, H. et al. Linking city‐level input–output table to urban energy footprint: construction framework and application. J. Ind. Ecol. 23, 781–795 (2019).

Chen, S. & Chen, B. Urban energy consumption: different insights from energy flow analysis, input–output analysis and ecological network analysis. Appl. Energy 138, 99–107 (2015).

Global Energy Assessment—Toward a Sustainable Future (International Institute for Applied Systems Analysis, 2012).

Chen, S., Zhu, F., Long, H. & Yang, J. Energy footprint controlled by urban demands: how much does supply chain complexity contribute? Energy 183, 561–572 (2019).

Office for National Statistics. An overview of lifestyles and wider characteristics linked to healthy life expectancy in England: June 2017. Oxf. Bull. Econ. Stat. 72, 717–743 (2017).

Agnew, M., Pettifor, H. & Wilson, C. Lifestyles in Public Health, Marketing and Pro-environmental Research (Tyndall Centre for Climate Change Research, 2020).

Schipper, L., Bartlett, L., Hawk, D. & Vine, E. Linking life-styles and energy use: a matter of time? Annu. Rev. Energy 14, 273–320 (1989).

Lutzenhiser, L. Social and behavioral aspects of energy use. Annu. Rev. Energy Environ. 18, 247–289 (1993).

Graham, H. & White, P. C. Social determinants and lifestyles: integrating environmental and public health perspectives. Public Health 141, 270–278 (2016).

Jensen, M. Lifestyle: suggesting mechanisms and a definition from a cognitive science perspective. Environ. Dev. Sustain. 11, 215–228 (2007).

Giddens, A. Modernity and Self-Identity: Self and Society in the Late Modern Age (Stanford Univ. Press, 1991).

Chen, C. et al. Energy consumption and carbon footprint accounting of urban and rural residents in Beijing through Consumer Lifestyle Approach. Ecol. Indic. 98, 575–586 (2019).

Hayward, B. & Roy, J. Sustainable living: bridging the North-South divide in lifestyles and consumption debates. Annu. Rev. Environ. Resour. 44, 157–175 (2019).

Watts, N. et al. The 2019 report of The Lancet Countdown on health and climate change: ensuring that the health of a child born today is not defined by a changing climate. Lancet 394, 1836–1878 (2019).

Brown, H. S. & Vergragt, P. J. From consumerism to wellbeing: toward a cultural transition? J. Clean. Prod. 132, 308–317 (2016).

Zamani, B., Sandin, G. & Peters, G. M. Life cycle assessment of clothing libraries: can collaborative consumption reduce the environmental impact of fast fashion? J. Clean. Prod. 162, 1368–1375 (2017).

Yang, H., Ma, M., Thompson, J. R. & Flower, R. J. Waste management, informal recycling, environmental pollution and public health. J. Epidemiol. Community Health 72, 237–243 (2018).

Creutzig, F. et al. Beyond technology: demand-side solutions for climate change mitigation. Annu. Rev. Environ. Resour. 41, 173–198 (2016).

Akenji, L. & Chen, H. A Framework for Shaping Sustainable Lifestyles: Determinants and Strategies (United Nations Environmental Programme, 2016).

Sanquist, T. F., Orr, H., Shui, B. & Bittner, A. C. Lifestyle factors in U.S. residential electricity consumption. Energy Policy 42, 354–364 (2012).

Rao, N. D. & Ummel, K. White goods for white people? Drivers of electric appliance growth in emerging economies. Energy Res. Soc. Sci. 27, 106–116 (2017).

Andersson, D., Nässén, J., Larsson, J. & Holmberg, J. Greenhouse gas emissions and subjective well-being: an analysis of Swedish households. Ecol. Econ. 102, 75–82 (2014).

Ambrey, C. L. & Daniels, P. Happiness and footprints: assessing the relationship between individual well-being and carbon footprints. Environ. Dev. Sustain. 19, 895–920 (2016).

Verhofstadt, E., Van Ootegem, L., Defloor, B. & Bleys, B. Linking individuals' ecological footprint to their subjective well-being. Ecol. Econ. 127, 80–89 (2016).

Lenzen, M. & Cummins, R. Happiness versus the environment—a case study of Australian lifestyles. Challenges 4, 56–74 (2013).

Zidanšek, A. Sustainable development and happiness in nations. Energy 32, 891–897 (2007).

York, R., Rosa, E. & Dietz, T. The ecological footprint intensity of national economies. J. Ind. Ecol. 8, 139–154 (2005).

Venhoeven, L. A., Bolderdijk, J. W. & Steg, L. Why acting environmentally-friendly feels good: exploring the role of self-image. Front. Psychol. 7, 1846 (2016).

Brown, K. W. & Kasser, T. Are psychological and ecological well-being compatible? The role of values, mindfulness, and lifestyle. Soc. Indic. Res. 74, 349–368 (2005).

Lambert, L. et al. Towards a greater global understanding of wellbeing: a proposal for a more inclusive measure. Int. J. Wellbeing 10, 1–18 (2020).

Barger, S. D., Donoho, C. J. & Wayment, H. A. The relative contributions of race/ethnicity, socioeconomic status, health, and social relationships to life satisfaction in the United States. Qual. Life Res. 18, 179–189 (2009).

Wachs, M. Transportation policy, poverty, and sustainability: history and future. Transp. Res. Rec. 2163, 5–12 (2010).

Douglas, I. Urban ecology and urban ecosystems: understanding the links to human health and well-being. Curr. Opin. Environ. Sustain. 4, 385–392 (2012).

Agusdinata, D. B., Liu, W., Eakin, H. & Romero, H. Socio-environmental impacts of lithium mineral extraction: towards a research agenda. Environ. Res. Lett. 13, 12 (2018).

Rao, N., Kiesewetter, G., Min, J., Pachauri, S. & Wagner, F. Household contributions to and impacts from air pollution in India. Nat. Sustain. https://doi.org/10.1038/s41893-021-00744-0 (2021).

Stillman, T. F., Fincham, F. D., Vohs, K. D., Lambert, N. M. & Phillips, C. A. The material and immaterial in conflict: spirituality reduces conspicuous consumption. J. Econ. Psychol. 33, 1–7 (2012).

Ruggles, S. Big microdata for population research. Demography 51, 287–297 (2014).

Zhang, W. et al. Estimating residential energy consumption in metropolitan areas: a microsimulation approach. Energy 155, 162–173 (2018).

Kallis, G. In defence of degrowth. Ecol. Econ. 70, 873–880 (2011).

Hickel, J. What does degrowth mean? A few points of clarification. Globalizations https://doi.org/10.1080/14747731.2020.1812222 (2020).

Keysser, L. T. & Lenzen, M. 1.5 °C degrowth scenarios suggest the need for new mitigation pathways. Nat. Commun. 12, 2676 (2021).

Knutti, R. Closing the knowledge–action gap in climate change. One Earth 1, 21–23 (2019).
Acknowledgements
C.W. was supported by UK ESRC grant ES/S012257/1 (CAST).
Ethics declarations
Competing interests
The authors declare no competing interests.
Additional information
Peer review information Nature Sustainability thanks Enrica De Cian, Manfred Lenzen and the other, anonymous, reviewer(s) for their contribution to the peer review of this work.
Publisher's note Springer Nature remains neutral with regard to jurisdictional claims in published maps and institutional affiliations.
About this article
Cite this article
Rao, N.D., Wilson, C. Advancing energy and well-being research. Nat Sustain 5, 98–103 (2022). https://doi.org/10.1038/s41893-021-00775-7
Received:

Accepted:

Published:

Issue Date:

DOI: https://doi.org/10.1038/s41893-021-00775-7