Plastics have posed substantial environmental and human health risks, therefore their design, manufacturing and disposal should incorporate sustainability considerations. Now a study reports success in developing hydroplastics from renewable cellulosic biomass that can be shaped in water.
This is a preview of subscription content
Access options
Subscribe to Journal
Get full journal access for 1 year
$99.00
only $8.25 per issue
All prices are NET prices.
VAT will be added later in the checkout.
Tax calculation will be finalised during checkout.
Rent or Buy article
Get time limited or full article access on ReadCube.
from$8.99
All prices are NET prices.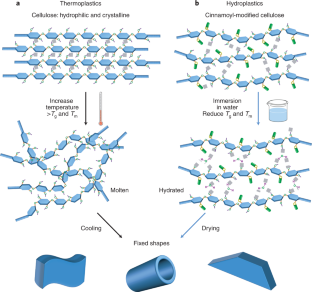 References
1.

Production of Plastics Worldwide from 1950 to 2019 (in Million Metric Tons) (Statista, 2020); https://www.statista.com/statistics/282732/global-production-of-plastics-since-1950/

2.

Schneiderman, D. K. & Hillmyer, M. A. Macromolecules 50, 3733–3749 (2017).

3.

Häußler, M., Eck, M., Rothauer, D. & Mecking, S. Nature 590, 423–427 (2021).

4.

Wang, Z., Ganewatta, M. S. & Tang, C. Polym. Sci. 101, 101197 (2020).

5.

Bandwidth Study on Energy Use and Potential Energy Savings Opportunities in U.S. Plastics and Rubber Manufacturing Report No. DOE/EE-1573 (US DOE Office of Energy Efficiency and Renewable Energy, 2017).

6.

Baird, D. G. & Collias, D. I. Polymer Processing: Principles and Design (John Wiley & Sons, 2014).

7.

Wang, J., Emmerich, L., Wu, J., Vana, P. & Zhang, K. Nat. Sustain. https://doi.org/10.1038/s41893-021-00743-1 (2021).

8.

Roy, D., Semsarilar, M., Guthrie, J. T. & Perrier, S. Chem. Soc. Rev. 38, 2046–2064 (2009).
Ethics declarations
Competing interests
The authors declare no competing interests.
About this article
Cite this article
Yuan, L., Buzoglu Kurnaz, L. & Tang, C. Alternative plastics. Nat Sustain 4, 837–838 (2021). https://doi.org/10.1038/s41893-021-00750-2