Reports on the widespread presence of plastic particles in the environment have raised concerns about whether these particles could be taken up by plants and end up on our plates. An experimental study now reveals a mechanism through which nanoplastics can make their way into plant roots.
Access options
Subscribe to Journal
Get full journal access for 1 year
$99.00
only $8.25 per issue
All prices are NET prices.
VAT will be added later in the checkout.
Rent or Buy article
Get time limited or full article access on ReadCube.
from$8.99
All prices are NET prices.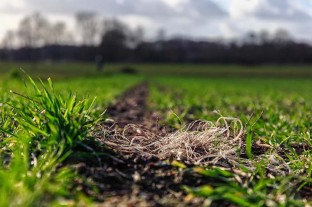 References
1.

Brahney, J., Hallerud, M., Heim, E., Hahnenberger, M. & Sukumaran, S. Science 368, 1257–1260 (2020).

2.

Nizzetto, L., Futter, M. & Langaas, S. Environ. Sci. Technol. 50, 10777–10779 (2016).

3.

Li, L. et al. Nat. Sustain. https://doi.org/10.1038/s41893-020-0567-9 (2020).

4.

Bläsing, M. & Amelung, W. Sci. Total Environ. 612, 422–435 (2018).

5.

Weithmann, N. et al. Sci. Adv. 4, eaap8060 (2018).

6.

Corradini, F. et al. Sci. Total Environ. 671, 411–420 (2019).

7.

Rochman, C. M. & Hoellein, T. Science 368, 1184–1185 (2020).

8.

Rillig, M. C., Lehmann, A., de Souza Machado, A. A. & Yang, G. New Phytol. 223, 1066–1070 (2019).

9.

Rochman, C. M. et al. Environ. Toxicol. Chem. 38, 703–711 (2019).
About this article
Cite this article
Rillig, M.C. Plastic and plants. Nat Sustain 3, 887–888 (2020). https://doi.org/10.1038/s41893-020-0583-9