Abstract
Political dynamics across scales are often overlooked in the design, implementation and evaluation of environmental governance. We provide new evidence to explain how interactions between international organizations and national governments shape environmental governance and outcomes for 238 World Heritage ecosystems, on the basis of a new intervention–response–outcome typology. We analyse interactions between the United Nations Educational, Scientific and Cultural Organization and 102 national governments responsible for implementing ecosystem protection under the World Heritage Convention between 1972 and 2019. We combine data on the reporting, deliberation and certification of individual ecosystem-level threats, with data on national governance quality, economic complexity and key stakeholder perspectives. We find that the extent of threatened ecosystems is seriously underestimated and that efforts to formally certify threatened ecosystems are often resisted by national governments. A range of responses to international intervention, including both productive and counterproductive responses, generates material impacts at the ecosystem level. Counterproductive responses occur in nations dependent on limited high-value natural resource industries, irrespective of overall level of economic development. We identify new political approaches to improve environmental governance, including how to overcome the problem of regulatory capture. Our findings inform how we can better anticipate and account for political dynamics in environmental governance.
Relevant articles
Open Access articles citing this article.
Valerie Hagger

,

Thomas A. Worthington

…

Megan I. Saunders

Nature Communications Open Access 26 October 2022

Michalis I. Vousdoukas

,

Joanne Clarke

…

Nicholas P. Simpson

Nature Climate Change Open Access 10 February 2022

Liang Yongqi

,

Yang Ruixia

…

Chen Guolong

Heritage Science Open Access 05 July 2021
Access options
Access Nature and 54 other Nature Portfolio journals
Get Nature+, our best-value online-access subscription
$29.99 / 30 days
cancel any time
Subscribe to this journal
Receive 12 digital issues and online access to articles
$119.00 per year
only $9.92 per issue
Rent or buy this article
Prices vary by article type
from$1.95
to$39.95
Prices may be subject to local taxes which are calculated during checkout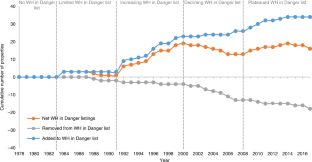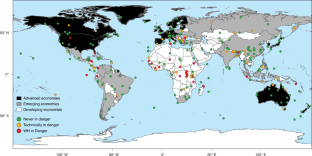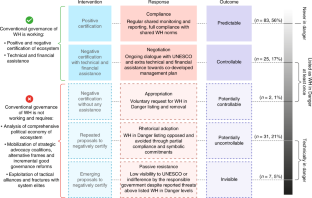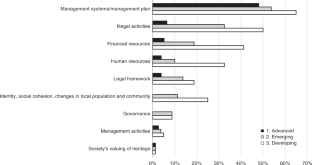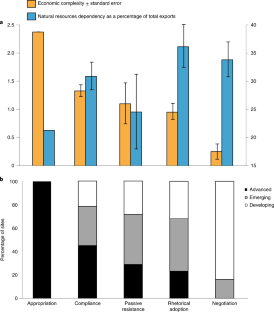 Data availability
Findings are derived from the following primary and secondary data sources: in-depth, confidential stratified and key-informant interviews (n = 32 interviews), threat and certification data for natural WH sites (n = 238 sites), documentary analysis (n = 3,099 documents) and economic and governance data (n = 102 countries) (Supplementary Fig. 1). The data that support the findings of this study (excluding confidential interviews) are available from the corresponding author upon request. Interview results are confidential in accordance with James Cook University ethics approval no. H6149. A detailed explanation of methods is available in the Methods.
References
Kroner, R. E. G. et al. The uncertain future of protected lands and waters. Science 364, 881–886 (2019).

Qin, S. et al. Protected area downgrading, downsizing, and degazettement as a threat to iconic protected areas. Conserv. Biol. 33, 1275–1285 (2019).

Allan, J. R. et al. Recent increases in human pressure and forest loss threaten many natural World Heritage sites. Biol. Conserv. 206, 47–55 (2017).

Asner, G. P. & Tupayachi, R. Accelerated losses of protected forests from gold mining in the Peruvian Amazon. Environ. Res. Lett. 12, 094004 (2017).

Morrison, T. H. Evolving polycentric governance of the Great Barrier Reef. Proc. Natl Acad. Sci. USA 114, 3013–3021 (2017).

UNESCO World Heritage (UNESCO, 2019).

Hølleland, H., Hamman, E. & Phelps, J. Naming, shaming and fire alarms: the compilation, development and use of the List of World Heritage in Danger. Transnatl Environ. Law 8, 35–57 (2019).

Brown, N. E., Liuzza, C. & Meskell, L. The politics of peril: UNESCO's List of World Heritage in Danger. J. Field Archaeol. 44, 287–303 (2019).

Bertacchini, E., Liuzza, C., Meskell, L. & Saccone, D. The politicization of UNESCO World Heritage decision making. Public Choice 167, 95–129 (2016).

de Wit, W., Machimbarrena, M., Tench, E. & Bigaud, N. Our Natural World at Risk: How Politicization Is Limiting the Effectiveness of the World Heritage Convention (WWF, 2019).

Meskell, L., Liuzza, C., Bertacchini, E. & Saccone, D. Multilateralism and UNESCO World Heritage: decision-making, states parties and political processes. Int. J. Herit. Stud. 21, 423–440 (2015).

Agrawal, A., Hajjar, R., Liao, C., Rasmussen, L. V. & Watkins, C. Forest governance interventions for sustainability through information, incentives, and institutions. Curr. Opin. Environ. Sustain. 32, A1–A7 (2018).

Bodin, Ö. Collaborative environmental governance: achieving collective action in social-ecological systems. Science 357, eaan1114 (2017).

Ostrom, E. A general framework for analyzing sustainability of social-ecological systems. Science 325, 419–422 (2009).

Niemeyer, S. Deliberation in the wilderness: displacing symbolic politics. Environ. Polit. 13, 347–372 (2004).

Lindenmayer, D., Thorn, S. & Noss, R. Countering resistance to protected-area extension. Conserv. Biol. 32, 315–321 (2018).

Lambin, E. F. et al. Effectiveness and synergies of policy instruments for land use governance in tropical regions. Glob. Environ. Change 28, 129–140 (2014).

Mastrángelo, M. E. et al. Key knowledge gaps to achieve global sustainability goals. Nat. Sustain. 2, 1115–1121 (2019).

Young, O. R. Research strategies to assess the effectiveness of international environmental regimes. Nat. Sustain. 1, 461–465 (2018).

Lawless, S., Song, A., Cohen, P., & Morrison, T. H. Rights, equity and justice: a diagnostic for social meta-norm diffusion in environmental governance. Earth Syst. Gov. https://doi.org/10.1016/j.esg.2020.100052 (2020).

Zimmermann, L. Same same or different? Norm diffusion between resistance, compliance, and localization in post-conflict states. Int. Stud. Perspect. 17, 98–115 (2016).

Abbott, K. W., Genschel, P., Snidal, D. & Zangl, B. Competence versus control: the governor's dilemma. Regul. Gov. https://doi.org/10.1111/rego.12234 (2019).

Turner, M. G. et al. Climate change, ecosystems and abrupt change: science priorities. Phil. Trans. R. Soc. Lond. B 375, 20190105 (2020).

Kates, R. W. & Clark, W. C. Environmental surprise: expecting the unexpected? Environment 38, 6–34 (1996).

Hughes, T. P. et al. Coral reefs in the Anthropocene. Nature 546, 82–90 (2017).

Sterner, T. et al. Policy design for the Anthropocene. Nat. Sustain. 2, 14–21 (2019).

Morrison, T. H. et al. The black box of power in polycentric environmental governance. Glob. Environ. Change 57, 101934 (2019).

The IUCN World Heritage Outlook (IUCN, 2017).

Badman, T. et al. World Heritage in Danger: A Compendium of Key Decisions on the Conservation of Natural World Heritage Properties via the List of World Heritage in Danger (IUCN, 2009).

WHC/17/41.COM/7 Item 7 of the Provisional Agenda: State of Conservation of World Heritage Properties (UNESCO, 2017).

Award of a $443.3 Million Grant to the Great Barrier Reef Foundation (ANAO, 2019).

Great Barrier Reef 2050 Partnership Program (Commonwealth of Australia, 2019).

Morrison, T. H. et al. Advancing coral reef governance into the Anthropocene. One Earth 2, 64–74 (2020).

Scott, J. C. Domination and the Arts of Resistance: Hidden Transcripts (Yale Univ. Press, 1990).

DeFries, R. & Nagendra, H. Ecosystem management as a wicked problem. Science 356, 265–270 (2017).

GDP Per Capita, PPP (Current International $) (World Bank, 2018).

Worldwide Governance Indicators (World Bank, 2018).

International Tourism, Receipts (% of Total Exports) (World Bank, 2018).

Exports of Goods and Services (Current US$) (World Bank, 2018).

Merchandise Exports (Current US$) (World Bank, 2018).

Agricultural Raw Materials Exports (% of Merchandise Exports) (World Bank, 2018).

Fuel Exports (% of Merchandise Exports) (World Bank, 2018).

Ores and Metals Exports (% of Merchandise Exports) (World Bank, 2018).

Hartmann, D., Guevara, M. R., Jara-Figueroa, C., Aristaran, M. & Hidalgo, C. A. Linking economic complexity, institutions, and income inequality. World Dev. 93, 75–93 (2017).

Hertel-Fernandez, A., Mildenberger, M. & Stokes, L. C. Legislative staff and representation in Congress. Am. Polit. Sci. Rev. 113, 1–18 (2019).

Hardy, C. & Maguire, S. Organizing risk: discourse, power, and "riskification". Acad. Manage. Rev. 41, 80–108 (2016).

PADDDtracker: Tracking Protected Area Downgrading, Downsizing, and Degazettement (WWF, 2019).

Abbott, K. W., Genschel, P., Snidal, D. & Zangl, B. Two logics of indirect governance: delegation and orchestration. Br. J. Polit. Sci. 46, 719–729 (2016).

Kruck, A. & Zangl, B. Trading privileges for support: the strategic co-optation of emerging powers into international institutions. Int. Theory 11, 318–343 (2019).

Hameiri, S., Hughes, C. & Scarpello, F. International Intervention and Local Politics: Fragmented States and the Politics of Scale (Cambridge Univ. Press, 2017).

Morrison, T. H. et al. Save reefs to rescue all ecosystems. Nature 573, 333–336 (2019).

Cameron, C. & Rössler, M. Many Voices, One Vision: The Early Years of the World Heritage Convention (Routledge, 2013).

Osipova, E. et al. IUCN World Heritage Outlook 2: A Conservation Assessment of All Natural World Heritage Sites (IUCN, 2017).

Wibowo, A. & Giessen, L. Absolute and relative power gains among state agencies in forest-related land use politics. Land Use Policy 49, 131–141 (2015).

Clarke, J. N. & McCool, D. Staking Out the Terrain: Power and Performance Among Natural Resource Agencies (SUNY Press, 1996).

Patry, M., Bassett, C. & Leclerq. B. The state of conservation of world heritage forests. In Proc. 2nd World Heritage Forest Meeting (eds Patry, M. & Ripley, S.) 21–31 (UNESCO World Heritage Centre, 2005).

World Economic Outlook: Gaining Momentum? (International Monetary Fund, 2017).

Simoes, A. J. G. & Hidalgo, C. A. The Economic Complexity Observatory: An Analytical Tool for Understanding the Dynamics of Economic Development. In Proc. 25th AAAI Conference on Scalable Integration of Analytics and Visualization 39–42 (AAAI, 2011); https://www.aaai.org/ocs/index.php/WS/AAAIW11/paper/view/3948/4325
Acknowledgements
This project received ethics approval from James Cook University (no. H6149) and was supported by the Australian Research Council. The authors thank G. Cumming, L. McHugh, P. Cohen, J. Day and S. Lawless for their helpful comments and suggestions and project interviewees and key informants for their insightful interview responses.
Ethics declarations
Competing interests
The authors declare no competing interests.
Additional information
Publisher's note Springer Nature remains neutral with regard to jurisdictional claims in published maps and institutional affiliations.
Supplementary information
About this article
Cite this article
Morrison, T.H., Adger, W.N., Brown, K. et al. Political dynamics and governance of World Heritage ecosystems. Nat Sustain 3, 947–955 (2020). https://doi.org/10.1038/s41893-020-0568-8
Received:

Accepted:

Published:

Issue Date:

DOI: https://doi.org/10.1038/s41893-020-0568-8