Can economic growth be made greener, or must we look beyond growth to achieve sustainability? An important new study shows that the pursuit of 'green growth' would increase inequality and unemployment unless accompanied by radical social policies.
This is a preview of subscription content
Access options
Subscribe to Journal
Get full journal access for 1 year
$99.00
only $8.25 per issue
All prices are NET prices.
VAT will be added later in the checkout.
Tax calculation will be finalised during checkout.
Rent or Buy article
Get time limited or full article access on ReadCube.
from$8.99
All prices are NET prices.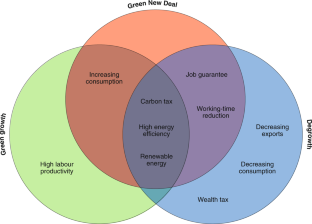 References
1.

D'Alessandro, S., Cieplinski, A., Distefano, T. & Dittmer, K. Nat. Sustain. https://doi.org/10.1038/s41893-020-0484-y (2020).

2.

Rezai, A. & Stagl, S. Ecol. Econ. 121, 181–185 (2016).

3.

Hardt, L. & O'Neill, D. W. Ecol. Econ. 134, 198–211 (2017).

4.

Stiglitz, J. E., Sen, A. & Fitoussi, J.-P. Mismeasuring Our Lives: Why GDP Doesn't Add Up. The Report by the Commission on the Measurement of Economic Performance and Social Progress (New Press, 2010).

5.

Jackson, T. & Victor, P. A. Ecol. Econ. 121, 206–219 (2016).

6.

Dafermos, Y., Nikolaidi, M. & Galanis, G. Ecol. Econ. 152, 219–234 (2018).

7.

Ocasio-Cortez, A. et al. H. Res. 109 - Recognizing the Duty of the Federal Government to Create a Green New Deal (US Congress, 2019); https://go.nature.com/2wh9u3U

8.

Hickel, J. & Kallis, G. New Political Econ. https://doi.org/10.1080/13563467.2019.1598964 (2019).

9.

D'Alisa, G., Demaria, F. & Kallis, G. Degrowth: A Vocabulary for a New Era (Routledge, 2014).

10.

Boait, F. & Hodgson, G. Escaping Growth Dependency: Why Reforming Money Will Reduce the Need to Pursue Economic Growth at Any Cost to the Environment (Positive Money, 2018); https://go.nature.com/2wiyffW
About this article
Cite this article
O'Neill, D.W. Beyond green growth. Nat Sustain 3, 260–261 (2020). https://doi.org/10.1038/s41893-020-0499-4