Abstract
Climate change is driving fishery stocks out of their historical ranges. Along with the management challenge of species entering new jurisdictions, the exit of species from countries' waters poses distinct threats to those resources and the economies that depend on them. We show that this risk is particularly acute in the tropics, where projected exits are highest and entries are fewest. We find that existing policy frameworks are poorly equipped for this challenge, and we suggest a way forward that draws on climate policy.
Access options
Subscribe to Journal
Get full journal access for 1 year
$99.00
only $8.25 per issue
All prices are NET prices.
VAT will be added later in the checkout.
Rent or Buy article
Get time limited or full article access on ReadCube.
from$8.99
All prices are NET prices.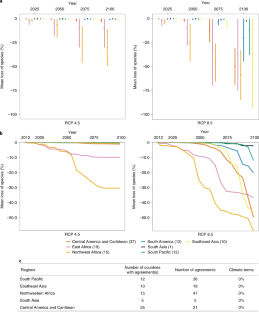 Data availability
The species distribution maps used to generate the range-shift projections that informed our analysis are publicly available at https://www.aquamaps.org/. Datasets generated during and/or analysed during the current study are available from the corresponding author on reasonable request.
References
1.

García Molinos, J. et al. Climate velocity and the future global redistribution of marine biodiversity. Nat. Clim. Change 6, 83–88 (2016).

2.

Pinsky, M. L. et al. Preparing ocean governance for species on the move. Science 360, 1189–1191 (2018).

3.

Mycoo, M. A. Beyond 1.5 °C: vulnerabilities and adaptation strategies for Caribbean Small Island Developing States. Reg. Environ. Change 18, 2341–2353 (2018).

4.

King, A. D. & Harrington, L. J. The inequality of climate change from 1.5 to 2 °C of global warming. Geophys. Res. Lett. 45, 5030–5033 (2018).

5.

Gaines, S. D. et al. Improved fisheries management could offset many negative effects of climate change. Sci. Adv. 4, eaao1378 (2018).

6.

Golden, C. D. et al. Nutrition: fall in fish catch threatens human health. Nature 534, 317–320 (2016).

7.

IPCC Special Report on Global Warming of 1.5 °C (eds Masson-Delmotte, V. et al.) (WMO, 2018).

8.

Sustainable Fisheries Act: Amendments to the Magnuson–Stevens Fishery Conservation and Management Act 16 US Code Ch. 38 Sec. 1801 et seq. (US Government, 1996).

9.

United Nations Convention of the Law of the Sea (UN, 1982).

10.

Diekert, F. K. & Nieminen, E. International fisheries agreements with a shifting stock. Dyn. Games Appl. 7, 185–211 (2017).

11.

The United Nations Agreement for the Implementation of the Provisions of the United Nations Convention of the Law of the Sea of 10 December 1982 Relating to the Conservation and Management of Straddling Fish Stocks and Highly Migratory Fish Stocks (UN, 1995).

12.

Pentz, B., Klenk, N., Ogle, S. & Fisher, J. A. D. Can regional fisheries management organizations (RFMOs) manage resources effectively during climate change? Mar. Policy 92, 13–20 (2018).

13.

Vulnerable Marine Ecosystems: Regional Fishery Bodies (FAO, 2019); https://go.nature.com/2UxqI6V

14.

Flanagan, P. H., Jensen, O. P., Morley, J. W. & Pinsky, M. L. Response of marine communities to local temperature changes. Ecography 42, 214–224 (2019).

15.

Memarzadeh, M., Britten, G. L., Worm, B. & Boettiger, C. Rebuilding global fisheries under uncertainty. Proc. Natl Acad. Sci. USA 116, 15985–15990 (2019).

16.

Aqorau, T., Bell, J. & Kittinger, J. N. Good governance for migratory species. Science 361, 1208–1209 (2018).

17.

Pershing, A. J. et al. Slow adaptation in the face of rapid warming leads to collapse of the Gulf of Maine cod fishery. Science 350, 809–812 (2015).

18.

Vosooghi, S. Panic-based overfishing in transboundary fisheries. Environ. Resour. Econ. 73, 1287–1313 (2018).

19.

Pudden, E. J. & VanderZwaag, D. L. Canada-USA bilateral fisheries management in the Gulf of Maine: under the radar screen. Rev. Eur. Community Int. Environ. Law 16, 36–44 (2007).

20.

Adoption of the Paris Agreement FCCC/CP/2015/L.9/Rev.1 (UNFCCC, 2015).

21.

Mechler, R. et al. (eds) Loss and Damage from Climate Change: Concepts, Methods and Policy Options. Climate Risk Management, Policy and Governance 1st edn (Springer, 2019).

22.

Decisions adopted by the Conference of the Parties. Paris Agreement (UNFCCC, 2015).

23.

Maritime Boundaries Geodatabase, Version 9 (Flanders Marine Institute, 2016); http://www.marineregions.org/
Acknowledgements
We thank D. Bradley, C. Cochran, D. Flores, S. Gaines, J. Lawson and Q. Lee for comments, suggestions and references. This work was supported in part by the David and Lucile Packard Foundation (grant number 2016-65300). J.G.M. is supported by the 'Tenure-Track System Promotion Program' of the Japanese Ministry of Education, Culture, Sports, Science and Technology (MEXT) and the JSPS KAKENHI, Grant Number 19H04322.
Ethics declarations
Competing interests
C.C. is on the Board of Trustees for two environmental NGOs: Environmental Defense Fund and Global Fishing Watch. The other authors declare no competing interests.
Additional information
Publisher's note Springer Nature remains neutral with regard to jurisdictional claims in published maps and institutional affiliations.
Supplementary information
About this article
Cite this article
Oremus, K.L., Bone, J., Costello, C. et al. Governance challenges for tropical nations losing fish species due to climate change. Nat Sustain 3, 277–280 (2020). https://doi.org/10.1038/s41893-020-0476-y
Received:

Accepted:

Published:

Issue Date:
Further reading
Vicky W. Y. Lam

,

Edward H. Allison

,

Johann D. Bell

,

Jessica Blythe

,

William W. L. Cheung

,

Thomas L. Frölicher

,

Maria A. Gasalla

&

U. Rashid Sumaila

Nature Reviews Earth & Environment (2020)

Paulus Kainge

,

Stephen P. Kirkman

,

Virgílio Estevão

,

Carl D. van der Lingen

,

Uatjavi Uanivi

,

Johannes N. Kathena

,

Anja van der Plas

,

Jean Githaiga-Mwicigi

,

Azwianewi Makhado

,

Lavinia Nghimwatya

,

Tobias Endjambi

,

Sarah Paulus

,

Moses Kalola

,

Miguel Antonio

,

Beau Tjizoo

,

Taimi Shikongo

,

Silvi Nsiangango

,

Toivo Uahengo

,

Chris Bartholomae

,

Mandisile Mqoqi

&

Hashali Hamukuaya

Environmental Development (2020)

Aurore Maureaud

,

Romain Frelat

,

Laurène Pécuchet

,

Nancy Shackell

,

Bastien Mérigot

,

Malin L. Pinsky

,

Kofi Amador

,

Sean C. Anderson

,

Alexander Arkhipkin

,

Arnaud Auber

,

Iça Barri

,

Richard J. Bell

,

Jonathan Belmaker

,

Esther Beukhof

,

Mohamed L. Camara

,

Renato Guevara‐Carrasco

,

Junghwa Choi

,

Helle T. Christensen

,

Jason Conner

,

Luis A. Cubillos

,

Hamet D. Diadhiou

,

Dori Edelist

,

Margrete Emblemsvåg

,

Billy Ernst

,

Tracey P. Fairweather

,

Heino O. Fock

,

Kevin D. Friedland

,

Camilo B. Garcia

,

Didier Gascuel

,

Henrik Gislason

,

Menachem Goren

,

Jérôme Guitton

,

Didier Jouffre

,

Tarek Hattab

,

Manuel Hidalgo

,

Johannes N. Kathena

,

Ian Knuckey

,

Saïkou O. Kidé

,

Mariano Koen‐Alonso

,

Matt Koopman

,

Vladimir Kulik

,

Jacqueline Palacios León

,

Ya'arit Levitt‐Barmats

,

Martin Lindegren

,

Marcos Llope

,

Félix Massiot‐Granier

,

Hicham Masski

,

Matthew McLean

,

Beyah Meissa

,

Laurène Mérillet

,

Vesselina Mihneva

,

Francis K. E. Nunoo

,

Richard O'Driscoll

,

Cecilia A. O'Leary

,

Elitsa Petrova

,

Jorge E. Ramos

,

Wahid Refes

,

Esther Román‐Marcote

,

Helle Siegstad

,

Ignacio Sobrino

,

Jón Sólmundsson

,

Oren Sonin

,

Ingrid Spies

,

Petur Steingrund

,

Fabrice Stephenson

,

Nir Stern

,

Feriha Tserkova

,

Georges Tserpes

,

Evangelos Tzanatos

,

Itai Rijn

,

Paul A. M. Zwieten

,

Paraskevas Vasilakopoulos

,

Daniela V. Yepsen

,

Philippe Ziegler

&

James Thorson

Global Change Biology (2020)