The global rush to develop the 'blue economy' risks harming both the marine environment and human wellbeing. Bold policies and actions are urgently needed. We identify five priorities to chart a course towards an environmentally sustainable and socially equitable blue economy.
Access options
Subscribe to Journal
Get full journal access for 1 year
$99.00
only $8.25 per issue
All prices are NET prices.
VAT will be added later in the checkout.
Tax calculation will be finalised during checkout.
Rent or Buy article
Get time limited or full article access on ReadCube.
from$8.99
All prices are NET prices.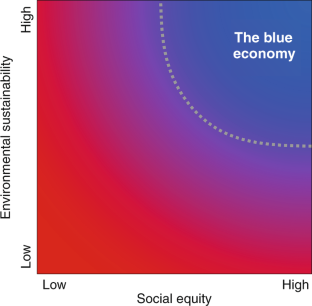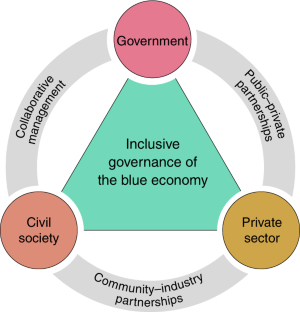 References
1.

Nash, K. L. et al. Nat. Ecol. Evol. 1, 1625–1634 (2017).

2.

Halpern, B. S. et al. Nat. Commun. 6, 7615 (2015).

3.

The Ocean Economy in 2030 (OECD, 2016).

4.

Campbell, L. M. et al. Annu. Rev. Environ. Resour. 41, 517–543 (2016).

5.

Silver, J. J., Gray, N. J., Campbell, L. M., Fairbanks, L. W. & Gruby, R. L. J. Environ. Dev. 24, 135–160 (2015).

6.

World Bank and United Nations Department of Economic and Social Affairs The Potential of the Blue Economy: Increasing Long-Term Benefits of the Sustainable Use of Marine Resources for Small Island Developing States and Coastal Least Developed Countries (World Bank, 2017).

7.

Michel, J. A. Rethinking the Oceans: Towards the Blue Economy (Paragon House, 2017).

8.

Blue Economy Concept Paper: Rio+20 United Nations Conference on Sustainable Development (UN, 2012).

9.

Golden, J. S. et al. Nat. Ecol. Evol. 1, 0017 (2017).

10.

Klinger, D. H., Maria Eikeset, A., Davíðsdóttir, B., Winter, A.-M. & Watson, J. R. Mar. Policy 87, 356–362 (2018).

11.

Kittinger, J. N. et al. Science 356, 912–913 (2017).

12.

Bennett, N. J., Govan, H. & Satterfield, T. Mar. Policy 57, 61–68 (2015).

13.

Cohen, P. J. et al. Front. Mar. Sci. 6, 171 (2019).

14.

Kerr, S., Colton, J., Johnson, K. & Wright, G. Mar. Policy 52, 108–115 (2015).

15.

Suárez-de Vivero, J. L. & Rodríguez Mateos, J. C. Mar. Policy 75, 19–28 (2017).

16.

Lemos, M. C. & Agrawal, A. Annu. Rev. Environ. Resour. 31, 297–325 (2006).
About this article
Cite this article
Bennett, N.J., Cisneros-Montemayor, A.M., Blythe, J. et al. Towards a sustainable and equitable blue economy. Nat Sustain 2, 991–993 (2019). https://doi.org/10.1038/s41893-019-0404-1