Abstract
Researchers and decision-makers lack a shared understanding of resilience, and practical applications in environmental resource management are rare. Here, we define social-ecological resilience as a property of social-ecological systems that includes at least three main characteristics — resistance, recovery and robustness (the 'three Rs'). We define socio-economic resilience management as planning, adaptation and transformational actions that may influence these system characteristics. We integrate the three Rs into a heuristic for resilience management that we apply in multiple management contexts to offer practical, systematic guidance about how to realize resilience.
Relevant articles
Open Access articles citing this article.
Benjamin Rachunok

&

Roshanak Nateghi

Nature Communications Open Access 17 December 2021
Access options
Subscribe to Nature+
Get immediate online access to the entire Nature family of 50+ journals
Subscribe to Journal
Get full journal access for 1 year
$119.00
only $9.92 per issue
All prices are NET prices.
VAT will be added later in the checkout.
Tax calculation will be finalised during checkout.
Buy article
Get time limited or full article access on ReadCube.
$32.00
All prices are NET prices.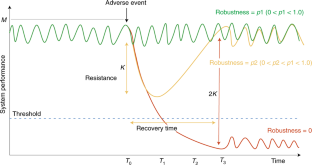 References
Keim, M. E. Building human resilience: the role of public health preparedness and response as an adaptation to climate change. Am. J. Prev. Med. 35, 508–516 (2008).

Sheffi, Y. The Power of Resilience (MIT Press, 2015).

What is Resilience and how to Operationalise it? (OECD, accessed 28 June 2018); https://go.nature.com/31p85T2

Sustainable Development Goals (United Nations, accessed 15 October 2018); https://go.nature.com/2V9gDey

Sendai Framework for Disaster Risk Reduction 2015–2030 (United Nations, 2015).

Quinlan, A. E., Berbés‐Blázquez, M., Haider, L. J. & Peterson, G. D. Measuring and assessing resilience: broadening understanding through multiple disciplinary perspectives. J. Appl. Ecol. 53, 677–687 (2016).

Conway, G. R. Agroecosystems analysis. Agric. Admin. 20, 31–55 (1985).

Holling, C. S. Resilience and stability of ecological systems. Annu. Rev. Ecol. Evol. Syst. 4, 1–23 (1973).

Pimm, S. L. The complexity and stability of ecosystems. Nature 307, 321–326 (1984).

Pimm, S. L. The Balance of Nature? Ecological Issues in the Conservation of Species and Communities (Univ. Chicago Press, 1991).

Levin, S. A. et al. Resilience in natural and socioeconomic systems. Environ. Dev. Econ. 3, 221–262 (1998).

Folke, C. et al. Resilience thinking: integrating resilience, adaptability and transformability. Ecol. Soc. 15, 20 (2010).

Bhamra, R., Dani, S. & Burnard, K. Resilience: the concept, a literature review and future directions. Int. J. Prod. Res. 49, 5375–5393 (2011).

Brand, F. S. & Jax, K. Focusing the meaning(s) of resilience: resilience as a descriptive concept and a boundary object. Ecol. Soc. 12, 23 (2007).

Hosseini, S., Barker, K. & Ramirez-Marquez, J. E. A review of definitions and measures of system resilience. Reliab. Eng. Syst. Safe. 145, 47–61 (2016).

McNaughton, S. J. Diversity and stability of ecological communities: a comment on the role of empiricism in ecology. Am. Nat. 111, 515–525 (1977).

Tilman, D. The ecological consequences of changes in biodiversity: a search for general principles. Ecology 80, 1455–1474 (1999).

Carpenter, S., Walker, B., Anderies, J. M. & Abel, N. From metaphor to measurement: resilience of what to what? Ecosystems 4, 765–781 (2001).

Donohue, I. et al. Navigating the complexity of ecological stability. Ecol. Lett. 19, 1172–1185 (2016).

Downes, B. J., Miller, F., Barnett, J., Glaester, J. & Ellemor, H. How do we know about resilience? An analysis of empirical research on resilience, and implications for interdisciplinary praxis. Environ. Res. Lett. 8, 014041 (2013).

Southwick, S. M., Bonanno, G. A., Masten, A. S., Panter-Brick, C. & Yehuda, R. Resilience definitions, theory, and challenges: interdisciplinary perspectives. Eur. J. Psychotraumatol. 5, 25338 (2014).

Hashimoto, T., Stedinger, J. R. & Loucks, D. P. Reliability, resiliency, and vulnerability criteria for water resource system performance evaluation. Water Resour. Res. 18, 14–20 (1982).

Loreau, M. et al. in Biodiversity and Ecosystem Functioning: Synthesis and Perspectives (eds Loreau, M., Naeem, S. & Inchausti, P.) 79–91 (Oxford Univ. Press, 2002).

Westman, W. E. Measuring the inertia and resilience of ecosystems. BioScience 28, 705–710 (1978).

Cumming, G. S. & Collier, J. Change and identity in complex systems. Ecol. Soc. 10, 29 (2005).

Béné, C. & Doyen, L. From resistance to transformation: a generic metric of resilience through viability. Earth's Future 6, 979–996 (2018).

Biggs, H. C. & Rogers, K. H. in The Kruger Experience: Ecology and Management of Savanna Heterogeneity (eds du Toit, J. T., Rogers, K. H. & Biggs, H. G.) 59–80 (Island Press, 2003).

Allen, C. R., Cumming, G. S., Garmestani, A. S., Taylor, P. D. & Walker, B. H. Managing for resilience. Wildl. Biol. 17, 337–349 (2011).

Biggs, R. et al. Toward principles for enhancing the resilience of ecosystem services. Annu. Rev. Environ. Resour. 37, 421–448 (2012).

Biggs, R., Schlüter, M. & Schoon, M. L. (eds) Principles for Building Resilience: Sustaining Ecosystem Services in Social-Ecological Systems (Cambridge Univ. Press, 2015).

Grafton, R. Q., Kompas, T. & Ha, P. V. Cod today and none tomorrow: the economic value of a marine reserve. Land Econ. 85, 454–469 (2009).

Harrison, G. W. Stability under environmental stress: resistance, resilience, persistence, and variability. Am. Nat. 113, 659–669 (1979).

Carlson, J. M. & Doyle, J. Complexity and robustness. Proc. Natl Acad. Sci. USA 99(Suppl. 1), 2538–2545 (2002).

Huizar, L. H., Lansey, K. E. & Arnold, R. G. Sustainability, robustness, and resilience metrics for water and other infrastructure systems. Sustain. Resil. Infrastruct. 3, 16–35 (2018).

Fowler, H. J., Kilsby, C. G. & O'Connell, P. E. Modeling the impacts of climatic change and variability on the reliability, resilience, and vulnerability of a water resource system. Water Resour. Res. 39, 1222 (2003).

McMahon, T. A., Adeloye, A. J. & Zhou, S.-L. Understanding performance measures of reservoirs. J. Hydrol. 324, 359–382 (2006).

Bruneau, M. et al. A framework to quantitatively assess and enhance the science the seismic resilience of communities. Earthq. Spectra 19, 733–752 (2003).

Ganin, A. A. et al. Operational resilience: concepts, design and analysis. Sci. Rep. 6, 19540 (2016).

Béné, C., Chaudhury, F. S., Rashid, M., Dhali, S. A. & Jahan, F. Squaring the circle: reconciling the need for rigor with the reality on the ground in resilience impact assessment. World Dev. 97, 212–231 (2017).

Walker, W. E. et al. Defining uncertainty: a conceptual basis for uncertainty management in model-based decision support. Integr. Assess. 4, 5–17 (2003).

Helfgott, A. Operationalising systemic resilience. Eur. J. Oper. Res. 268, 852–864 (2018).

Bender, E. A., Case, T. J. & Gilpin, M. E. Perturbation experiments in community ecology: theory and practice. Ecology 65, 1–13 (1984).

Scheffer, M. et al. Anticipating critical transitions. Science 338, 344–348 (2012).

David, P. A. Path dependence: a foundational concept for historical social science. Cliometrica 1, 91–114 (2007).

Cumming, G. S. Spatial Resilience in Social-Ecological Systems (Springer, 2011).

Martin, N., Forrester, J. & Ensor, J. What is equitable resilience? World Dev. 109, 197–205 (2018).

Li, C.-Z., Crépin, A.-S. & Folke, C. The economics of resilience. Int. Rev. Environ. Resour. Econ. 11, 309–353 (2018).

Walker, B. et al. Resilience management in social-ecological systems: a working hypothesis for a participatory approach. Conserv. Ecol. 6, 14 (2002).

Waltner-Toews, D. & Kay, D. The evolution of an ecosystem approach: the diamond schematic and an adaptive methodology for ecosystem sustainability and health. Ecol. Soc. 10, 38 (2005).

Ulrich, W. Critical heuristics of social systems design. Eur. J. Oper. Res. 31, 276–283 (1987).

Béné, C. et al. Testing resilience thinking in a poverty context: experience from the Niger River basin. Glob. Environ. Change 21, 1173–1184 (2011).

Shine, R. Why is sex determined by nest temperature in many reptiles? Trends Ecol. Evol. 14, 186–189 (1999).

Folke, C. et al. Regime shifts, resilience, and biodiversity in ecosystem management. Annu. Rev. Ecol. Evol. Syst. 35, 557–581 (2004).

Grafton, R. Q., Kompas, T. & Hilborn, R. W. Economics of overexploitation revisited. Science 318, 1601 (2007).

Wyrwoll, P. R. et al. Decision-making for systemic water risks: insights from a participatory risk assessment process in Vietnam. Earth's Future 6, 543–564 (2018).

Döll, P. & Romero-Lankao, P. How to embrace uncertainty in participatory climate change risk management—a roadmap. Earth's Future 5, 18–36 (2017).

Katic, P. & Grafton, R. Q. Optimal groundwater extraction under uncertainty: resilience versus economic payoffs. J. Hydrol. 406, 215–224 (2011).

Grafton, R. Q. & Little, L. R. Risks, resilience and natural resource management: lessons from selected findings. Nat. Resour. Model. 30, 91–111 (2017).
Acknowledgements
The paper was originally conceived at the ninth thematic workshop of the French Association of Environmental and Resource Economist (FAERE) entitled 'Ecological-Economic Resilience of Ecosystems', organized by the Groupe de Recherche en Économie Théorique et Appliquée (GREThA) and held on 3–4 April 2018 at the University of Bordeaux. We are especially appreciative for the financial support of the research projects NAVIRE (Cluster of Excellence COTE, ANR-10-LABX-45) and ACROSS (ANR-14-CE03-0001) and the Hilda John Endowment. C.R. provided her contribution as part of the CGIAR Research Program Water, Land and Ecosystems. M. Loreau is acknowledged for providing comments on earlier versions of this paper.
Ethics declarations
Competing interests
The authors declare no competing interests.
Additional information
Publisher's note Springer Nature remains neutral with regard to jurisdictional claims in published maps and institutional affiliations.
About this article
Cite this article
Grafton, R.Q., Doyen, L., Béné, C. et al. Realizing resilience for decision-making. Nat Sustain 2, 907–913 (2019). https://doi.org/10.1038/s41893-019-0376-1
Received:

Accepted:

Published:

Issue Date:

DOI: https://doi.org/10.1038/s41893-019-0376-1