Abstract
A novel European Union forest policy based on the best and most up-to-date information available is urgently needed. Without such change, forests will not provide the resources we need and will suffer heavily under climate change. Forest inventories and many information sources exist in all countries but are not properly used in European Union policymaking. We introduce a next-generation information tool that portrays a synchronized top-down European forest management strategies map, spatially weighing the multifunctionality of European forests.
Access options
Access options
Subscribe to Journal
Get full journal access for 1 year
$104.00
only $8.67 per issue
All prices are NET prices.
VAT will be added later in the checkout.
Rent or Buy article
Get time limited or full article access on ReadCube.
from$8.99
All prices are NET prices.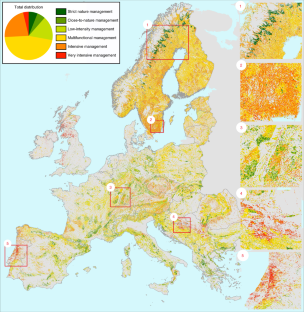 Data availability
For source data and all driver tables, see the supplementary information file. The data that support the findings of this study as well as the resulting map are available from the corresponding author upon request.
References
1.

Proc. Ministerial Conference on the Protection of the Forests in Europe (ForestEurope, 1993); https://foresteurope.org/ministerial-conferencies/#1470845666254-7db11a98-dd1d7522-d58f

2.

Updated Bioeconomy Strategy (European Commission, 2018); https://ec.europa.eu/research/bioeconomy/index.cfm?pg=policy&lib=strategy

3.

Rockström, J. et al. Nature 461, 472–475 (2009).

4.

Kovats, S. et al. in Climate Change 2014: Impacts, Adaptation and Vulnerability (eds Field, C. B. et al.) Ch. 23 (IPCC Cambridge Univ. Press, 2014).

5.

Europa: mittlerweile über 100 mio fm schadholz angefallen. EUWID (12 November 2018); https://www.euwid-holz.de/news/rundholzschnittholz/einzelansicht/Artikel/europa-mittlerweile-ueber100-mio-fm-schadholz-angefallen.html.

6.

Hlásny, T. et al. Living with Bark Beetles: Impacts, Outlook and Management Options (From Science to Policy 8, European Forest Institute, 2019).

7.

Aggestam, F. & Pülzl, H. Forests 9, 125–144 (2018).

8.

Legally binding agreement. Forest Europe News http://foresteurope.org/legally-binding-agreement2/ (2011).

9.

Forest Europe Expert Level Meeting, 19–20 March 2019, Bratislava, Slovakia (Forest Europe, 2019); https://foresteurope.org/wp-content/uploads/2017/08/Summary_key-decisions-of-ELM1_2019_final.pdf

10.

Regulation (EU) 2018/841 of the European Parliament and of the Council of 30 May 2018. Official Journal of the European Union L 156/1–L 156/25 (2018).

11.

Proposal for a regulation of the European Parliament and of the Council on the establishment of a framework to facilitate sustainable investment COM (2018) 353 final (European Commission, 2018).

12.

Directive (EU) 2018 /2001 of the European Parliament and of the Council of 11 December 2018. Official Journal of the European Union L 328/82–L 328/209 (2018).

13.

European Parliament resolution of 20 April 2012 on our life insurance, our natural capital: an EU biodiversity strategy to 2020 (2011/2307(INI)) (2013/C 258 E/15). Official Journal of the European Union C 258 E/99–C 258 E/114 (2013).

14.

Nabuurs, G. J. et al. Forests 8, 484–498 (2017).

15.

State of Europe's Forests 2015 (Forest Europe, FAO, EFI, 2015).

16.

Kempeneers, P. et al. IEEE Trans. Geosci. Remote Sens. 49, 4977–4986 (2011).

17.

IGN. L'if: IGN Mag.'s. Spec. Issue For. Inf. 32, 9–12 (2013).

18.

Alberdi, I. et al. Policy Econ. 70, 20–29 (2016).

19.

Schelhaas, M. J. et al. Forest Ecosyst. 5, 21–40 (2018).

20.

Jensen, F. V. & Nielsen, T. D. Bayesian Networks and Decision Graphs (Springer, 2007).

21.

Aguilera, P. A. et al. Environ. Model Softw. 26, 1376–1388 (2011).
Acknowledgements
This research was part of the PEGASUS project, which has received funding from the European Union's Horizon 2020 (grant agreement no. 633814) and VERIFY (no. 776810). Co-financing was received from the System Earth Management Programme (KB-24-003-006) and the KB Circular Economy of the Ministry of Agriculture, Nature Management and Food Quality from the Netherlands. We thank N. Heidema and B. Lerink for the final version of the map. An initial assessment of the most recent damage by bark beetles in Europe was made by L. König (WUR) using the most recent data in regional and national statistics.
Ethics declarations
Competing interests
The authors declare no competing interests.
Additional information
Publisher's note: Springer Nature remains neutral with regard to jurisdictional claims in published maps and institutional affiliations.
Supplementary information
Supplementary methods, Figs. 1–4, refs. 1–18 and Tables 1–9.