Dam removal is becoming an increasingly common tool to restore rivers. What would it take to replace lost electricity from removed hydroelectric dams with solar power?
Access options
Subscribe to Nature+
Get immediate online access to the entire Nature family of 50+ journals
Subscribe to Journal
Get full journal access for 1 year
$119.00
only $9.92 per issue
All prices are NET prices.
VAT will be added later in the checkout.
Tax calculation will be finalised during checkout.
Buy article
Get time limited or full article access on ReadCube.
$32.00
All prices are NET prices.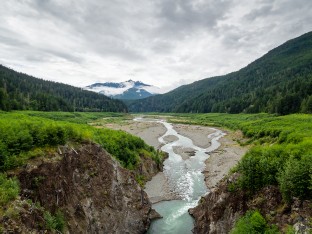 References
Reid, A. J. et al. Biol. Rev. 94, 849–873 (2019).

Zarfl, C., Lumsdon, A. E., Berlekamp, J., Tydecks, L. & Tockner, K. Aquat. Sci. 77, 161–170 (2015).

Grill, G. et al. Nature 569, 215–221 (2019).

Lehner, B. et al. Front. Ecol. Env. 9, 494–502 (2011).

Waldman, J., Sharma, S., Afshari, S. & Fekete, B. Nat. Sustain. https://doi.org/10.1038/s41893-019-0362-7 (2019).

O'Connor, J. E., Duda, J. J. & Grant, G. E. Science 348, 496–497 (2015).

American Rivers Dam Removal Database Version 6 (American Rivers, 2019); https://doi.org/10.6084/m9.figshare.5234068.v6

Foley, M. M. et al. Water Resour. Res. 53, 5229–5246 (2017).

Bellmore, J. R. et al. BioScience 69, 26–39 (2019).

Bódis, K., Kougias, I., Taylor, N. & Jäger-Waldau, A. Sustainability 11, 3703 (2019).

Hong, S., Qvist, S. & Brook, B. W. Energy Policy 112, 56–66 (2018).

Jacobson, M. Z., Delucchi, M. A., Cameron, M. A. & Frew, B. A. Proc. Natl Acad. Sci. USA 112, 15060–15065 (2015).

Schmitt, R. J. P., Kittner, N., Kondolf, G. M. & Kammen, D. M. Nature 569, 330–332 (2019).

Dobos, A. P. PVWatts Version 5 Manual Technical Report NREL/TP-6A20-62641 (National Renewable Energy Laboratory, 2014).

Sivaram, V., Dabiri, J. O. & Hart, D. M. Joule 2, 1639–1642 (2018).

Mapes, L. V. Elwha: roaring back to life Seattle Times (13 February 2016); https://projects.seattletimes.com/2016/elwha/

Gasparatos, A., Doll, C. N. H., Esteban, M., Ahmed, A. & Olang, T. A. Renew. Sust. Energy Rev. 70, 161–184 (2017).

Poff, N. L. et al. Nat. Clim. Change 6, 25–34 (2016).

Ho, M. et al. Water Resour. Res. 53, 982–998 (2017).

Gleick, P. H. Proc. Natl Acad. Sci. USA 115, 8863–8871 (2018).
About this article
Cite this article
Duda, J.J. Replacing hydropower with solar. Nat Sustain 2, 795–796 (2019). https://doi.org/10.1038/s41893-019-0372-5
Published:

Issue Date:

DOI: https://doi.org/10.1038/s41893-019-0372-5