The world's food system is complex, highly interconnected and rapidly evolving. Attendant risks are poorly understood. A new study reveals important insight into how interconnectedness, structure and modularity of the global food network impact system resilience.
Access options
Subscribe to Journal
Get full journal access for 1 year
$99.00
only $8.25 per issue
All prices are NET prices.
VAT will be added later in the checkout.
Rent or Buy article
Get time limited or full article access on ReadCube.
from$8.99
All prices are NET prices.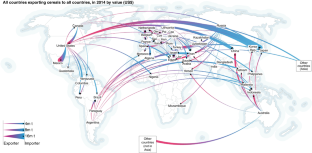 References
1.

Lowder, S. K., Skoet, J. & Raney, T. World Development 87, 16–29 (2016).

2.

Bailey, R. & Wellesley, L. Chokepoints and Vulnerabilities in Global Food Trade (Chatham House, 2017).

3.

Khoury, C. K. et al. Proc. Natl Acad. Sci. USA 111, 4001–4006 (2014).

4.

Jahn, M. et al. Global Food System Stability and Risk: At the Nexus of Defense and Development (University of Wisconsin–Madison, Reuters, 2018); https://go.nature.com/2ud4sRu

5.

Tu, C., Suweis, S. & D'Odorico, P. Nat. Sustain. https://doi.org/10.1030/s41893-019-0260-z (2019).

6.

Torreggiani, S., Mangioni, G., Puma, M. J. & Fagiolo, G. Environ. Res. Lett. 13, 054026 (2018).

7.

Wellesley, L., Preston, F., Lehne, J. & Bailey, R. Res. Transport. Business Management 25, 15–28 (2017).

8.

Fraccascia, L., Giannoccaro, I. & Albino, V. Complexity https://doi.org/10.1155/2018/3421529 (2018).

9.

Exploring Interdependencies in Global Resource Trade (Chatham House, 2017); resourcetrade.earth
About this article
Cite this article
Puma, M.J. Resilience of the global food system. Nat Sustain 2, 260–261 (2019). https://doi.org/10.1038/s41893-019-0274-6
Further reading
Min Gon Chung

,

Kelly Kapsar

,

Kenneth A. Frank

&

Jianguo Liu

Scientific Reports (2020)